Not Ready to Retire? Not a Problem at NIH.
A revolutionary federal program lets NIH retain experienced scientists and administrators who reach retirement age.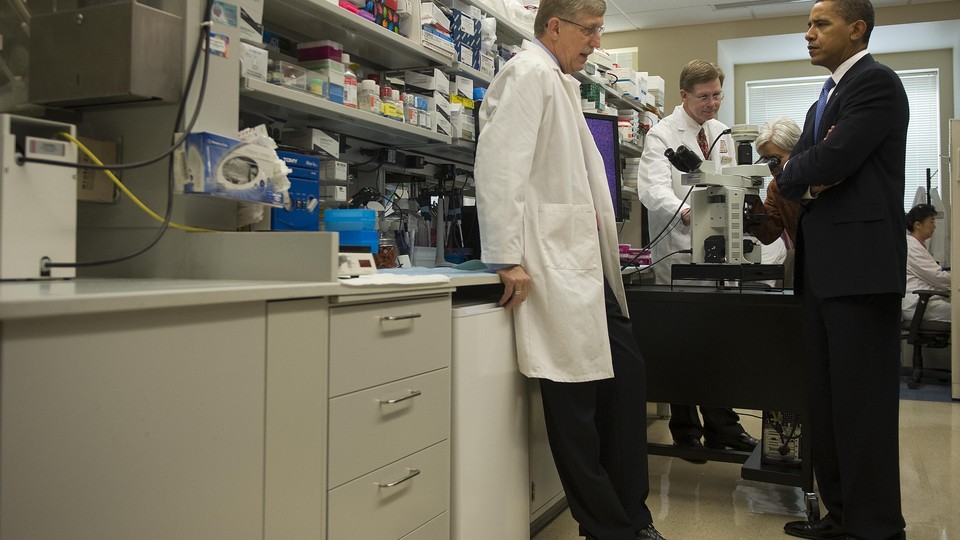 Sixty-two-year-old Joe Ellis officially retired from the National Institutes of Health in June 2012. Yet he still shows up at the federal agency's Bethesda, Md., campus roughly two days a week. When he's there, Ellis tackles long-term projects or mentors younger colleagues, but never for more than 20 hours a week.
Call it partial retirement, consulting at one's longtime workplace, or even a grand experiment in trying to hold onto key workers at a federal agency. No matter the name, Ellis's gig is part of a revolutionary federal program designed to retain older, experienced workers and keep them on the job longer than they normally would have stayed.
It's a novel idea to want to keep around older (read: expensive) workers at this particular moment in our economic history. News headlines might suggest otherwise, as many workers in their 50s and 60s have trouble plugging back into the labor market following a layoff, or as Silicon Valley (and its funding machine) often seems to favor wunderkinds over anyone with graying hair and a family.
NIH's program to keep retirees on part time has existed for years, but it did not really take off until the late 2000s, says Julie Berko, Director of NIH's Workforce Relations Division. At that time, the agency needed specialized help in its grant and contracts department — the kind of expertise better left to agency veterans than random contractors or freelancers. With an influx of economic-stimulus cash, NIH managers and human-resources professionals started contacting recent retirees or those on the cusp of leaving to see if they would consider staying on part time.
The conditions? Retirees could not work more than 20 hours a week. Part of that time needed to go toward mentoring younger staff. The program paid people for their time, while still allowing them to collect their federal annuity benefits. Finally, the part-time retirees were meant to stay on at the agency for only three additional years.
Now about 80 of NIH's roughly 20,000 workers participate in the program. For the retirees and the agency, the logistics seem to work out well. Ellis still works on major projects and advises people from his former department. That's boon to the agency because he worked there for about 34 years.
At the same time, he no longer has to manage hundreds of workers, as he did at his final post as the director of the Office of Policy for Extramural Research Administration, which is responsible for the agency's grants policy. "The advantage to me is that I lost my management responsibility," he says. "That is a major reliever of stress." Working part time also gives him the space to spend more time at home and with his family — two of the major reasons he wanted to retire originally.
For the agency, Ellis represents years of well-honed, specific expertise in grants — a key part of the success of any scientific agency devoted to funding research and various labs. "The biggest piece is that we get to retain talent that would otherwise be leaving," says Philip Lenowitz, the agency's former deputy director of the Office of Human Resources, who also participates in the part-time retiree work program. The program also allows NIH workers to ease into retirement. "It's a way to find out how to transition from not putting on a suit and tie every day," Lenowitz adds.
AARP recognized NIH as the best employer in 2013 for workers over the age of 50. Part of that distinction comes from this type of part-time work program for retirees. But the agency also offers other perks to support its older workforce (the average employee's age at NIH is 48) that include an on-site gym, retirement planning seminars, telecommuting, flexible schedules, and back-up emergency care for elderly parents. It is part of a broad menu to help baby-boomer or senior-citizen scientists and administrators stay on the job for as long as they like and can. "I do think people tend to work here longer," Berko says. "People at the NIH are very interested in staying around to chase the next scientific discovery."
In the coming years, working longer will also become a key hallmark of retirement for most Americans. People live longer now than ever before and will need to work more to fund their golden years. AARP advises its members not only to save more but also to work for additional years to ensure they maintain their standard of living as they age. "As we saw in the recession, working longer is not always an option for all workers," says Gary Koenig, vice president of economic and consumer security within AARP's Public Policy Institute.
Yet, if older workers can remain on the job for two to five more years and not draw down on their savings, it can add a huge financial boost to their retirement, says Olivia Mitchell, a professor of business economics and public policy at the Wharton School at the University of Pennsylvania. "If you delay claiming Social Security until you're 70, the payments go up by three-quarters," she says. Instead of freaking people out about an impending retirement crisis, Mitchell says she simply prefers to tell people to work for more years. The NIH is one place that encourages it.