Newspapers That Aren't Dying
A look at New York City's other media industry: immigrant presses, where print advertising still brings in substantial revenue, and readers keep subscribing.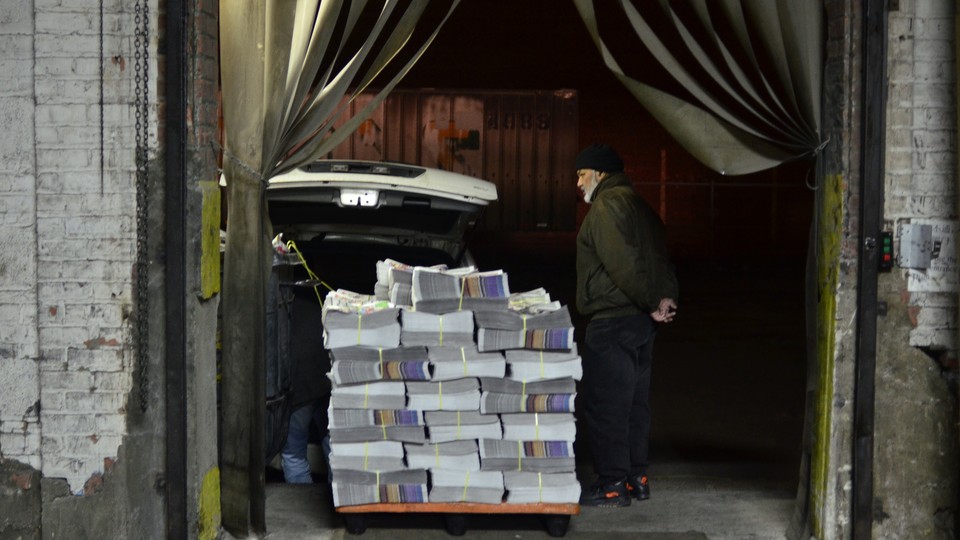 There is no "digital first" strategy at 169-20 Hillside Avenue, a nondescript shop offering photo services, money transfers and video rentals in Jamaica, Queens. From its basement, Khalil ur Rehman, a first generation Pakistani immigrant, has been publishing the Urdu Times for over two decades.
In his office are two computers, a fax machine, and a phone. "Before, we used to actually have a printing press here," said Rehman, amid the distant rumble of the F-train that passes under every few minutes. Less frequently, water discharged from a toilet above noisily whooshes down a pipe next to the publisher's desk.
It's a barebones operation, but Rehman's weekly newspaper has 14 editions today, with a total of nearly 100,000 copies printed every week. These include nine cities across the United States, and standalone editions in Canada and the United Kingdom. "Now, I'm trying to see if I can start an edition in the Middle-East," he said in early March. "I'm travelling there next week."
At a time when the death of print media is regularly predicted, Rehman's Urdu Times is going strong. And it isn't alone.
There are close to a hundred ethnic newspapers in New York City with a combined readership of 2.94 million, almost a third of the city's total population, according to the New York Press Association.
Together this collection of monthly, weekly, and daily newspapers are part of a larger ecosystem: More than 270 community and ethnic publications in 36 languages that are published in New York. In the last two years alone, at least 21 new ethnic newspapers have been launched. In contrast, the number of daily newspapers in the United States has dropped from 1,480 in 2000 to 1,382 in 2011.
But these small publications, often run out of basements such as Rehman's, are surviving—and occasionally even thriving, riding the coattails of the city's burgeoning immigrant population. More than 3 million of New York's 8.2 million residents are foreign-born, the city's planning department estimates—the highest percentage of immigrants since the European influx of the 1930s.
Javier Castaño is among them. The Colombia-born journalist started out as a reporter for the United States's oldest Spanish-daily, El Diario La Prensa. Eventually, he rose to become the editor-in-chief of Hoy Nueva York, a free Spanish-language daily. In 2008, Hoy's print edition was shuttered, and Castaño fired.
Instead of finding another job, Castaño decided to turn publisher. He started the Queens Latino, an online news outlet focusing on Queens's Spanish-speaking community. It's a huge demographic bloc: More than 27 percent of the borough's 2.3 million residents are of Hispanic or Latino origin. A few months later, he launched a monthly newspaper.
"They say that Latinos use the Internet in a strong way and they go to see videos all the time," explained Castaño, sitting at his home-office in Jackson Heights. "But I don't think they are getting the news still via the Internet. So you need that newspaper." The Queens Latino currently prints about 15,000 copies every month.
A 2005 study by Bendixen & Associates, "The Ethnic Media in America: The Giant Hidden in Plain Sight," claimed that almost a quarter of America's population read the ethnic press. Of this, 29 million were primary consumers, alongside another 22 million secondary consumers that "prefer mainstream media but access ethnic media on a regular basis."
Two decades of rapid growth in immigration—13.2 million new arrivals between 1990 and 2000, and 14 million from 2000 to 2010, according to the U.S. Census Bureau—have strengthened the ethnic press market.
This captive readership is also the bedrock of the business model. Businesses seeking to target immigrant communities often find more value in advertising in these small publications than the mainstream press.
Disruptions like Craigslist, which has bled dry classified sections of large print publications, have had limited impact on these publications. The foreign-language ethnic press is reaching an audience that isn't necessarily online and doesn't always understand English. Nearly a quarter of New York's population, according to the U.S. Census data, isn't proficient in English.
The result is that many of these publishers can still support their operations with revenue from print advertising. Castaño, for example, makes 90 percent of his money from print ads, with the majority coming from local businesses. "I've been profitable since the beginning," he told me.
That's also partly because the Queens Latino only has one full-time employee: Castaño. The rest of the work is done by freelancers, and Castaño's wife does the layout and design.
At the Urdu Times, Rehman has outsourced most of his newspaper's operations to a small production unit in Pakistan. "I have 18 people working for me in Lahore," he explained. The copies are drafted there and then emailed to the basement in Queens for proofreading, as are all the page layouts. Rehman and his wife approve everything, and then forward it to the printers. His only full-time employee in New York is an advertising manager, who has his own desk at the back of the store above the basement.
Such low-cost production setups are why Ken Akulin, the general manager of Stellar Printing, one of New York's biggest printers of ethnic newspapers, believes there hasn't been an easier time to become a publisher. "They put it together on their Macintosh, add one or two or three ads, come to a printer like me to print it up and distribute it," he explained.
The Long Island City press prints 11 dailies and more than a hundred weeklies and monthlies in over 20 languages every week. "It's quite simple," Akulin added. "It can be done almost as a cottage industry."
But there are emerging challenges for the ethnic press. Seventeen years after starting his Romanian newspaper, New York Magazin, Grigore Culian is facing two of the biggest ones: A decline in advertising revenues and a shrinking readership.
The first is the result of the recession. New York's immigrant community, which accounted for about 31 percent of the city's gross city product in 2011, was particularly hit hard. From 2007 to 2009, immigrant wages dropped by 12 percent, according to a 2013 New York State Comptroller report, compared with nine percent for native-born New Yorkers.
Small-business owners, the lifeblood of the ethnic press, started cutting back on advertising, as did large telecom and insurance firms who often bought full-pages to reach non-English speaking communities.
Culian is also contending with a dwindling readership as new immigration from Romania has slowed down. His loyal readers are aging, and few American-born Romanians are subscribing to his twice-weekly newspaper. Circulation has halved from 4,000 copies five years ago to only about 2,000 now.
But the former rock musician is unfazed. He has a plan: The same plan that New York's mainstream media has executed over the last decade. "I know the Internet is the future," said Culian, "My newspaper will stay, but I need to build it online."
He has recently found a business partner who will take 50 percent share in the New York Magazin's online platform and develop it. Culian will hold the remaining share and control of the printed newspaper. All revenues will be split evenly.
"The big challenge is the same as mainstream media," Garry Pierre-Pierre, executive director of the Center for Community and Ethnic Media and Pulitzer Prize-winning journalist, told me. "How do you monetize digital platforms, understand them, utilize them?"
Castaño and the Queens Latino are part of the same predicament. But the $1,000 per month that comes from advertising on the newspaper's online platform isn't small change for a one-man operation.
Despite the pressures, the ethnic press is unlikely to disintegrate rapidly, or disappear.
"At this point, there is still much we do not know about how Internet-based options will affect ethnic media production and consumption in different places," wrote Matthew D. Matsaganis, Vikki S. Katz, and Sandra J. Ball-Rokeach in their 2010 book, Understanding Ethnic Media.
"We do know, however, that it is unlikely that these new technologies will radically change or replace the ethnic media landscape as we now know it," they added.
From the second floor of Stellar Printing's offices, Akulin foresees a similar future. "It's still a viable method," he said, speaking of small newspapers, "and I don't think it'll go away any more than radio didn't go away."
Rehman, in the meantime, is scouting for a partner in Dubai. Southeast Asia and Australia are next.