Barbie Leans In
She's stylish and sassy and, it seems, "breaking through plastic ceilings."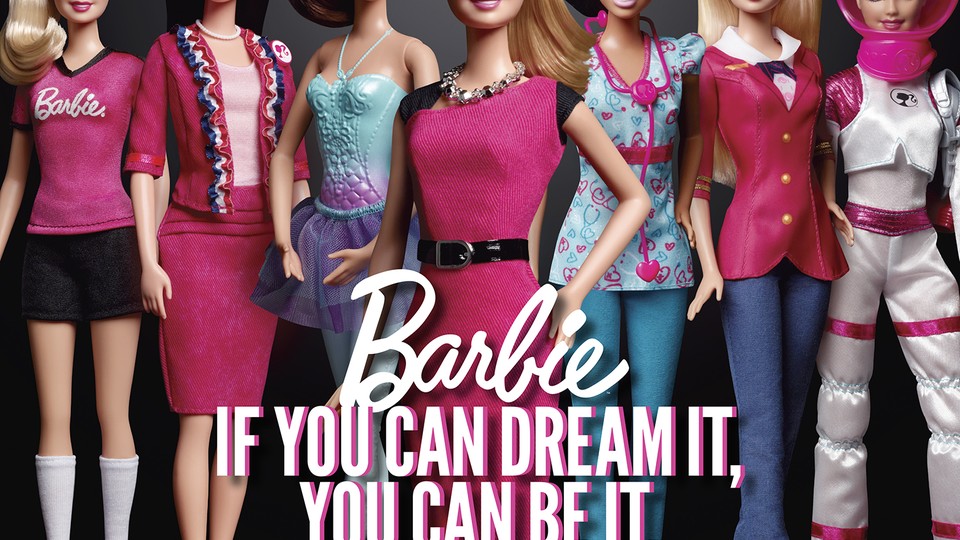 This is Entrepreneur Barbie. She is sassy. She is stylish. She is really, really into pink.
Entrepreneur Barbie is also,
Mattel informs us
, "smart." We have to take the company's word for it, since Barbie neither moves nor talks, but her intelligence is meant to be evidenced, it seems, by the fact that she comes complete with a smartphone. And also a tablet computer. And also a briefcase. Entrepreneur Barbie is—or, at least, she has the tools to be—moving and shaking and,
as Mattel puts it
, "breaking through plastic ceilings."
In all this, the barrier-busting businesswoman is decidedly more chic than geek. As the doll's
product description
explains:
Entering the entrepreneurial world, this independent professional is ready for the next big pitch. Barbie Entrepreneur doll wears a sophisticated dress in signature pink that features modern color blocking and a sleek silhouette. Her "smartphone," tablet and briefcase are always by her side. And luxe details, like a glam necklace, cool clutch and elegant hairstyle, are awesome extras for a smart, stylish career woman. Includes dressed-for-business Barbie doll and stylish accessories: clutch, briefcase, tablet, and smartphone."
Mattel is also giving its newest Barbie a built-in social network, in the form of a partnership
with 
10 (human) entrepreneurs
—
women who serve as the doll's "Chief Inspirational Officers," or CIOs. The group includes the founders of Rent the Runway, One Kings Lane, and Girls Who Code. Together, the real-life ladies suggest the assumption that Barbie's shift-dress-y synergies will allow girls to better imagine themselves as entrepreneurs. As 
Reshma Saujani, the founder of Girls Who Code,
explains
: 
"You can't be what you can't see." 
It is curious, given all that, that Mattel is rolling out the latest Barbie—its
2014 "career of the year doll"—
by encouraging people to use the #unapologetic hashtag. Which is the same one Mattel used for the doll's 
recent, and controversial, collaboration with Sports Illustrated
's swimsuit issue. If Barbie is,
as Mattel says
, "honoring special women entrepreneurs to help start a conversation for girls everywhere," why the tag? Why apologize—or, you know, preemptively refuse to apologize—for a doll whose 
promise to girls
 is, ostensibly,
'if they can dream it, they can be it'?