Climate Change Poses 'Severe Health Risks' to Outdoor Workers
A new report predicts that the Southwest, Southeast, and upper Midwest "will likely see several months of 95°F days each year."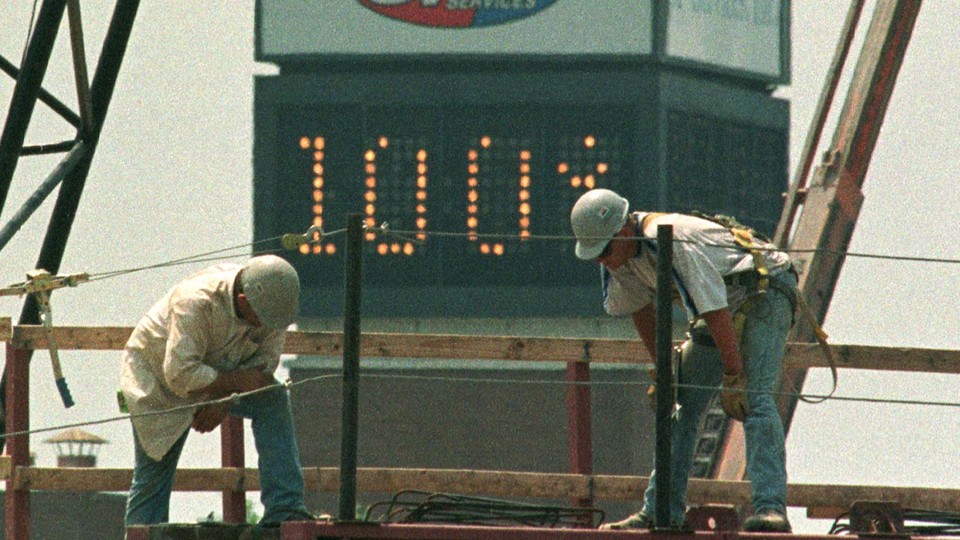 In the summer of 1998, a heat wave punished the American South. Crops and cattle died en masse; Texas alone suffered $2.1 billion worth of agricultural damages, while Oklahoma lost $2 billion. College Station, Dallas-Ft. Worth, and Oklahoma City all saw weeks on end when the maximum temperature hit 100 degrees every day. In Corpus Christi, there was a 41-day stretch during which the temperature hit 95 every day. Nationwide, 200 people were killed by the heat.
Expect more summers like that.
A new report says that in the decades ahead, the Southwest, Southeast, and Upper Midwest could see stretches of months—not weeks—when the temperatures will consistently reach the mid-90s. "During these periods," the report cautions, "anyone whose job requires them to work outdoors, as well as anyone lacking access to air conditioning, will face severe health risks and potential death."
This has significant consequences for industries that largely operate outside, particularly construction, agriculture, landscaping, and utility maintenance. According to the report, the labor productivity of those sectors could fall by about 3 percent. "For context," the report adds, "labor productivity across the entire U.S. labor force declined about 1.5 percent during the famous 'productivity slowdown' in the 1970s."
The report, Risky Business, was released today at an event in New York. It outlines all the ways that climate change threatens the U.S. economy, including a county-level analysis.
Among its many findings:
Over the next four decades, the U.S. could lose between $66 billion and $106 billion worth of coastal property to rising waters. By the turn of the next century, between $238 billion to $507 billion worth of property could be under water. The losses will be predominantly along the Gulf and Atlantic coasts. 
By 2050, "the average American will likely see 27 to 50 days over 95°F each year."
By 2100, "Oregon, Washington, and Idaho could well have more days above 95°F each year than there are currently in Texas."
The potential agricultural losses are devastating: By century's end, "some states in the Southeast, lower Great Plains, and Midwest risk up to a 50 percent to 70 percent loss in average annual crop yields" including corn, soy, cotton, and wheat due to the heat.
You can read the full report here.