Can Big Data Boost the Paltry Number of Female and Minority Tech Workers?
A San Francisco start-up is trying to upend traditional tech recruiting methods by using public, online information to find more female and minority workers.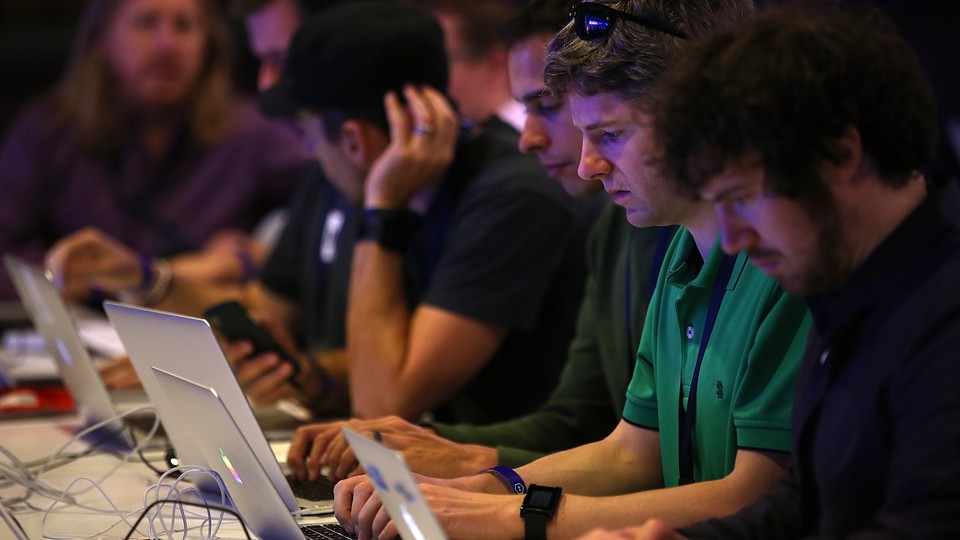 Say you're a recruiter at a tech company in Silicon Valley, Boston, or New York City, and you need to hire a new engineer quickly. You don't want to hire another white dude (your company employs so many of them already!). Yet all of the potential referrals you receive are just that: white, male, graduate of a top-10 computer science or engineering university. This makes it terribly hard to break out of the rut of hiring the same people who already dominate the high-tech space.
One San Francisco company is trying to solve this problem by helping recruiters and companies do a better job of identifying a richer, more diverse pool of candidates. The start-up Entelo deploys an algorithm that sorts information already available online to find experienced tech workers for engineering, sales, and marketing positions that pay, on average, $125,000 a year. The service costs anywhere from $10,000 a year up to $100,000. This spring, Entelo rolled out a more detailed feature to allow its clients to search specifically for women, military veterans, Hispanics, or African-Americans. The goal is to help companies "correct the imbalances on their teams," says Jon Bischke, Entelo's founder.
The need for more diversity in the high-tech sector took on renewed urgency recently when Google voluntarily released the diversity stats of its workforce. Among the startling data points: Just 2 percent of the company's workers are African-American and just 3 percent are Hispanic. Whites comprise 61 percent of Google's employees, and 70 percent are men. "Our industry has an issue, and the only way to have an honest conversation about this is to start by actually sharing the facts," Laszlo Bock, Google's senior vice president of people operations said on the PBS NewsHour the same day Google released its internal data.
This lack of diversity is not news to those already embedded in Silicon Valley. Amy Schapiro runs the fellows program at CODE2040, a not-for-profit that places high-performing African-American and Latino software-engineering students in internships at top tech companies such as Facebook, LinkedIn, and Nest. Schapiro blames the tech industry's homogeneity on Silicon Valley culture and on the small number of women and minorities who graduate from high-level computer science programs. "There is a pipeline problem that spans from elementary school through the established profession," she says about the lack of diversity in STEM education. "But, in addition, companies also need to do a better job of attracting and retaining diverse talent and creating inclusive environments."
CODE2040 has tried to build up its own pipeline of future computer science stars by recruiting at more than 30 colleges, not just the top 10 engineering schools. (The University of Maryland (Baltimore) is a place where CODE2040 has found a strong tech program and a number of talented minority students.) The group also tries to establish relationships with minority student groups such as the National Society for Black Engineers. The hope is to expand the breadth of the engineering network beyond the usual white, male Silicon Valley suspects. Groups like the Anita Borg Institute and Women Who Code work on the similar goal of expanding the number of women in tech.
Using big data to broaden the pool of job candidates is another potential strategy for creating a more diverse workforce, nonprofit leaders say. "It helps to identify people who may not be top of mind," says Alaina Percival, CEO and board chair of Women Who Code. Silicon Valley's old-school way of recruiting is to build relationships, she says, and then identify people for new jobs through referrals from existing contacts. "Women and minorities cannot make connections if they're not a part of that," she adds. "It's easy to be overlooked and not know about the opportunities out there."
Changing that status quo is the goal of Entelo's founder Bischke, as he shows off the site's diversity feature and its current database of roughly 23 million prospective employees. A cursory search for java engineers and veterans turns up more than 170 new matches: people who may or may not be on the radar screen of Silicon Valley's recruiters, regardless of their qualifications.
For recruiters like Lars Schmidt, founder of the Virginia-based Amplify Talent, Entelo offers a nice complement to the traditional recruiting methods that he says can be time-consuming, not to mention hit-or-miss. "It can help you efficiently identify talent, especially if you do not have a dedicated tech recruiter," says Schmidt, who used Entelo in his past job as senior director of talent acquisition and innovation at NPR. "Any tool that leverages big data and advanced analytics is a good thing, even with all of the kinds of complexities around that."
Entelo, in its current form, does present two potential complications: First, job candidates don't sign up to be featured on the site because the information comes through public, online records. This means that job candidates do not have control over the type of information presented; Bischke says that people are free to opt out at any time and ask Entelo to remove their profiles.
Second, and perhaps more important, any tool that identifies a more diverse pool of job candidates can just as easily become a way to discriminate. "It can be used for good or evil," as Schmidt says.
Even with its new, big-data approach to diversity hiring, Entelo still remains in start-up mode. The 21-person, San Francisco-based company launched in late 2012 and is not yet profitable; its funding comes from about $4 million in venture capital and in money it earns from its roughly 130 clients. By 2015, Bischke hopes to include more than 100 million people in the Entelo database: men, women, minorities, and veterans alike. One day, he thinks Entelo may even try to incorporate disabled workers into the mix. "Lots of money spent on diversity recruiting is just hand-waving," Bischke says. Here's to hoping it becomes better spent in the coming years, as the tech industry continues to become a lucrative, dominant sector of the economy.