Why 'College Or Bust' Is the Wrong Message for High School Graduates
"Middle jobs" provide decent salaries with some additional training beyond high school, without the time or financial commitment of a bachelor's degree.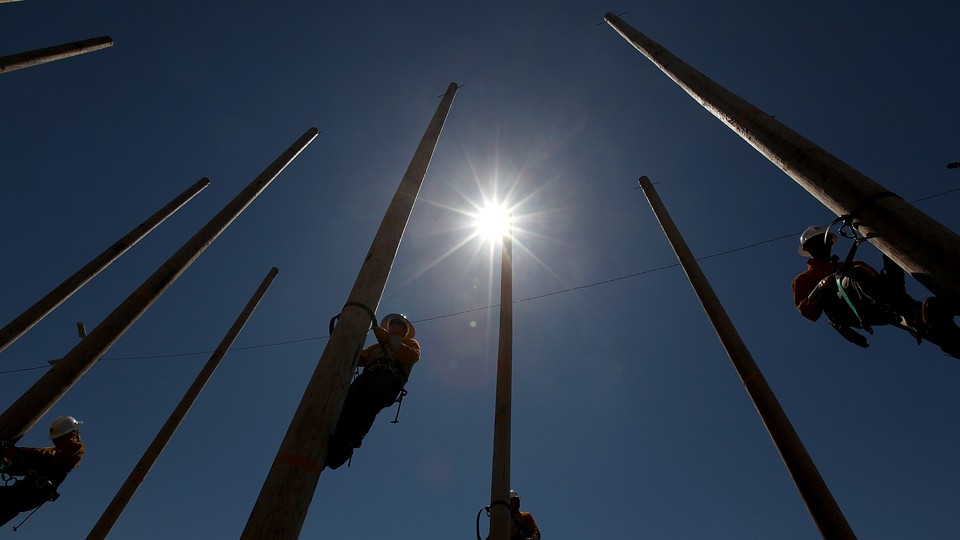 More than 3 million teenagers are expected to graduate from high school over the next six weeks. For most of them, their choices are stark: Either find a job or enter college.
But there's no reason for students to view their career paths in such extremes as working at McDonald's or attending Harvard, says Anthony Carnevale, director and research professor at the Georgetown University Center on Education and the Workforce. Every year, the U.S. economy offers roughly 29 million "middle jobs," as Carnevale calls them: positions that demand some additional schooling or certification beyond the 12th grade, but not the time or financial commitment of a bachelor's degree.
These jobs are in industries as diverse as health care, information technology, the arts, sales, food service, management, and skilled manufacturing. Middle jobs pay an average of $35,000, although more than 11 million of them provide a salary of $50,000 or more annually, according to research by the Center on Education and the Workforce. (The Census Bureau lists the current median salary in the U.S. at $51,017.)
Most important, these jobs offer non-college-bound kids the chance of a decent economic life. That's a particularly important caveat, because those with just a high-school diploma increasingly find themselves stuck in dead-end jobs and shut out of the middle class. "What we're missing now is an alternative pathway for people who don't go to college," Carnevale says. "We know that applied curriculums work better, not just for less-prepared students but for everyone."
Carnevale and his team of researchers have identified five ways to prepare today's high school graduates for these middle jobs:
More apprenticeships. Currently just 0.3 percent of employment in the U.S. comes from apprenticeships. Yet programs in states such as Wisconsin have demonstrated the benefits of this type of learning, particularly for students interested in high-skilled jobs in manufacturing, transportation, or construction.
Employer-based training. This essentially means that workers learn skills on the job, with training that lasts anywhere from three months to a year. It does not cost the federal government any extra money, because the financial burden falls on employers. One-third of all blue-collar jobs and one-quarter of science, technology, engineering, and math jobs require more than one year of this type of training.
Industry-based certifications. Want to become an EMT, licensed nurse practitioner, or certified nursing assistant? All of these jobs in the growing field of health care require industry-based certificates. And demand for these certifications comes from the private sector and the labor market instead of lawmakers; this means that employers see the need in the coming years for workers with these skills.
Post-high school certifications. These certificates prepare students for a specific career niche without taking as much time to complete as a college degree. Jobs that require this certification include auto mechanics, computer and information services, certain health care positions, or cosmetology. The best-case scenario is that men with these certificates can earn as much as $72,000 annually, provided they work in computer or information services.
Associate's degrees. These degrees offer a nice boost in earnings for high-school diploma holders and usually take half the time of a bachelor's degree. Men with associate degrees, who specialize in a specific occupation earn $49,000 annually, compared with male high school grads (who earn $41,000), according to the Georgetown researchers' analysis of census data. Registered nurses, police officers, and managers get the biggest salary boosts from these associate's degrees.
The big takeaway: The main message from U.S. policymakers and leaders continues to be that college education is the key to a middle-class lifestyle. Yet many workers could find decent jobs that can support a family, with less schooling and less student debt. They could benefit from these other means of training after high school — and from increased attention to and promotion of this alternate career track.