Who Will Be the Next President? Who Cares
A majority of Americans think an increase in community volunteering would have a bigger impact than electing a president they agree with.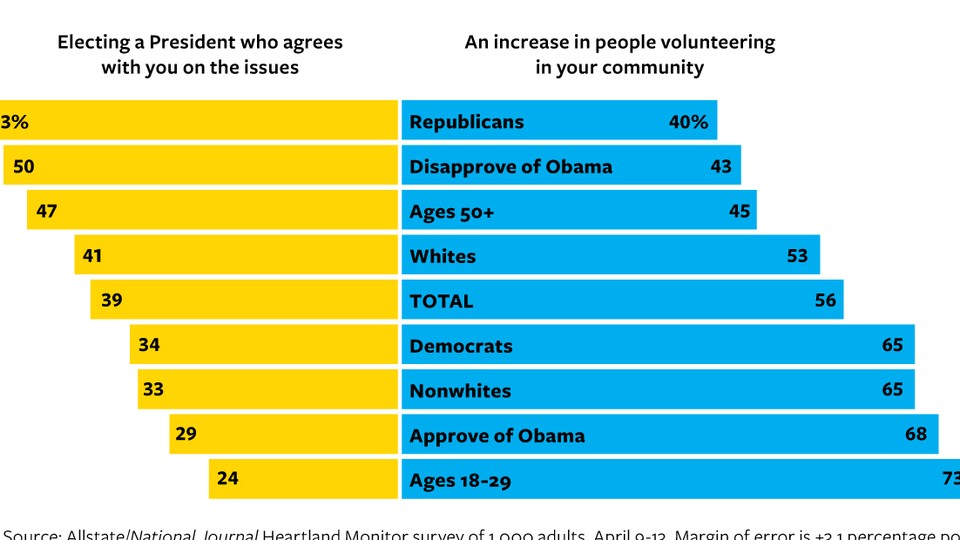 This article is part of a series on the May 2014 Allstate/National Journal Heartland Monitor poll.
Hillary Clinton or Ted Cruz? Rand Paul or Joe Biden? It may not matter. The majority of Americans believe that an increase in community activism would have a more significant impact on daily life than the candidate they elect as president.
That's just one of the latest findings from the most recent Allstate/National Journal Heartland Monitor Poll, which reveals Americans' pessimism about the power of institutions like the federal government to bring about change.
Fifty-six percent of respondents told pollsters that more volunteering in their community would have "a more positive impact on [their] day-to-day life" than electing a president who agrees with them on important issues. Just 39 percent said that the election of a particular president would have a greater impact.
Republicans were far more likely than Democrats to place higher value on the importance of whom they elect as president (by 53 to 34 percent). And younger Americans, ages 18 to 29, had the most faith of any group in the impact of community activism — a full 73 percent said more community volunteering would bring about the greatest positive change.
The responses (and the pessimism they reveal about Americans' attitudes toward the federal government) fit with the rest of the poll, which shows that the majority of Americans believe the country is on the wrong track. They also largely disapprove of the performance of both Congress and the Obama administration.
The upside of the polling results? The majority of Americans remain confident in their own ability to bring about change in communities both at the local and the federal level. Respondents feel that community groups, small businesses, religious organizations, average Americans, social activists, and state and local government hold the best chance of helping to tackle the country's major issues. That might explain why even two-thirds of Americans who approve of President Obama's performance in office say community volunteering makes a bigger difference. Obama started out, after all, as a community organizer.
---
Peter Bell contributed to this article