How to Sell a Craft Beer: Location, Location, Location
Small batch brews are all about local flavor—both in and on the bottle.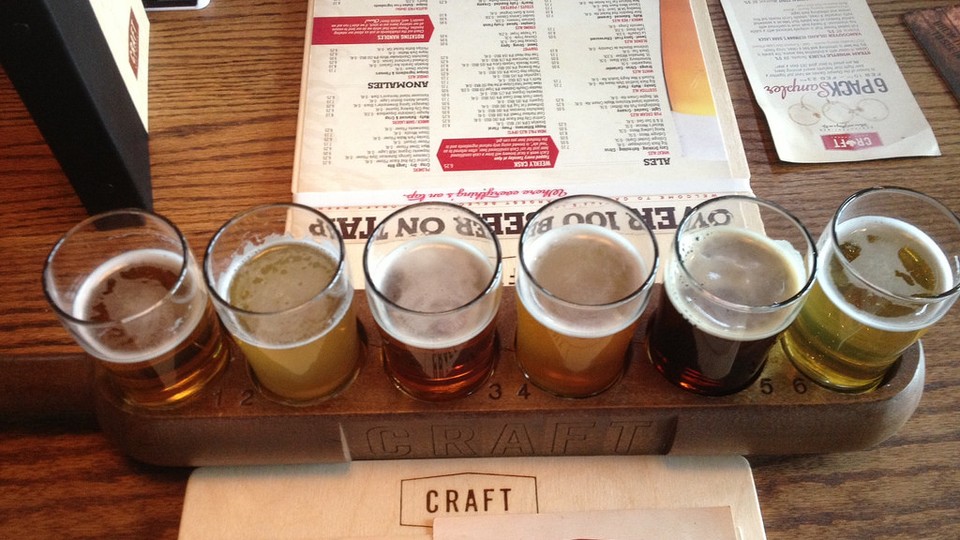 For those who appreciate craft beers, life has never been so good. The world of American artisanal brews is one of astonishing variety. The vat of adjectives needed for even the most basic characterizations brims: nutty, hoppy, fruity, spicy, earthy, floral, balanced, sour, chocolate, bready, caramel, and malty. Never mind exploring other dimensions of color, bitterness, or ABV (alcohol by volume). But you can do all that here, courtesy of the Brewers Association.
Even more plentiful and diverse are the names of the craft breweries—
2,768 of them(!) in 2013
—and the monikers of their many, many individual beers.  
I got to thinking about all this when I read
an amusing essay
recently in the
WSJ
 by Geoff Dyer, a British writer now living in L.A. After rhapsodizing about the contents of American craft beers, Dyer went on to examine the bottles themselves:
We are living through a golden age of beer-bottle and label design.  . . .  In such a richly diverse field it's risky to generalize, but craft breweries seem to understand that it's not a bad idea to impart a suggestion of Grateful Dead-era psychedelia to their labels. Or, at the very least, a nod to the aesthetics of marijuana cultivation.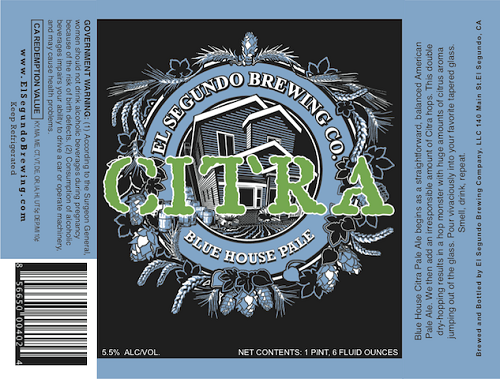 Dyer then deconstructed the label on a bottle of Blue House Citra Pale ale (left) from El Segundo Brewing Company, located in Los Angeles County. Noting that "the label is impossible to decode," Dyer continued:
It's blue, featuring, in the midst of a hoppy wreath, some kind of clapboard house drawn in a style that is both cartoony and ominously expressionist. Over this, in rather creepy green letters, is stamped CITRA. I guess in El Segundo it's so infernally hot that it's smart to have colors that evoke three words: Numb With Cold.
I laughed to myself when I read that—and then smiled again the next morning when I opened my laptop and saw the latest brew-related post by The Atlantic's resident beer maven, Jim Fallows, accompanied as it was by this lush photo of the craft beers he carted home from a recent reporting trip to Mississippi.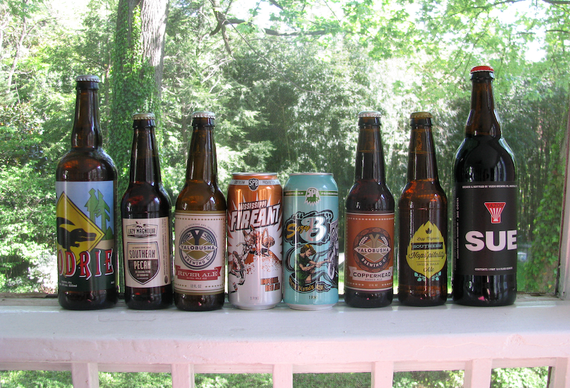 This photo intrigued me. Reason #1: Jim used up part of the precious weight allowance in his small plane to fly these brews and their brethren back to DC for consumption. (I know:  "Judge not, lest ye . . . ") Reason #2 (and the one that really struck me): Look at the names of those breweries and brews, and look at the labels. You should actually read Jim's accompanying text to get a clearer sense of it all, but here's a handy table in the meantime, listing the names of those breweries and the individual beers (left to right in the photo):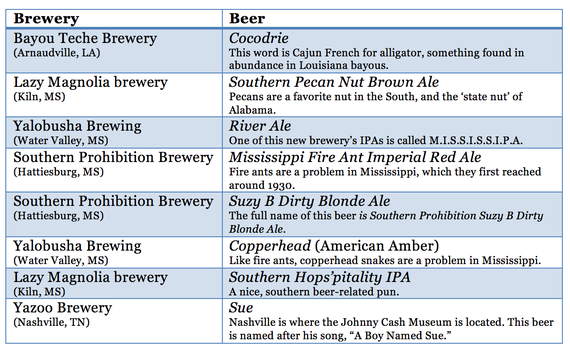 The piece by Fallows—and the photo of his latest stash—along with Dyer's funny parsing of the El Segundo label reminded me of an academic study I came across last fall entitled "Microbreweries as Tools of Local Identity." This 
persuasive analysis
 by Joseph F. Reese and Steven M. Schnell appeared in a 2003 issue of the 
Journal of Cultural Geography
. Their insight: There's a lot more going on with the making and marketing of craft beers in America than just an effort to produce and sell a better beer.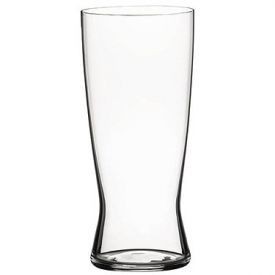 Reese and Schnell see the multiplication of microbreweries and brewpubs as a response to a disillusionment, within at least some segments of the general public, with "the homogenous sea of WalMarts and McDonalds that have rendered one American town virtually indistinguishable from another." In making and buying craft beers, brewers and customers don't merely want better beer than the bland lagers produced by Budweiser, MillerCoors, and other mega-breweries, they're also expressing a desire for a sense of place and of connection with a locale. Microbreweries, the authors argue, foster "attachment and devotion to the proudly, idiosyncratically local."
How do brewers accomplish this? In part, "through targeted marketing strategies that emphasize local identity and distinctiveness." The names of craft beers and the images on the labels "tend to reflect the places where they are brewed." We'll look at specific themes and images below, but here, Reese and Schnell identify some very general patterns. 
Tellingly, even in the most urban settings, modern city images are rarely emphasized. And modern lifestyles are almost always slighted in favor of historical, or at least blue-collar lifeways such as blacksmiths, or miners, or steamboat captains. Nowhere did we find a Stockbroker Stout or Systems Analyst Pilsner or C.P.A. I.P.A. Instead, Mine Shaft Stout (from Only the Best Brewing Company in Divide, Colorado) [now defunct] and Lumberjack Amber Ale (from Lighthouse Brewing Company in Manistee, Michigan) are much more typical. People who work with their hands, whose very livelihood is entwined with the geography of where they live, are those used to represent the "true" place.

. . . 

There is also no shortage of nostalgic images of yesteryear: trains, for example, or horses and buggies or steamships. Again, these are rarely modern in nature. There is no Amtrak Ale or I-35 Dopplebock,** [see update at bottom] but rather steam trains, the Old Post Road, and the Pony Express. . . . Such images are clearly meant to contrast with the mass production of the million-plus barrel brewers like Anheuser-Busch. . . . All of these nostalgic images serve as windows on the type of community and the type of society that is widely perceived to have vanished in our modern, harried existence. 
The names for craft breweries and for their beers, as well as the labels they design, have a wide array of typical inspirations that Reese and Schnell identify, most of them evocative of something distinctive about the locale. (There are plenty of exceptions to this rule, as I'll note again below.) Here are some of the specific themes and tropes that crop up regularly, along with just a few examples of each, some from Reese and Schnell, some from me. (The links attached to the names of individual beers take you to images of the beer label.) These categories are not mutually exclusive, and there's a fair amount of overlap. You no doubt can think of many more categories and examples, and I hope you'll share them in the comments section.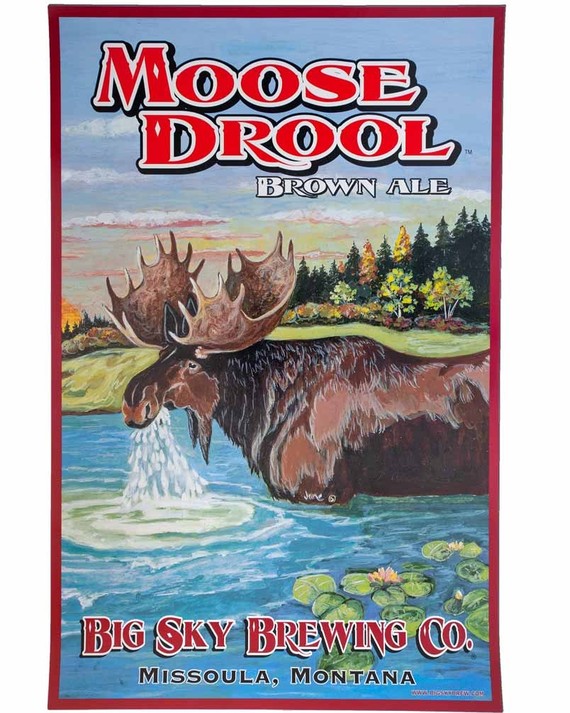 Nature: Images of nature ("animals, landforms, mountains, valleys, or rivers") are common on labels for craft beers. They are predominant from the Rockies to the West Coast, with images evoking unspoiled landscapes and wilderness splendor.
Moose Drool Brown Ale (Big Sky Brewing, Missoula, MT) See at right. 
Sawtooth Ale (Bitter Root Brewing Co., Hamilton, MT). The Sawtooth Mountains in the Bitterroot Mountain Range.
Steelhead Extra Stout (Mad River Brewing Co., Blue Lake, CA.) Steelhead salmon in the Mad River.
Boont Amber Ale (Anderson Valley Brewing Co., Boonville, CA) All the labels for this brewery's beers spoof the Western-nature motif by featuring a bear with elk antlers.
HooDoo Kolsch Style Ale (Uinta Brewing Co., Salt Lake City, UT) A hoodoo is a spire-shaped rock formation found in the Utah badlands.
Buildings or other human structures:  In the East, outdoor images on labels are far more likely than in the West to feature rustic human structures such as farmhouses, covered bridges, wagons, oak barrels, etc.
Saison Gee, a farmhouse-style ale (Old Hickory Brewery, Hickory, NC) Old water mill.
Mayflower Golden Ale (Mayflower Brewing Company, Plymouth, MA) Old barn.
Lost Nation Rustic Ale (Lost Nation Brewing, Morrisville, VT) Old barn.
Southampton Imperial Porter (Southampton Publick House, Southampton, NY). All of this brewery's beers feature a sketch of the old publick house itself, now a restaurant/bar/brewery.
Smuttynose Shoals Pale Ale (Smuttynose Brewing Co., Portsmouth, NH). Label features a cottage on the Isles of Shoals, off the coast from Portsmouth.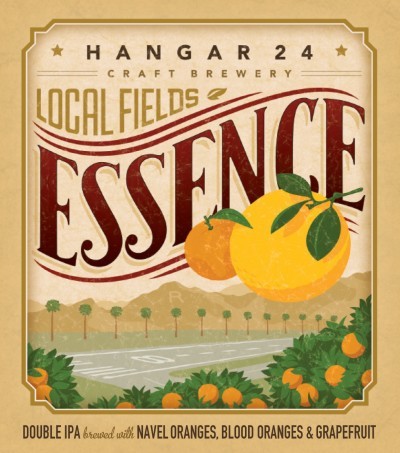 Rural and agricultural images:
Lilja's Heifer Weizen (Sand Creek Brewing Company, Black River Falls, WI - "Brewed behind the Cheddar Curtain") Image is of cows.
Local Fields Essence (Hangar 24 Brewery, Redlands, CA), a double IPA brewed with locally grown oranges and grapefruits. See at right: image is of citrus and orange groves.
Summer Basil Farmhouse Ale (Fullsteam Brewing Company, Durham, NC), a sweet potato beer. Image is an engraving of a basil leaf.
References to outdoor sports or other physical activities that are popular in a particular locale: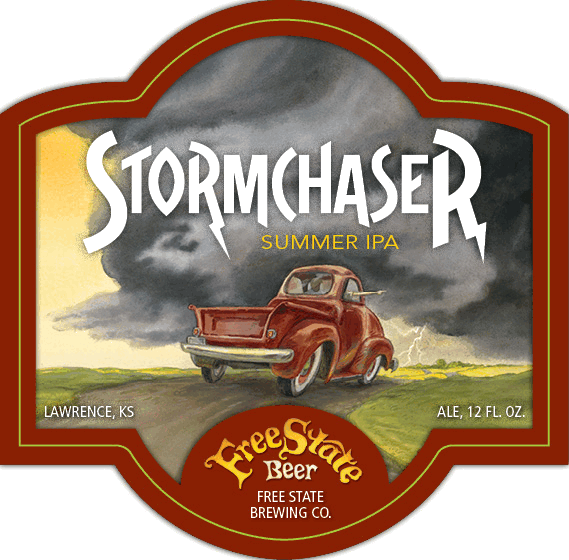 Local problems with nature or climate:
Stormchaser IPA (Free State Beer, Lawrence, KS) In "tornado alley."
Avalanche Ale (Breckenridge Brewery, Denver, CO) Avalanches are such a constant threat in the Breckenridge area, home to many ski slopes, that the Ski Patrol there has to engage in regular avalanche control.
Other local idiosyncrasies:
Slow Elk Oatmeal Stout (Big Sky Brewing Co., Missoula, Montana) So named "because in Montana, cows are often referred to as 'Slow Elk,' both because they often share the same pastures and because every year some myopic hunter shoots a cow during elk season."
Huckle Weizen (Yellowstone Valley Brewing Company, Billings, MT) Made with huckleberries, which can be found in Montana, where it is one of the locals' favorite foods.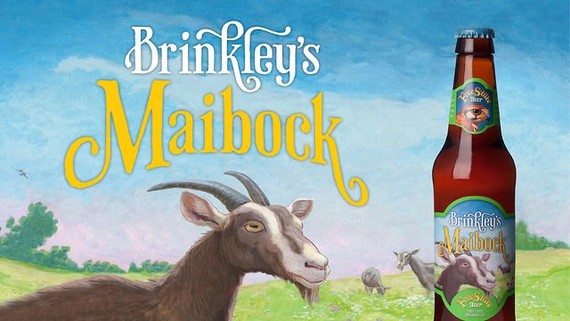 Local characters or legends:
Brinkley's Maibock (Free State Beer, Lawrence, KS). Reese and Schnell write that this beer "plays on the traditional association of goats with the bock style of beer. Dr. John Brinkley was known in the 1920s as the 'goat gland doctor,' who tried to cure fertility [sic] by surgically implanting goat glands in the affected individuals." [That might 'cure' fertility, too, so maybe my "sic" is inappropriate.]
Historical images or figures to be proud of:
Samuel  Adams  (Boston Beer Company). No further explanation needed.
Local people, things, or events that don't necessarily evoke 'pride' but are special or unique to the area: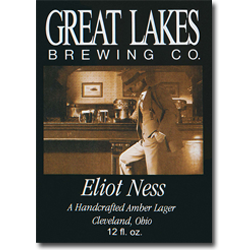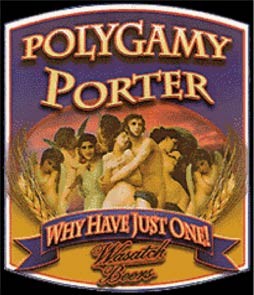 Polygamy Porter (Wasatch Beer Pub, Park City, Utah), a name "that has raised eyebrows and earned the brewery some national press." But if there's a powerful part of the local identity like this, why not play on it? That's clearly the attitude of Wasatch Beers founder, Greg Schirf, who clearly understands the role that humor can play in marketing, as demonstrated both by the slogan for this beer—"Why Have Just One!"—and by this commercial:
Some people may argue that Reese and Schnell are being too deterministic—that, as cultural geographers, they are overly eager to find craft breweries making "an overt statement of pride in the distinctiveness of place, an expression of neolocalism." Obviously, we can agree that not all of them are doing that. And, for the record, Reese and Schnell don't claim they are. We all know there are plenty of trippy names for breweries and beers that have nothing to do with "place"—and no shortage of labels with psychedelic or demonic motifs. For examples, think of these brewing companies and their labels for their various beers: Magic Hat (South Burlington, VT), Flying Dog (Frederick, MD), and Three Floyds (Munster, IN).
Still, Reese and Schnell make a very compelling case that microbreweries represent "a desire on the part of an increasing number of Americans, brewers and consumers alike, to reconnect with the cities or the towns in which they live, to resurrect a feeling of community tied to a specific landscape." It may well be a "geographic manifestation of anti-globalization sentiment." If so, I say bravo.
---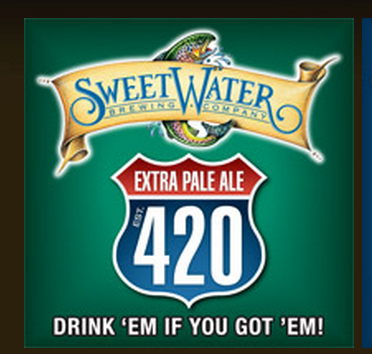 **UPDATE: An old friend, now living in Georgia, writes to tell me about SweetWater Brewing Company in Atlanta, which makes, among other brews, a 420 Extra Pale Ale. It's a clever double-entendre. I-420 is a never-completed interstate highway in Georgia; "420" is a code-term for the consumption of marijuana.