Unemployment for African-Americans Drops to Lowest Level Since November 2008
But at 11.6 percent, the unemployment rate for African-Americans is still more than double that of whites.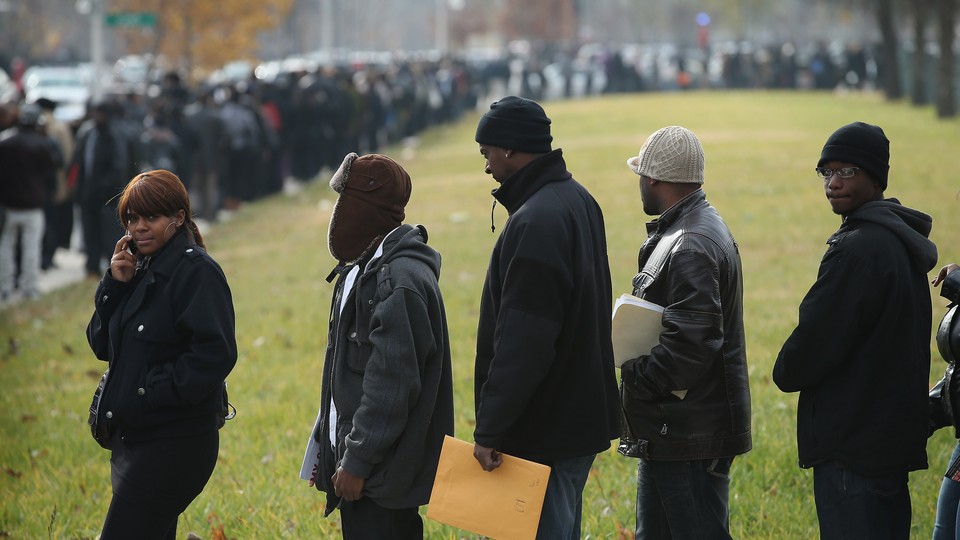 The unemployment rate for African-Americans is the lowest it's been during the Obama presidency, falling to 11.6 percent in April.
The latest figures from the Bureau of Labor Statistics released Friday not only show a decrease of 0.8 percent in the black unemployment rate from March to April, they also show that this is the lowest unemployment rate for African-Americans in over five years.
The last time the jobless rate was this low was in November 2008, sitting at 11.5 percent. The next month, it rose to 12.1 percent and stayed high for the next five years, peaking at 16.9 percent in March 2010.
Unemployment among African-Americans, however, remains a major problem. Last month, more than 2.2 million African-Americans were unemployed, the highest rate of any racial group.
In April, the unemployment rate dropped for whites to 5.3 percent, Hispanics to 7.3 percent and Asians to 5.7 percent.
That means, too, that the unemployment rate for black Americans is more than double that of whites, which is not a new trend. A Pew study from last year shows that since 1954, when the BLS consistently started recording unemployment by race, the rate for African-Americans has consistently been twice that of whites.
So, while unemployment is indeed decreasing across most demographics, Friday's numbers continue to show a racial disparity in employment.