Tiffany Sold Much More Bling Than Usual This Quarter
This article is from the archive of our partner
.
Tiffany & Co. had an incredible quarter, blowing away analysts predictions. Tiffany reported $1 billion in revenue during the first quarter, jumping 13 percent from this time last year. Worldwide, sales increased 15 percent. Their income was $125.6 million, a 50 percent jump from 2013. Earnings were up $0.97 a share.
The key to these spectacular earnings numbers was not their highest-end luxury items, but Tiffany's lower-cost pieces, led by the Atlas Collection. The most expensive piece in that collection is the Atlas Cocktail Watch, which is 18k rose gold and complete with 197 diamonds (just under two carats.) It's cost is $26,500. While that might be pricey, pieces in the popular Elsa Peretti collection go well above $30,000 and the Yellow Diamonds collection offers a variety of pieces in the $100,000 range.
Comparably, the Atlas Collection offers a variety of more affordable items, including a selection under $500. A major push for the Atlas Collection was the much lower price point pieces, some of which are as low as $125. Because all of the pieces still include the company's signature time table (the Roman numerals XII, III, VI, IX arrayed in circle), customers can get a distinct, recognizable Tiffany piece for a much more reasonable cost. This has opened the door to more shoppers who are looking to own the Tiffany brand, but without the usual hefty price tag. 
For these lower priced pieces, the profit margin is actually higher. This helped drive profit margins for the company as a whole. Last year, the margin was 56.2 percent, and this quarter it was up to 58.2 percent.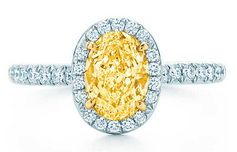 Apart from the Atlas Collection, consumers were also more keen on colored diamonds this quarter, especially yellow diamonds. Tiffany's revenue was also helped by Japan, where sales grew 20 percent to $174 million. 
The unexpectedly strong quarter caused Tiffany stock to surge 8.13 percent to 95.48 as of publishing time today.
This article is from the archive of our partner The Wire.