The Right Way and the Wrong Way to Privatize Science
This isn't America's first time seeing an infusion of personal wealth getting poured into research, but the last time around, it was done more democratically.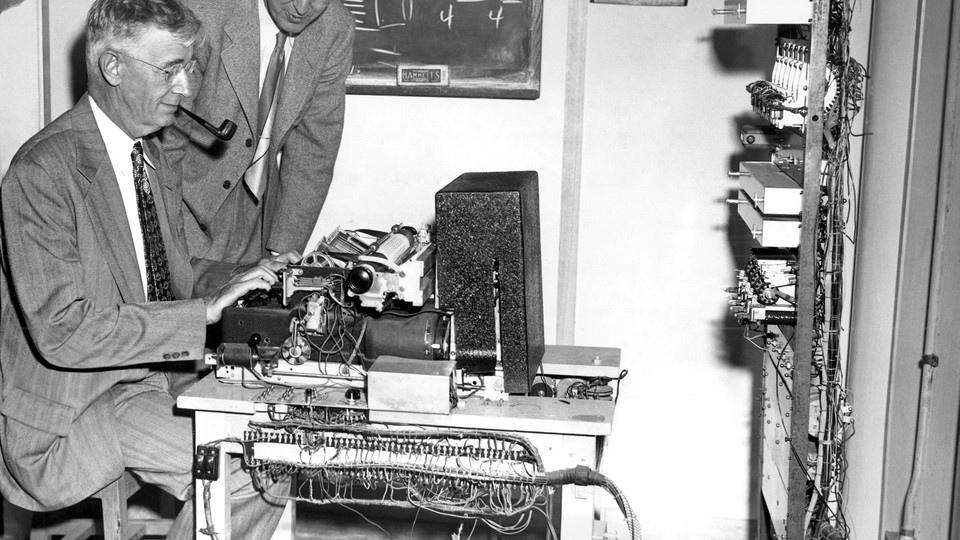 From their home in Los Angeles, philanthropists Eli and Edythe Broad support scientific and medical research in the areas of human genomics, stem-cell research, and inflammatory bowel disease. In 2013, they gave $157 million to their Broad Foundations, which awarded $100 million to the Eli and Edythe L. Broad Institute of MIT and Harvard for biomedical research. This brought the couple's contributions to the institute up to $700 million since its founding in 2003. In 2011, however, 60 Minutes criticized Eli Broad for "micromanag[ing] almost every dollar he gives." It seems that the Broads are personally invested in the outcome of their philanthropic work. So too are New Yorkers Jonathan and Mindy Gray. As of January, the head of global real estate at Blackstone and his wife have given $30 million to the University of Pennsylvania for a center focused on cancer treatment and prevention. Investing in their alma mater, this gift was principally a tribute to Ms. Gray's sister who had passed away from ovarian cancer.
Far from being singular examples of targeted giving, New York Times journalist William J. Broad observes that these two gifts are part of a larger trend in how American science is being funded in this country. In his recent piece on the topic, Broad discerned that philanthropists from Silicon Valley to Wall Street are reinventing "themselves as patrons of social progress through science research." This comes just as the federal government in Washington D.C. is cutting its budget for scientific research. Long a symbol of national power and pride, American science is becoming a private affair.
Looking back only to the U.S. federal government since World War II and particularly the Cold War, private science can seem like a recent interloper. However, philanthropists have long funded American science. Most glaringly, Andrew Carnegie and John D. Rockefeller Sr. in the early 20th century donated significant amounts of money to establish two permanent science research centers in Washington D.C.: the Carnegie Institution and the National Research Council.
To show that private science has roots in the first gilded age, though, is not to dismiss Americans' perceptions that there is something new in the way science is now being funded. Unlike their early-20th-century predecessors, for example, philanthropists today are targeting particular fields themselves and bypassing traditional intermediaries such as trustees, federal actors, and research experts. On the one hand, these intermediaries can be perceived as an unnecessary and time-consuming bureaucratic hurdle that not only stands in the way of donors' passionate inspirations, but also stalls innovation and avoids risk-taking. On the other hand, their presence can facilitate informed decision-making and serve as a democratizing element, ensuring that several groups of Americans besides the private-sector elite have a say in the course and development of American science.
Some Americans might feel nostalgic about a Cold War era of federal funding for American science. However, rather than comparing absolutes of federal versus private funding, our time might be better spent comparing these two models of private science; and in the process, molding the type of privately-funded research program that we would like to see develop in the United States. After all, private science seems here to stay.
In November of 1901, steel magnate Andrew Carnegie approached U.S. President Theodore Roosevelt with the idea for a science center in the nation's capital. The previous year, Carnegie had met with former Cornell president and then U.S. ambassador to Germany, Andrew White, and the two had discussed plans for a university in Washington D.C. By the end of their conversations, however, White and Carnegie had arrived at the idea for an independent research organization without students or permanent faculty.  
In January, Carnegie declared that his purpose was "[t]o found in the city of Washington an institution which, with the cooperation of institutions now or hereafter established, there or elsewhere, shall in the broadest and most liberal manner encourage investigation, research and discovery—show the application of knowledge to the improvement of mankind, provide such buildings, laboratories, books and apparatus as may be needed, and afford instruction of an advanced character to students properly qualified to profit thereby." He commissioned the organization with the general task of improving knowledge in the sciences; the following year in 1903, Congress incorporated the Carnegie Institution of Washington. Its board consisted of five ex officio members such as the U.S. president and the speaker of the House and 22 other leading American policymakers. It also established advisory committees in various fields such as anthropology, astronomy, bibliography, botany, chemistry, economics, engineering, geography, geophysics, geology, history, mathematics, meteorology, paleontology, physics, physiology, psychology, and zoology.
Thirteen years later and in anticipation of the First World War, University of Chicago astrophysicist George Hale approached U.S. President Woodrow Wilson with an offer to have the National Academy of Sciences help organize research for the federal government. With the president's approval, the Academy established a new subagency, the National Research Council [NRC]. Like the Carnegie Institution, the purpose of this National Research Council was to promote scientific research and apply and disseminate scientific knowledge for the benefit of the nation. However, unlike the Institution, the Council had the more immediate purpose of advising the government on scientific matters during a war. Far from treating the NRC simply as a wartime necessity, though, Americans came to see its utility even during peacetime. In 1920, NRC permanent secretary Vernon Kellogg reflected on this shift: "[s]timulated both by the revealed possibilities of coordinated scientific attack on problems presented by the war, America and the Allies have taken steps to provide for a continuing encouragement and support of organized scientific research for the sake of an increased national strength and well-being." Two years earlier, the NRC had become a permanent institution in the United States.
An ardent pacifist, Andrew Carnegie had been devastated with the advent of the World War I. His wife Louise Carnegie wrote some years later that "the world disaster was too much. His heart was broken." By then, the gilded age tycoon had established the Carnegie Corporation of New York with nine-tenths of his fortune and with the broad task of promoting "the advancement and diffusion of knowledge and understanding." He now had a board of trustees to decide on how to allocate his vast fortune, which was particularly useful during these last years of his life when he was rather disheartened with the state of world affairs. The Carnegie Corporation continued Carnegie's emphasis on funding American science and became the NRC's main initial funder. And after the war, the Council continued its operations with the financial assistance of the Carnegie Corporation and the Rockefeller Foundation.
Historian Ellen Condliffe Lagemann writes that the main sources of funding of the NRC did not escape contemporaries' attention: One member of the National Academy of Sciences went so far as to call the NRC "the Rockefeller-Carnegie Research Council." By 1920, the Carnegie Corporation had donated $5 million towards the Council's endowment and that the oil magnate John D. Rockefeller Sr.'s Foundation had contributed $500,000 to be used towards fellowships in physics and chemistry. As far as its structure, the Council organized itself into several divisions such as science, technology, government relations, state relations, and research information.
Today, both the National Research Council and the Carnegie Institution continue to play central roles in advancing and disseminating knowledge in the American sciences. The Institution proclaims: "Carnegie investigators are leaders in the fields of plant biology, developmental biology, earth and planetary sciences, astronomy, and global ecology." They work in one of the Institution's six research departments ranging in focus from embryology to global ecology. From its end, the National Research Council has become the primary source of scientific assessments of American social problems for the federal government.
It is clear that private science is not new. It is a past, though, that is particularly difficult to remember for those of us who were born after the Second World War.
During this war, the federal government came to see very great value in mobilizing and applying scientific knowledge. The Manhattan Project alone cost over $2.5 billion and employed about 10,000 scientists, engineers, and technicians, along with thousands of other workers. As the war was coming to a close, U.S. President Franklin D. Roosevelt asked the director of the Office of Scientific Research and Development, Carnegie Institution President Vannevar Bush, to explain how the wartime mobilization of scientific research could be useful for the federal government in peacetime. Writing as tensions were escalating between the two former allies, the United States and the Soviet Union, Bush produced a report "Science-The Endless Frontier." Here, he explained to the new U.S. President Harry S. Truman that "our defense against aggression demands new knowledge so that we can develop new and improved weapons. This essential, new knowledge can be obtained only through basic scientific research." In particular, he recommended the formation of a National Science Foundation to promote the nation's interest in scientific research and education. In 2012, President Barack Obama's Council of Advisers on Science and Technology reflected on the influence of this 1945 report and noted that the "Federal Government went on to create the National Science Foundation in 1950 and greatly boost funding for the National Institutes of Health. Today, these institutions, along with the newer Department of Energy, remain the primary stewards of basic research in the United States." Looking at the present case of private science from the perspective of a post-WWII United States, it can seem that American science was always a public science and that private science is a recent trespasser. This is not the case.
One important distinction, however, exists between these two earlier philanthropists and the philanthropists funding private science today. With the Carnegie Institution and the NRC, Andrew Carnegie and John D. Rockefeller had invested in building up American science as a holistic unit and leaving it up to foundation trustees, federal actors, and their expert advisers to decide which particular fields and projects to support. By contrast, it seems that philanthropists today are invested in deciding for themselves which particular strands of research in American science are worthy of their funds. As the Times journalist Broad reminds us: "[T]he new science philanthropy is personal, antibureaucratic, inspirational."
The question is whether we—as Americans—welcome this new model of private science as is, or whether we find something valuable in its older form. More specifically, we need to ask ourselves whether we welcome a world where individual philanthropists decide for themselves which research fields in American science to fund. This contemporary model might encourage funders' enthusiasm, clear the way for innovation, and encourage risk-taking, but at the very cost of silencing the voices of American trustees, research experts, and policymakers. This second model is perhaps more expedient than the first, but also less democratic.
Such a conversation should not lead us to bemoan one period of private science and celebrate another; but rather, to think critically about the model of private science that we would like to see take shape in the 21st century.