Military retirees are not like the average retiree: Veterans may have special medical needs, and being decades younger than the average retiree, they usually still need to find work.
So when searching for the best place to retire from the Armed Forces, there are several economic, social, and health care factors for a veteran to take into account. WalletHub, a personal-finance network, this week released a survey ranking the states and the District of Columbia as places for military retirement.
Wyoming tops the list as best.
While medical treatment is one of the more essential services for veterans — making the Veterans Affairs Department scandal all the more disconcerting this Memorial Day — the survey also takes into account housing prices, job opportunities, and the number of veteran-owned businesses. The survey also considers the fact that the average officer retires at 45 years old and average enlisted personnel retire at 41 years old.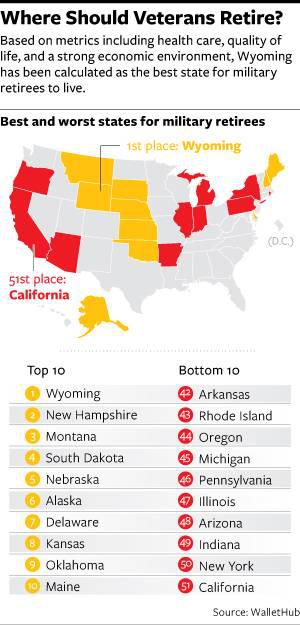 So why does Wyoming top the list? It ranked in the top five for all three main categories for the survey: economic environment, quality of life, and health care. Wyoming ranks first in the number of VA health facilities per 10,000 veterans and also ranks fourth-highest in number of veterans per 100 residents.