For most American cities, the difference in the number of people who live there and the people who only work there is small. People tend to work where they live.
But that's not the case for some of the leading economic hubs in the country, where employment and commerce are high. For places like Manhattan and Washington, commuters can nearly double the population during the daytime.
A 2013 study from the U.S. Census Bureau outlines which major counties in the U.S. have the biggest gap between the residence population and the commuter-adjusted population, which is calculated by adding the total area population with the total workers in the area, and then subtracting the total workers living in the area. The study uses census data from 2006 to 2010.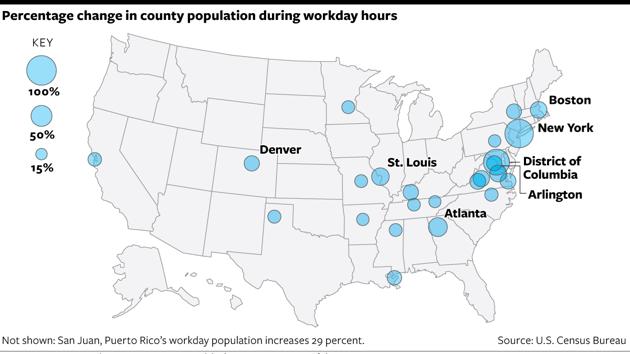 The population difference is largest in New York County, which comprises Manhattan. There, the commuter-adjusted population is 94.7 percent larger than the residence population, jumping from 1,600,00 to 3,100,00. Most of these people come from other boroughs in New York City. Commuters traveling from Kings County (Brooklyn), Queens County (Queens), and Bronx County (the Bronx) to Manhattan account for three of the largest county-by-county population flows.