Is 8th Grade Too Early to Pick a Career?
Inside South Carolina's experiment to bring career counseling into the classroom from kindergarten through senior year.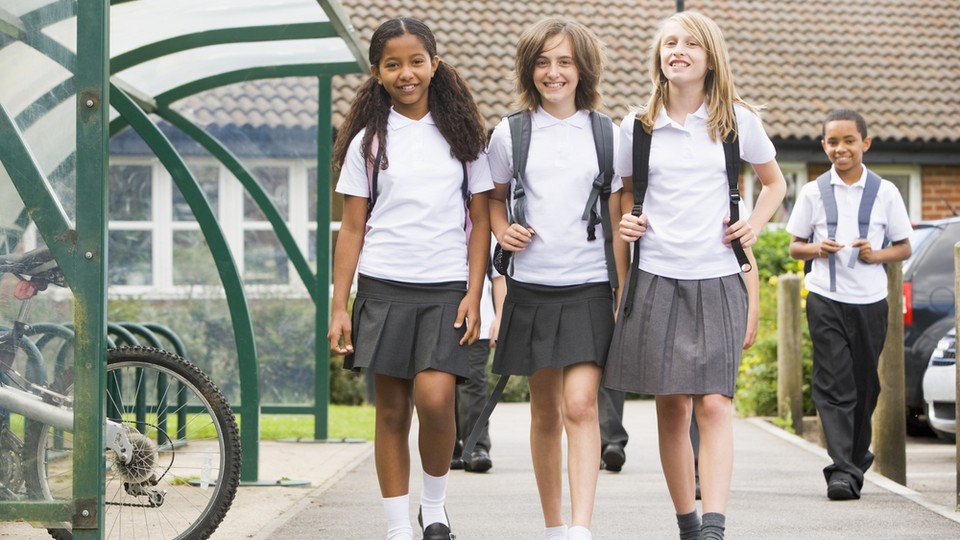 If you want middle and high school students to give greater thought to their career paths, one key step is to hire and train good guidance counselors.
So goes one of the primary lessons from South Carolina's nearly nine-year experiment to bring career counseling into its public school classrooms as a way to better connect graduating students to the ever-changing demands of the labor market. "We want students to become more aware of their career choices and understand the ideas in terms of salaries and the job market outlook," says Dr. Sabrina Moore of the South Carolina Education Department.
Helping students sort through career paths is now the primary role for Patricia Reid, who has spent 21 years as a teacher, an at-risk guidance counselor, and now a school career specialist. Reid works at a middle school in Clover, S.C., where she advises roughly 300 eighth-graders each year on their career goals through the state's Personal Pathways to Success program.
Reid begins by meeting and talking with each student about her interests, hobbies, and academic preferences. Together, the two identify a career path that the student can focus on during high school — perhaps technology, engineering, veterinary science, or manufacturing. Then Reid meets with the student and parents to develop an individual graduation plan, which allows students to take electives throughout high school to bolster particular interests. So, if a student expresses interest in becoming, say, a veterinarian, he could sign up for an agricultural science or animal-care classes in high school in addition to enrolling in required courses such as English, math, science, and history.
The goal is to expose students to their chosen professional field as early as possible, as well as to give them time for internships or job-shadowing. Students always can — and do — change their minds and shift focus if they like. "It's never too soon to think about careers because of the competitiveness in the workplace now," Reid says. "The world of work is totally evolving. A big part of what the program does is to give you a variety of opportunities to discover and explore."
Asking public school students to think through their career options more closely is not just a whim in today's tough economy. Educators and policymakers, such as those in South Carolina, view it as an imperative to insure the country's future competitiveness. The national unemployment rate fell in April from 6.7 percent to 6.3 percent in the most recent release of labor data, but the unemployment rate among teenagers remains in the double digits at 19.1 percent. And, if teens and twentysomethings fail to gain a toehold in the labor market during high school and beyond, it can set them back in terms of their finances and their career progression for years — enough for some economists to consider this particular moment a crisis for teen unemployment.
South Carolina first hit on the idea of developing a robust career-counseling program for its public school system in the late 1990s. By then, the state's longtime textile industry had moved thousands of its blue-collar factory jobs overseas. In its place, South Carolina hoped to attract companies that could employ workers in advanced manufacturing and supply fields. (BMW, as one example, opened up a plant in Greer in 1994). "What was happening was that we could not find employees for the jobs that were being created," says Robert Barnett, associate vice president for workforce, education, and manufacturing policy with the South Carolina Chamber of Commerce. "The kids who had come out of school were not matching up with the jobs either. I'm not saying we were in a crisis mode, but we were getting close to it."
To tackle this mismatch, local business leaders, education advocates, and a few vocal school superintendents set to work in 1999 on legislation to improve the state's workforce development and to more closely tie its educational system to the job market. By 2005, South Carolina passed the Education and Economic Development Act, which required every public school, grades K-12, to inject more career counseling into the curriculum. In elementary and middle school, this primarily takes the form of basic career exploration. By eighth grade, students meet one-on-one with counselors, like Reid, to develop an individual graduation plan for high school. Students specialize in a career cluster and take a handful of electives by the end of their senior years that relate to their career plan.
The program now serves about 250,000 public school students at an average cost to the state of $28 million a year, Moore says. The majority of that budget (about $21 million) goes to train and hire the career specialists and guidance counselors. A five-year study of South Carolina's program called the counselors one of the most integral parts to its success. "School counseling used to be focused on college, college, college," says Natalie Stipanovic, an assistant professor at the University of Louisville, who has extensively studied the counseling portion of the South Carolina program. "With all of the kids who don't go to college, what do we do? This program makes sure that every student is seen as important to talk to."
Students during the 2010-11 school year seem to agree they had benefited from the extra attention. A majority of sophomores and seniors surveyed from that year told researchers on the longitudinal study that they'd already researched jobs, enrolled in classes relevant to their career plans, and participated in extracurricular activities or work outside of school that somehow connected to potential jobs.
For educational experts, the South Carolina program offers a potential model for other states and cities as they contemplate ways to make high school graduates more competitive and to ensure they can obtain a middle-class lifestyle. Right now, career discussions tend to focus on college or bust, says Anthony P. Carnevale, director and research professor of the Georgetown University Center on Education and the Workforce. It's as if no middle ground exists between a student attending Harvard or working at McDonald's. "If you want upward mobility in America for low-income kids, you have to get them to think about how they will use their education to make a living," Carnevale says. "Right now, we act like there's only one pathway."
The biggest challenge facing the South Carolina program predictably comes in the form of money and resources. The state slashed its education funding at the height of the recession, a move that showed the financial vulnerability of these types of programs. The ratio of students to guidance and career counselors remains another issue; Reid says she still sees anywhere from 300 to 475 students a year. Ideally, the program wants to encourage a ratio of one counselor to 350 students — still a high number for all of its emphasis on individual attention.
And what about the naysayers who argue that eighth graders are not yet in a position to pick a specific career path? "You'd be surprised how well-versed students are," says Barnett of the South Carolina Chamber of Commerce. "It's not a lifelong commitment to a certain career they're making — just a decision to look at specific paths."