How the Amazon-Hachette Fight Could Shape the Future of Ideas
While the bookseller and publisher are battling over mundane business specifics, the state of publishing hangs in the balance.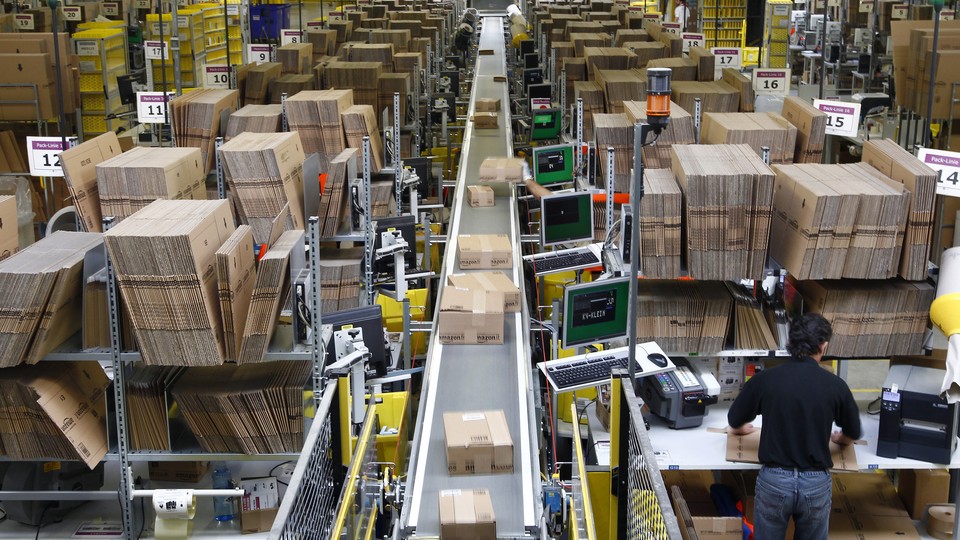 Over the past several months, what started as a quiet trade dispute has intensified and become public as the largest bookseller in the world, Amazon, and one of the biggest publishers, Hachette, battle over their next contract.
You may have noticed little things, like that book you wanted from Amazon was going to take weeks to reach you—rare for a retailer that puts service to customers above all. Or perhaps you wanted to pre-order the latest J.K. Rowling title The Silkworm on Amazon so it arrives at your doorstep the day it comes out, but can't for some reason. Instead of being able to buy it with one click, a patented Amazon innovation, you are offered the option of signing up to receive an email update when it does become available.
Or maybe you noticed the dozens of articles published in the New York Times, the Wall Street Journal, Reuters, the Guardian and practically every local paper from New York to Seattle. What was for a short while a private contract negotiation, both sides digging in, has become a public matter, with recriminations and finger pointing in the publisher, author, and literary agent communities and a solitary, somewhat even-handed statement from Amazon, in which it admitted that it anticipated a long, protracted dispute. (Amazon had previously declined all requests for comment on the matter, including one for this article; Hachette has provided a handful of written statements, including one most recently in direct response to Amazon's statement.)
Why? A contract negotiation between a supplier and a retailer rarely makes it into the press, and the specifics of this one—e-book discounting and Hachette's profit margin—are no more interesting or significant than many others that garner far less attention. But in this case, it's not the price of flat-screen televisions or how they're displayed in stores that's at stake—it's the future of ideas in America.
Let me explain.
By some estimates, today Amazon controls around 50 percent of all book sales—physical and electronic—in the U.S. In the past decade, the company has steadily grown that market share, taking it from Barnes & Noble (shrinking), Borders (bankrupt since 2011), and independent bookstores (around 2,000 remain today out of the nearly 7,000 there were in the mid-1990s). It also built most of the e-book business in the U.S. following the successful launch of the Kindle e-reader in 2007. It wasn't the first e-reader on the market, but by allowing customers to download e-books over a private, customized network built for the purpose, as opposed to making them connect their e-readers to a desktop or laptop computer connected to the Internet, it quickly became the most popular. In 2010, Amazon was estimated to control 90 percent of the growing e-book business. That's when Apple, with the support of five of the world's six largest publishers, launched iBooks, a main feature on its brand new iPad. Within two years, Amazon's market share in the now much larger e-book business was thought to dip to around 65 percent, with Apple at around 10 percent and Barnes & Noble's Nook business, launched in 2009, at about 25 percent.
How Apple and Barnes & Noble were able to loosen Amazon's stranglehold on e-books is now a matter of public record. The five publishers—Hachette, HarperCollins, Macmillan, Penguin, and Simon & Schuster—were found by a federal court to have colluded with Apple to fix the prices of e-books across retailers, meaning that popular, best-selling titles, most of which were published by these five companies, would cost the same at every e-book retailer (Random House was the only one among the world's biggest publishers not to participate). Aside from fines, part of the remedy to the harm to the free market caused by the publishers' crime was that each publisher had to renegotiate its contracts with its retailers—primarily Amazon, Barnes & Noble, and Apple—and, importantly, they were forbidden from hewing to the terms of their old contracts, that they and not the retailers would set the prices of e-books and that those prices would be the same no matter where you purchased them.
Fast-forward to 2014 and Hachette's contract with Amazon is up again. It's been nearly two years since Amazon regained control of the prices of many of the e-books it sells, and prices for best-selling e-books have plummeted, with Amazon leading the way when it comes to discounting; the consequences to its competitors have been predictable. Sony, one of the first companies to sell e-books in the U.S., has abandoned the business completely, except in Japan, to a former competitor, Canadian e-book upstart Kobo. Meanwhile, Kobo is rumored to have all but given up on growing its business in the U.S. and has closed its office here. Barnes & Noble has reported mounting quarterly losses for its e-book operation over the past several quarters. Apple does not publicly report its e-book sales; neither does Google, which also sells e-books, but its market share in the U.S. is thought to be vanishingly small.
Hachette is the first among the world's five largest publishers (Penguin merged with Random House last year) to sign another contract with Amazon since its court-mandated contract in 2012—and likely the most important. In the coming two years, Amazon and its competitors will renegotiate contracts with all of the world's largest publishers and in 2015 they will be again allowed by law to negotiate contracts where they determine the prices of e-books. Amazon likely doesn't want this and, by the looks of it, is even willing to inconvenience its own customers in the short term to ensure this long-term outcome.
In its statement, Amazon wrote:
When we negotiate with suppliers, we are doing so on behalf of customers.

...

If you do need one of the affected titles quickly, we regret the inconvenience and encourage you to purchase a new or used version from one of our third-party sellers or from one of our competitors.
Amazon is willing to go so far as to push customers to its competitors to win this battle. There are two major issues at play. The first is the price of books, particularly e-books. Amazon wants to continue to control it and to offer any discount it chooses to consumers; Hachette, on the other hand, likely wants to leave an opening for the possibility of going back to its previous pricing scheme in 2015. If it can set the prices across retailers, it can do a little to help protect its other trading partners, most importantly Apple and Barnes & Noble. Amazon, unlike Barnes & Noble, for instance, doesn't need to make money on books to be profitable. It can theoretically lose money on each sale of an e-book if it makes up the difference when it sells a garden rake or a package of diapers. Trying to compete on e-book prices with Amazon has been a major factor in driving Sony and Kobo out of the U.S. e-book market.
The second issue in the negotiation is what's known in the book publishing industry as "co-op." It's a form of marketing: Publishers pay retailers to ensure customers see their books in stores. For instance, when you see a cover of a book displayed on a bookstore shelf and not its spine, that's no accident. A publisher paid for that special billing. Amazon wants Hachette to pay more for placement on its website. By paying a higher rate of co-op, Hachette would essentially be transferring some of its profit margin to Amazon.
Like nearly every business dispute, this one is about money.
But, ultimately, it's about so much more than that.
Let's assume Amazon wins this negotiation with Hachette and secures pricing control over e-books and a higher payment for marketing services (essentially, a bigger piece of Hachette's profits). Hachette books are once again in stock and available for readers in a matter of days; "buy buttons" are restored for book pre-orders; the sales resume their flow. When the next publisher is up for renegotiation (either HarperCollins or Simon & Schuster), they will know what they are in for in terms of losses of sales and damage to reputation among authors, if they don't sign. Each publisher that agrees to whatever terms Hachette is resisting now will make it more likely that the next will do the same.
More liberal discounting practices will give Amazon the power to continue to gain market share and it's easy to imagine a scenario where it controls three-quarters of all book sales in the U.S. At the same time, higher co-op payments would make book publishers less profitable and less likely to invest in riskier book projects.
Long-time industry consultant (and partner in Digital Book World, my employer) Mike Shatzkin explained to me what would happen next:
Let's say Amazon goes to 70 percent and they're basically the pipes for everything and they're indispensable and you can't publish a book without them. So, what do they do then?

If they're still trying to maximize profits, we'll still have lots of romance books and James Patterson will still write his books. But serious nonfiction books won't get published. Those are the books that will go first.
Nonfiction books, like Walter Isaacson's biography of Steve Jobs, are expensive and risky to produce and rarely sell well, yet many of these books drive intellectual thinking in the U.S. Robert Caro's latest book on Lyndon Johnson The Passage of Power: The Years of Lyndon Johnson took nearly a decade to write—and that means investment and risk.
Think of book publishers like venture capital firms. They invest in individual titles in the form of advances and the sunk costs of editing, packaging and distributing a book. Most of those bets lose money. Some make a lot of money (for every Fifty Shades of Grey there are dozens of money-losing duds). It all evens out to an industry where a strong year is one where a publisher clears a 10 percent profit margin.
As more book sales flowed through Amazon, it would have even more direct control over what people read. The company would have little incentive, for instance, to surface books readers are less likely to buy. If The Hunger Games is all the rage, then the company is best served pushing that title toward its readers at the expense of other books. Or, much more nefariously, it could discourage readers from buying books with a point of view it doesn't agree with.
Jeff Bezos, Amazon's founder and CEO, and the company's stockholders, have so far shown little or no bias toward political ideas or pushing one book over another for any reason but profitability, but that's not to say that someday that won't change. (Alarm bells went off across the publishing industry when the Washington Post, now owned by Bezos, was seen as publishing an Amazon-leaning article about its dispute with Hachette; later the same day, it ran a more even-handed account.) The rules of media ownership in the U.S. are built partially around the concept of not giving any one party too much control over the flow of ideas. Should Amazon become the sole place most books are purchased, it could start to have too much control over what we read. Shatzkin elaborated:
Amazon has so much control over what it surfaces. Even if Amazon doesn't do anything overtly to prevent certain books from being published, they would have so much control over what you're likely to see or buy, it's not good for democracy.
Perhaps it was coincidence, but one of the books caught in the crossfire of this dispute is Brad Stone's The Everything Store, the best and most widely read book about Amazon—a book that Amazon royalty, notably Jeff Bezos's wife in an Amazon review, are not fans of.
While this battle rages, some of Amazon's competitors are trying to take advantage. A new e-book retail start-up founded and owned by a former agent and a consortium of authors, Zola Books, has announced a 30-percent-off sale on all Hachette titles. Bookstore chain Books-A-Million is putting certain Hachette titles on sale and has been very communicative to its customers in response to the Hachette-Amazon flap. Mark Coker, the founder and CEO of self-publishing distribution platform Smashwords, also sounded the alarm in a recent blog post, warning authors that as suppliers to Amazon, they should watch this negotiation closely. New distribution channels are also rising. A prominent Hachette author is dabbling in launching his own author-powered direct book sales platform. Librify, a digital book club start-up, just inked a deal with Target for its summer book club plus retail platform launch.
"Publishers are in need of alternate distribution channels and there are companies eager to work with them on new business models that work for publishers and fill a consumer need," Joanna Stone Herman, founder and CEO of Librify, told me. To be sure, Kindle customers who primarily buy books directly on their e-readers may not be swayed by attempts from rivals to woo them out of the Amazon walled garden. You can't buy Books-A-Million books on your Kindle.
Regardless of what may happen between Amazon and Hachette, both companies believe this round of talks to be absolutely crucial for their futures; both are risking so much. Amazon, the self-styled customer-centric company, is risking its relationship with its customers and a reputation that it has painstakingly won by being the best, cheapest, and most consistent online retailer for a decade or more. Some in the press have already turned on Amazon. And Hachette, though owned by $10 billion French media conglomerate Lagardère, is a much smaller company and is losing millions in this battle. It's also risking its reputation among authors, its most important group of partners; why should an author work with Hachette if it can't even effectively distribute books through Amazon?
The dispute is about money, but the outcome—whether Hachette gives up on pricing and pays a little more for marketing, or not—is about so much more. Amazon equated Hachette with its other suppliers in its statement: "At Amazon, we do business with more than 70,000 suppliers, including thousands of publishers. One of our important suppliers is Hachette...." Hachette doesn't feel the same way, according to its response to the Amazon statement: "By preventing its customers from connecting with these authors' books, Amazon indicates that it considers books to be like any other consumer good."
But, it added, "They are not."