Getty's Crusade to Turn Photographed Women From 'Dead-Eyed' Props Into People
The story of why the photo service developed a special collection showcasing stronger, more realistic-looking women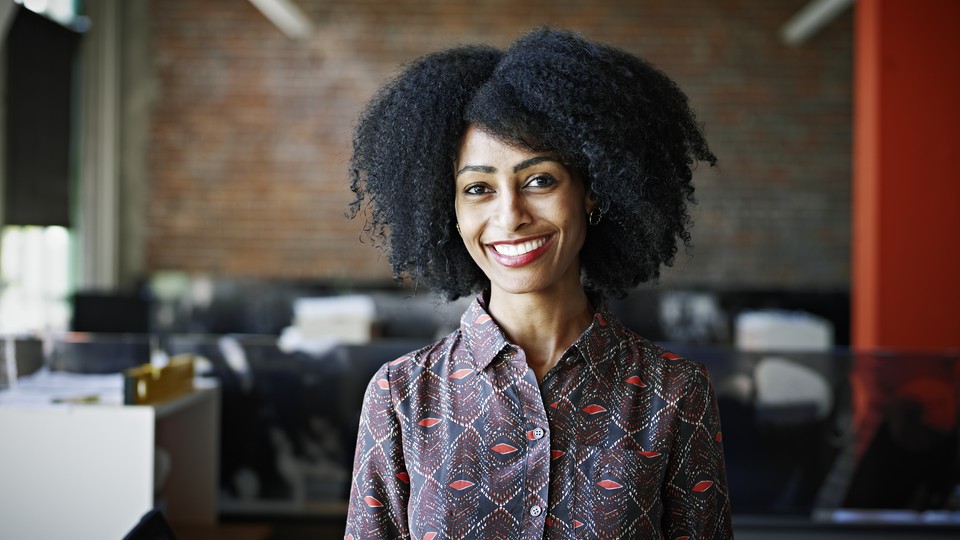 The idea for a special Getty Images Lean In Collection began with a single photo: a naked woman, tastefully draped in a sheet. Pamela Grossman, director of visual trends at Getty, was shocked to discover back in 2007 that this was the most popular image of a woman in the company's database. "She was very perfect-looking, she was very much a prop, an objectified woman, and . . . she looked a bit dead-eyed at the camera," Grossman recounted at an Atlantic event earlier this month.
Spurred by her perception that the visual and cultural landscape was becoming more hospitable to feminist images and feminism—and her frustration that Getty's sheet-swathed beauties weren't keeping up with the times—Grossman collaborated with LeanIn.org editor Jessica Bennett to create a new set of images intended to represent empowered modern women from all walks of life.
Since its much-heralded debut in February, the Lean In Collection has been living up to the hype. Grossman reported that licensing of the images that had been in the Getty database prior to their inclusion in the new collection is up 31 percent, and she expects that figure to increase as the photographs move from being used in advertising mock-ups to being licensed in actual advertisements.  "To already see those numbers jumping so high is pretty remarkable and we're really thrilled about it," Grossman said.
What does Grossman make of the recent uptick in licensing of these older images? For one thing, she's not surprised: She had expected that there would be increasing demand for more authentic and powerful images of women. Asked about what particular things foreshadowed this shift to her and she references everything from the power of Hillary Clinton and Janet Yellen to Beyonce's feminism and the popularity of Katniss.
As a result of these early cultural indicators, advertisers are increasingly willing to copy Dove, which pioneered using the overt authenticity of images of women in their beauty ads as a selling point for their products: "Our clients across all industries are asking for these images more frequently than ever before—and this is across all industries, not relegated to the beauty industry like it was immediately post-Dove," Grossman said.
Grossman also attributes the newfound popularity of Lean In Collection photos to changes in the popular consumption of images. The social media juggernaut, she explained, is "shifting the ways in which we're sharing images of ourselves, the kinds of images that we're now getting more used to seeing," leading to wide exposure and acclimatization to tremendous image diversity and a heightened awareness of image manipulation. "We all know what Photoshop is now, we're all much more media savvy, and we're hungry for authenticity," Grossman said. And it helps that women, who participate in social media in greater numbers than men do, have "an immense amount of control" over the online visual dialogue, particularly on sites such as Pinterest.
Grossman has big plans to keep the Lean In Collection fresh. Getty photographers shooting new material "aggressively," and Grossman is hoping to make the collection more "ethnically diverse" and "regionally relevant." Another subject she wants to see more of? Pregnant women. "So often when we see images of pregnant women, they're just kind of beatifically cradling their wombs," she said, noting that she hopes to see images of "active pregnant women, pregnant women at work, taking care of themselves physically, and who aren't just totally focused on their bodies" included in the collection soon. She's also expanding the range of "images of people of different abilities," female and male. "It's a huge growth area for us," she told me.
Ultimately, Grossman says she's "working toward obsolescence," when the photos of the Lean In Collection will be ubiquitous. "That's really what I'm striving for, [for] these images to not feel like a big deal anymore," she said. For now, though, she's happy to settle for climbing licensing numbers, a rapidly-expanding variety of images, and the knowledge that her work is pushing the portrayal of women past tousled bedroom poses and offering something that comes a bit closer to reality.