Can Connecticut Solve the U.S. Retirement Crisis?
The Nutmeg State is the latest local government to try to tackle Americans' inability to save for old age.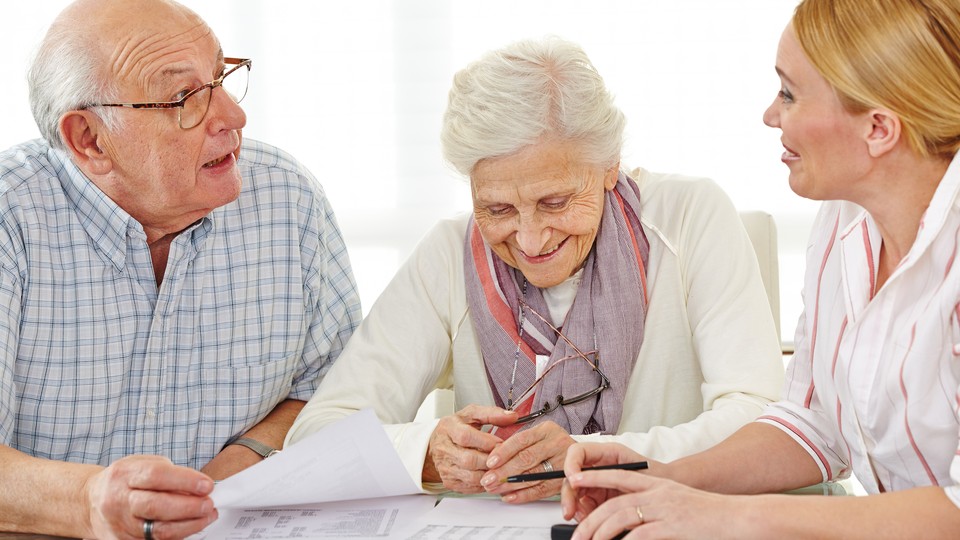 Connecticut may be best known for its colleges, seaside communities, aging industrial cities, and easy access to New York City. Now, the state also wants to be known as the place trying to solve the country's impending retirement crisis, sparked by millions of Americans who have not saved enough cash to sustain them in their old age.
This spring, state lawmakers set aside roughly $400,000 to look into the possibility of creating a state-run retirement plan for private-sector workers. Connecticut is the first state to commit money to such an endeavor. Currently, about 740,000 state workers cannot sign up for a retirement plan through their company. That's about one in four workers, according to an analysis done by the New School's Schwartz Center for Economic Policy Analysis.
For advocates, the goal is to lay the groundwork to start a retirement plan for nongovernment employees that would automatically deduct money from paychecks into retirement accounts, managed for a low fee and with a guaranteed rate of return. It would be one way for the state to help people save — especially small-business owners and low-income residents — apart from simply asking them to rely on Social Security.
Opponents of the plan, including Republican state lawmakers and the financial-services sector, worry that the state's actions could conflict with federal laws, or ultimately put taxpayers on the hook for securing workers' retirement.
"There is a huge gap in retirement savings in this country, and it's important to get to the bottom of why that is," says Kevin Lembo, the Connecticut state comptroller who supports the study. "States and the federal government have a vested interest in trying to figure out this problem. As a public entity, states and federal government are the backstop if older people do not have the resources to live."
Connecticut is the just latest state to tiptoe toward the creation of a state-run retirement plan. California passed legislation to create this type of program in 2012, although lawmakers and advocates need to raise cash to first study the issue. California lawmakers hope to have a plan in place by 2016 to serve about 7.4 million of its private-sector employees.
Illinois, Maryland, and Washington state have also explored similar ideas in response to the worry that American workers either cannot afford to retire, or if they do, that they'll find themselves poorer in their golden years than they were as workers. "There's never been any disagreement about the worthiness of this objective," says Dallas Salisbury, president and CEO of the Employee Benefit Research Institute. "What always ends up getting in the way of implementation is the question of whether this type of program can pay its own way, or if it will need subsidies."
Connecticut first began to explore the idea of starting a state-run retirement plan in 2009. Yet, not until 2014 were state lawmakers able to agree on a bill to fund the study and to create a task force on retirement security. One of the Connecticut plan's best proposed features would automatically deduct money from workers' paychecks and place it into retirement accounts; study after study shows this is the ideal way to nudge workers to save by forcing them to participate, unless they actively chose to opt out.
Several hurdles still remain, though. Chief among them is the fact that the state only agreed to study the issue, not create an actual plan. The state comptroller wonders if the commitment of $400,000 will be enough to pay for a comprehensive study. (California estimated that it would cost at least $1 million). Finally, one outstanding question is how the state can guarantee a rate of return on retirement accounts when the legislation says that a plan cannot put the state in debt or make it liable for private-workers' retirement.
Regardless of whether Connecticut moves ahead with a state-run retirement plan, however, the need still exists for policymakers to think through retirement. Just 18 percent of Americans feel very confident that they'll have enough money to live comfortably after they stop working, according to recent research from the Employee Benefit Research Institute. And, any increase in confidence in recent years comes from richer households who've overwhelmingly benefited from gains in the stock market and a rise in home prices.
This winter, the Obama administration proposed the creation of a new retirement savings plan for lower-income people. Other than that proposal, the federal government has not acted. "It would be nicer if we saw some action at the federal level," says Alicia H. Munnell, director of the Center for Retirement Research at Boston College. "But, it's also wonderful to have experiments at the state level and have some laboratories where people can test out what works."