AT&T, DirecTV and the Future of Internet-Powered Glass
Get ready for AT&T&T: American Telephone, and Tablet, and Television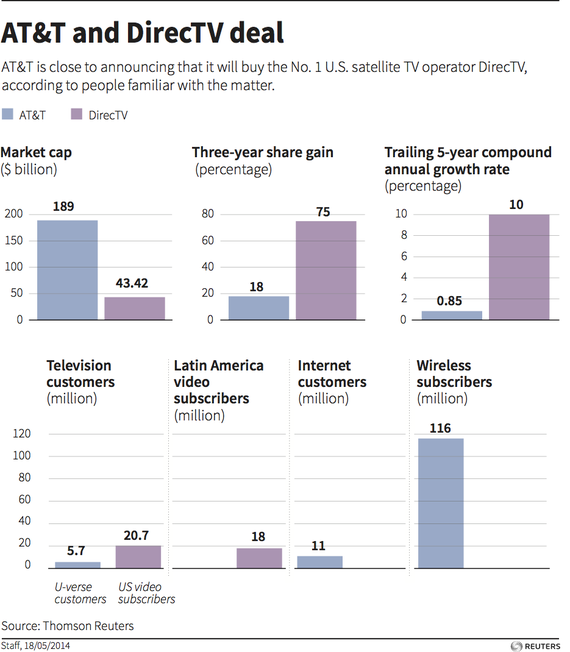 AT&T technically stands for American Telephone and Telegraph, but now that the latter technology is obsolete and the former is becoming more anachronistic by the day, one can imagine a future where the company's mission is more fully spelled out as AT&T&T: American Telephone, and Tablet, and Television. Our phones are hardly phones, anymore. They are, like everything else we spend our days paying attention to, just glass with an Internet connection, as Zach Seward would put it. And AT&T would like to dominate the digital infrastructure behind all of it.
In this light, the company's plan to acquire DirecTV—the national (albeit somewhat stagnant) satellite TV provider—might be a little less mysterious than some people are making it. This isn't akin to Comcast and Time Warner Cable, two cable providers that sell TV and Internet merging to become one giant cable provider that sells TV and Internet. AT&T, a cellular broadband company with a tiny pay-TV footprint, doesn't expand its core business with this purchase. But that's okay. This isn't about adding spectrum. It's about adding glass, as I said today on NPR's Here & Now.
DirecTV—and, in particular, its prized NFL Sunday Ticket—immediately makes AT&T an attractive bundle to millions of sports-loving households who currently use a variety of companies to power their glass. I, for one, spent the last two years paying Verizon for my phone, Time Warner Cable for my apartment WiFi, and DirecTV for my TV. In some markets, AT&T could soon bundle all three into one. How convenient for me? Quite. How valuable for the company selling it to tens of millions of households? 'Tis the season for telco mergers. We're about to find out.