What Happens When American Teenagers Can't Find Work
Employment rates for teenagers are at the lowest levels since World War II. And that could hurt their longterm job prospects.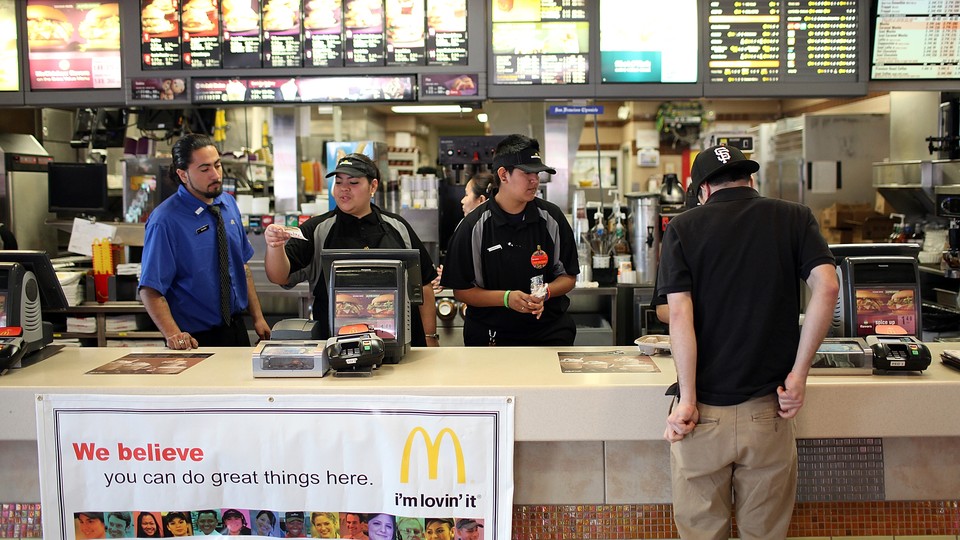 This article is part of a series for Next Economy on American teenagers and employment.
Most Americans love to reminisce about their first paying job, whether it was scooping ice cream, babysitting, or working behind a retail counter. It was rarely glamorous, but earning that first paycheck was a point of pride and marked a milestone in a teenager's life.
By the time Andrew Sum entered his teenage years, he'd already held a job delivering newspapers. Now as an economist, one of his chief concerns is the state of the labor market for today's teenagers. The employment rates for teenagers, ages 16 to 19, plummeted from 45 percent in 2000 to just 26 percent in 2011, according to Sum's recent research for the Brookings Institution. That's the lowest rate of teen employment in the post-World War II era.
The teens hardest hit by the tough labor market also happen to be the least fortunate ones: those with less education, from poorer households, or from minority backgrounds. Teens whose parents earned more than $40,000 a year boasted employment rates of 26 to 28 percent, while teens whose parents made less than that threshold, were employed at rates of less than 20 percent.
These signs foreshadow potentially another summer in which too many teenagers are unable to find work, years after the recession officially ended. "Kids are less likely to work now, and the range of industries they work in is smaller--like retail, trade, or fast food. That massively reduces the number of kids on the payrolls," says Sum, who also directs the Center for Labor Market Studies at Northeastern University in Boston. It does not help that teenagers now increasingly compete against adults for minimum-wage positions.
These data points about low teen employment spell terrible things for the long-term health of the American economy. Study after study shows that early work experience helps teens and young adults build confidence and pick up crucial soft skills, like how to arrive at work on-time and not irritate one's boss. Ideally, those are skills one wants to learn before the mid-20s. "The results are overwhelming," Sum says. "The more you work as a teenager, the more likely you are to work five years from now. That's true at the state or national level. When young people don't get work experience, it inhibits their wages."
Or as Neil Sullivan, the executive director of a Boston workforce non-profit argues, sounding another alarm: "The consequences for American competitiveness are profound. You hear it anecdotally from employers and from organizations in Massachusetts. When we talk about youth development, part of that is to learn to speak effectively to adults."
As gloomy as Sum's paper sounds, he does offer up page-after-page of policy ideas based on successful programs at the state and city level. Among those prescriptions: Incorporating more apprenticeships and internships into educational settings; giving teenagers access to skills training that a particular region will need in the future; and more robust career counseling to make teens think ahead. That sounds far more complicated than finding a job slicing bagels at a local shop. But it may be what's needed for teens to grow into adults who, by 2020, can get ahead.