Was Utah's Much-Heralded Immigration Law All It Promised?
Three years after the law's passage, undocumented immigrants still fear deportation.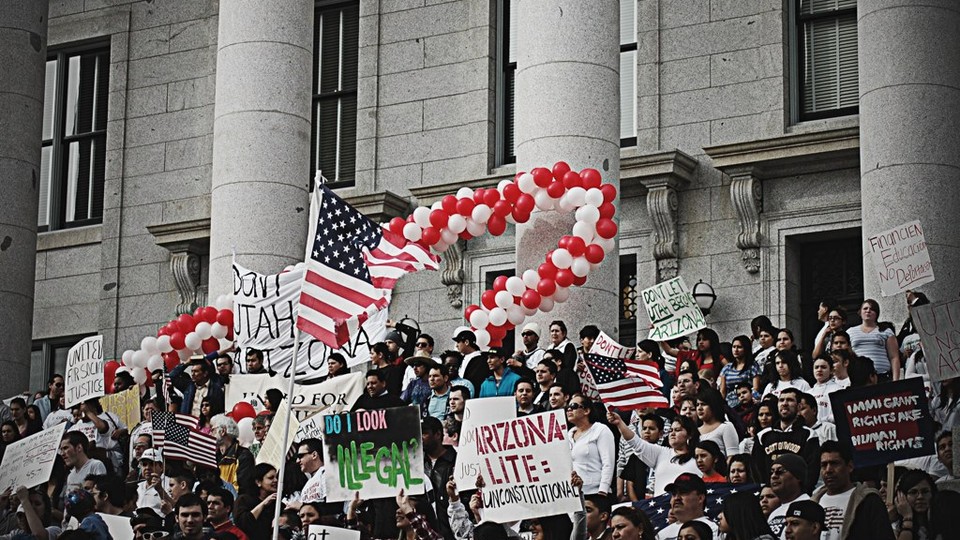 This article is part of a weeklong America 360 series on Salt Lake City — the New West.
SALT LAKE CITY — Roughly three years ago, the state of Utah passed an immigration law that was heralded at the time as a humane, smart alternative to Arizona's tough new anti-immigration stance that allowed police to stop and check the documents of anyone suspected of living in the U.S. illegally.
The Utah legislation seemed like a major triumph in contrast, because it sought to give undocumented immigrants the chance to apply for two-year work permits. They only had to prove that they had already lived and worked in the state and passed a criminal background check; they then had to pay a fine of up to $2,500. The state Legislature passed the bill in March 2011, after receiving broad support from an unlikely political alliance that included conservative Republicans, a statewide business group, Utah's handful of Democrats, and the powerful Church of Jesus Christ of Latter-day Saints.
Nationally, the bill offered a solution for other states to follow and one potential avenue for the country's more than 11 million illegal immigrants. It also allowed people to continue to work and to remain with their families (two major selling points in a conservative state with a low rate of unemployment). And it did so without wading into the thornier issues of whether undocumented workers could remain here in a more permanent fashion. "What conservative is against someone trying to make a better life?" says state Sen. Curtis Bramble, one of the key Republicans behind the legislation. "As an American, it's hard to argue that is not a worthy goal."
Yet three years after the law's passage, local politicians, immigration advocates, policy wonks, and undocumented immigrants say that little has changed on the ground for the lives of the undocumented in Utah. The 2011 state law still has not been enacted; to do so would require a waiver from the federal government. Undocumented immigrants in Utah, like everywhere in the U.S., still fear the idea of being exposed and possibly deported. "Utah was meant to be at the forefront of this, but until the feds change anything, these laws just give people false promises," says Heidi A. Chamorro, a local law student who works closely with the undocumented community, particularly its youth. Or, as Jean Hill, the government liaison for the Catholic Diocese of Salt Lake City and an immigration-law expert, says more bleakly: "I don't think we accomplished anything. It was just a big message bill."
One by-product of the legislation has been an uptick in scams directed at the undocumented community in Utah, say immigration lawyers. "Even at the time, community leaders were concerned that the law would confuse people and lead to lots of misinformation," Hill says. In hindsight, such scams seem inevitable, the ease of convincing already vulnerable people to pay money to obtain a useless worker's permit (at least until the law is enacted) too tempting.
The Utah Attorney General's Office does not keep official statistics on the number of cases it has prosecuted related to immigration fraud. But The Salt Lake Tribune has detailed a number of the most high-profile arrests. Among them, a man named Jose Gonzalez posed as an immigration officer in Utah and offered to help roughly 20 illegal immigrants obtain a "visa" in exchange for $7,000 to $10,000 apiece. Gonzalez, according to The Tribune, even wore a photo ID and lanyard of an immigration officer when he met with the victims. Other scammers, Hill says, will pose as attorneys and offer to advise clients on immigration laws for a fee.
Nor has the 2011 Utah law brought any peace of mind to the undocumented immigrants themselves. Fifty-one-year-old Laura, who asked that her last name be withheld given her illegal status, came to Utah about 14 years ago from Mexico. She arrived on a tourist visa that she overstayed to remain with her husband, a computer technician who works in the Salt Lake City area. Now, the couple has three daughters, ages 12 through 16. Even after all of these years in the state as a worker, mother, and member of the LDS Church, Laura still stresses about her immigration status. The days following the 2011 law proved no different and won't be, she says, until the federal government tackles immigration reform. "Most people I know don't think I'm illegal," she says. "Every single day I worry about it. I worry that I will get out of work and not get to come back home to see my family."
Perhaps the lone positive outcome of the 2011 legislation is that it succeeded in dampening the state's anti-immigration fervor. Bramble himself, formerly a proponent of tough immigration legislation, remembers contentious Statehouse battles dating back to 1999 over whether illegal immigrants in Utah could obtain driver's licenses or permits, or benefit from in-state tuition. Since the 2011 law passed (even without the federal waiver), that conversation has died down. "We have not dealt with anti-immigration bills since then," says Democratic state Sen. Luz Robles. "We sent a message to the feds and now we've moved on."
The 2011 law also reframed the immigration debate on a local level for many of the state's conservative leaders and represented a major shift in their thinking. It caused lawmakers like Bramble to think through the immigration debate in terms of the effect on the local, robust Salt Lake City economy, or in terms of the importance of maintaining people's family structure across communities, including the undocumented immigrants.
"True conservatism cares about the human being, and, frankly, our whole objective was to raise undocumented immigrants to the surface of society, so they can be accountable. So they can be involved in their children's education," says Paul Mero, the president of Sutherland Institute, a conservative Utah public-policy think tank that supported the 2011 law. "Our bill was not about border security. That was Congress's deal. What we crafted in Utah was about the folks who actually live here."