Stop Worrying About Inflation—the Recovery Is Still as Slow as Ever
Book it: We've added between 150,000 and 200,000 jobs almost every month this recovery. This time, we added 192,000.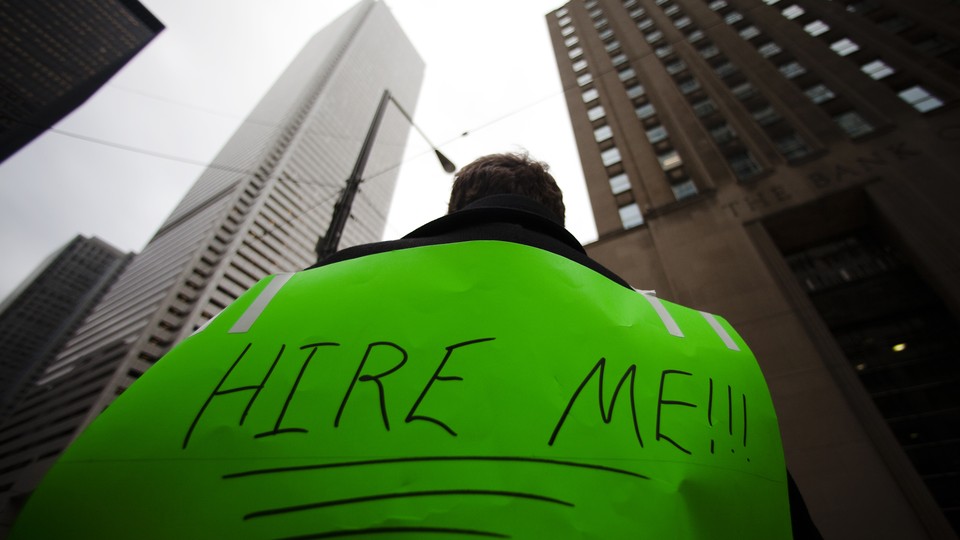 Stop me if you've heard this one before. The economy is growing, but it's not growing fast enough for the millions of people who still can't find work.
That was the story in 2010 and 2011 and 2012 and 2013—and now in 2014, too. Indeed, the particulars of the March jobs report weren't all that different from any other month in our Groundhog Day recovery: We added 192,000 jobs, 37,000 more in revisions, and the unemployment rate stayed steady at 6.7 percent. It was enough to, finally, push private sector employment back above its pre-recession peak. But, at this pace, it won't be enough to get us back to full employment before ... 2019.
There was a glimmer of good news though. More people are looking for, and finding, jobs. Specifically, the household survey showed 503,000 more people in the labor force, and 476,000 more employed in March. So the unemployment rate didn't fall for the good reason that people aren't giving up, and are coming back now that things look a little better. As FiveThirtyEight's Ben Casselman points out, you can see this slight increase among "prime-age" workers (25 to 54-year olds) the past few months. Now, this might just be another blip, but it might not. It might be the "shadow unemployed"—particularly younger folks—getting off the sidelines of the labor market.
In other words, it looks like there's plenty of slack left in the economy. If we really were operating near full capacity, like the new inflation hawks argue, then we wouldn't expect the labor force to grow—we'd expect wages to go up instead. That hasn't happened. Average hourly earnings actually ticked down a cent in March, and have only increased 2.1 percent the last 12 months.
It's not good enough, but it's not bad enough for policymakers to do anything about it. So our long, national Groundhog Day isn't over.