This British Clothing Store You've Never Heard of Is Ready to Take Over America
Americans shoppers should start preparing for another British invasion: fast-fashion Anglo-Irish retailer Primark will be opening its first stateside store in Boston next year.
This article is from the archive of our partner
.
Americans shoppers should start preparing for another British invasion: fast-fashion Anglo-Irish retailer Primark will be opening its first stateside store in Boston next year. Bolstered by the U.S. success of the fashionably British Topshop and Japanese clothing giant Uniqlo, Primark announced on Wednesday that it plans to plant its flag in a massive 70,000-square foot space in downtown Boston's Burnham Building, where the famous Filene's department store once stood. The company said it wants to open additional stores in the Northeast by the middle of 2016, according to Chad Bray at The New York Times.
"After extensive research, it has been decided to take the concept to consumers in the U.S.A," said Associated British Foods (ABF), Primark's parent brand.
What is that concept? And should you even care? Primark occupies a beloved, albeit controversial space, on the British high street. Their merchandise may be cheap — we're talking £1 sunglasses and £4 t-shirts, and those aren't even sales prices — and the quality is sometimes questionable, but you're likely to come across Primark clothes or accessories while browsing British fashion magazines, mixed into outfits with pieces from luxury brands or pricier chain stores. The secret to Primark's cult success is the ability for their clothes to look expensive and be exactly on-trend. Fans nicknamed it "Primarni," an amalgamation of the store's name and Italian designer label Marni. Womenswear dominates, but Primark also sells men's and children's clothes, shoes, and home furnishings (that do eventually lose the vague smell of plastic.)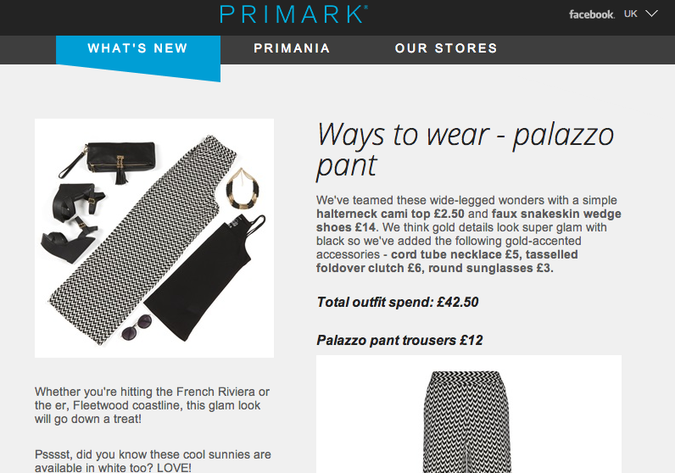 To give you an example of the joy of Primark: an entire outfit, which includes pants, top, shoes, and accessories costs a mere £42.50, or $71.26. Printed skirts, in leopard print or palm leaf, cost between £8 and 10, which is around $15. But that mix of fashionable and inexpensive has built the chain (which first opened in Dublin in 1969) into 200 stores in the British Isles alone, with dozens more on the continent. And now it's coming for the States.
When it arrives in the U.S., Primark will face competition from already-established stores for teens, young women and college students on a budget like Urban Outfitters, Topshop, and Brandy Melville; all of them hideously expensive by comparison. A quick look at Primark's Facebook page could be from any of those stores, and features One Direction chocolate Easter eggs, watermelon print leggings and hair chalk. It's basically Forever 21 Europe, minus the religious undertones.
For regular customers, part of the fun of Primark is shopping as a contact sport: wading into the shop on a Friday night to pick up something quick for the weekend, and not expecting to get out of there alive on a Saturday afternoon. Mary Portas, a British fashion guru, wrote that she found it "an unsettling shopping experience," and it's true that all sense of politeness, British reservedness, and human dignity tends to go out the window upon entering a store. A stampede of excited customers injured staff when the store opened in London's Marble Arch in 2007. Whether the frenzied, Black Friday-esque experience of shopping in Primark will translate over here remains to be seen, but Americans do love an opening.
Unfortunately, Primark has also been mired in a number of scandals. It's darkly ironic that the week the company announces their stateside expansion is also the week that marks the one-year anniversary of the Rana Plaza garment factory collapse, which killed more than 1,100 workers in Bangladesh. Primark was one of several brands that manufactured clothes in the building, but they have also become a major contributor to the compensation fund for families of those who died.
The company have also been accused of taking excessive 'inspiration' for their clothing designs — read: blatantly copying big name designers, then settling out of court when sued — and were accused of sexually exploiting children by selling padded bikinis designed for seven-year-old girls, which they eventually withdrew. Not that a little controversy ever killed an American clothing brand.
Many staples of the British retail landscape, like Asda and Marks & Spencer, have found success in America to be elusive, but we have a feeling Primark's good fortune will translate smoothly over here. Good luck getting in the door on opening day. 
This article is from the archive of our partner The Wire.