How to Get Inner-City Teenagers on a Career Track
Boston's summer-jobs program puts thousands of teens in professional environments, giving them mentors and experience.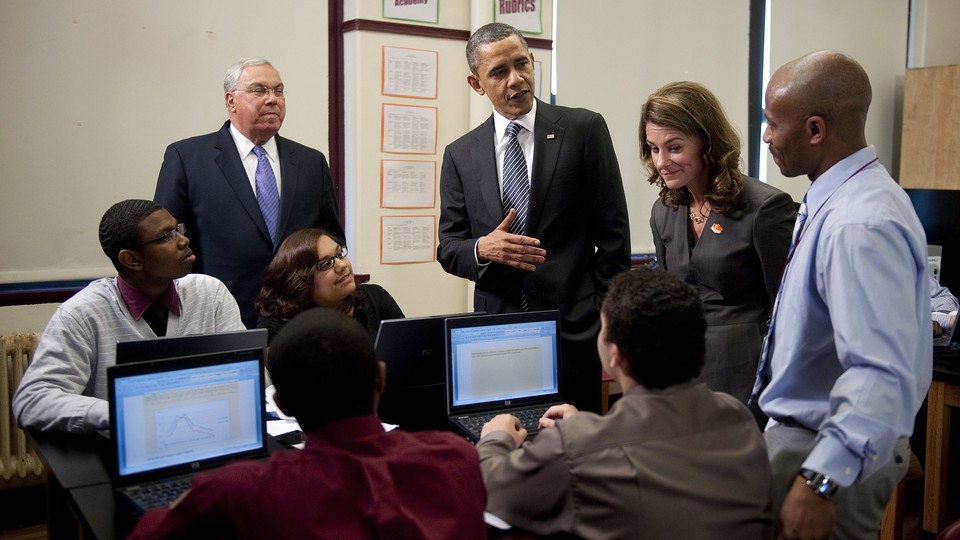 This article is part of a series for the Next Economy on American teenagers and employment.
Rayford Leconte wants to be a patent attorney. That may sound like a very specific career goal for an 18-year-old from the tough Boston neighborhood of Roxbury, but Leconte knows what he's talking about, thanks to a summer internship in the legal department of one of Boston's largest biotech companies.
"Before I worked at Genzyme, I wanted to work in either nursing or business," says Leconte. "Then my manager told me about jobs where you are required to have a science background and still be in business." Presto, Leconte latched onto a new, lofty career goal.
Exposing Boston teens to a wider array of potential careers is part of the mission of the Boston Private Industry Council, a not-for-profit founded 35 years ago to develop the city's workforce. Known as PIC, the council helps run part of Boston's long-standing summer-jobs program by placing roughly 3,000 public high school students each year in hard-to-find positions that pay anywhere from $8 to $12 per hour at corporations, hospitals, health care companies, and community organizations. Roughly 40 percent of the students that PIC places in the private sector work in health care or financial services, two of the brightest spots in the Boston economy.
"What's unique about the Boston summer-jobs program is the private-sector commitment. We're introducing urban high school students to professional environments," says Joseph McLaughlin, PIC's research and evaluation director. "That has a payoff to employers as well, since they want to grow their future workforce."
Over the last few years, PIC has placed students at organizations as diverse as Genzyme; State Street, a global financial-services company; and Brigham and Women's Hospital, a massive Boston academic medical center. But PIC does more than just broker the summer internships. Its career specialists also prepare students throughout the school year by teaching them to dress professionally and by setting expectations for the work they'll do over the summer. Students like Leconte can enroll in PIC-led résumé workshops and mock interviews. The nonprofit also employs an army of employer account managers, who woo companies to participate in the program and ensure that they remain happy with the students they hire and the overall summer-jobs experience.
"Our program would not be successful without them," says Geoff Vercauteren, director of workforce development of Brigham and Women's Hospital. "We set standards for who we are looking for. We share it with our PIC career counselors, and they identify kids. They know us very well. They know what we are looking for. We treat our summer youth as regular employees."
This attention to detail may sound like overkill — it's just a summer job, after all — but in this tough labor market, that level of effort is what it takes to help improve the long-term career prospects for teenagers, especially those who grow up without many built-in advantages.
The teen unemployment rate clocked in at 20.9 percent in March, according to the latest data from the Bureau of Labor Statistics, and it shows few signs of abating. It's enough for Boston economist Andrew Sum to call this particular moment a crisis for teen employment, which will hurt young people's future earnings and career prospects. "The kids who need work the most are getting it the least," Sum says. "That's why the problem deserves more attention."
Other cities and not-for-profits run similar summer-jobs programs for teens, though not all can match Boston's robust, expansive program. The District of Columbia government, for example, has run a summer-jobs program for decades, but it ran into well-chronicled mismanagement issues in the late 2000s. Under the current mayor, the city jobs program has tried to fix its woes by serving slightly fewer students and placing them in more fulfilling jobs, says Gerren Price, D.C.'s deputy director of youth programs. Last year, D.C. hired about 14,000 public school students for its summer-jobs program; fewer than 1,000 of those students work in the private sector. The majority instead work for not-for-profits, community organizations, day-care centers, or government agencies. "It depends on what the need is for employers," Price says.
A smaller not-for-profit called Urban Alliance also runs summer-jobs programs in D.C., Baltimore, and Chicago, serving roughly 350 students a year. Its founder started the program in the mid-1990s, after he volunteered at an Anacostia high school in D.C. and realized that the students' greatest need was finding after-school and summer work. "What differentiates our program is that we don't take the cream-of-the-crop student. We aim to help people under-the-radar, the ones who are coasting by or the average student, and place them in top-notch places," says Wendy-Ann Dixon-DuBois, the group's director of outreach and communications.
Economists like Sum are fans of summer-jobs programs because they give students work experience, teach them communication skills, and allow them to earn some cash. But Robert Lerman, an economics professor at American University, argues that such summer-jobs programs need more evaluation and rigor: attention to both the results they produce as well as some way to quantify what the students learn. "I would like to see some kind of certification for the students that shows they're learning employable skills," he says.
Such criticisms do not overshadow the excitement in Leconte's voice, however, as he talks about his legal assistant job at Genzyme. After his summer internship ended, the company offered him a part-time, after-school position and bumped up his pay to $14 an hour — more than he thought he could make as a high school student. It feels like a great opportunity for him, as one of six kids whose father is disabled and whose mother works in the cafeteria of a Boston public school.
When Leconte graduates in June, he'll work again for Genzyme throughout the summer to save money for college. More important, his work has taught him lessons that can take adults years to master. He quickly ticks them off when asked what he has learned. "You should always keep up your connections," he says. "You should never burn bridges, and you should absorb as much as you can. You can learn so much."