Here's How Much America's Biggest Banks Spent on Legal Bills This Quarter
It's Earnings Season, when America's biggest companies turn in their report card and count of the amount of money they did (or didn't make) in the first quarter of the year.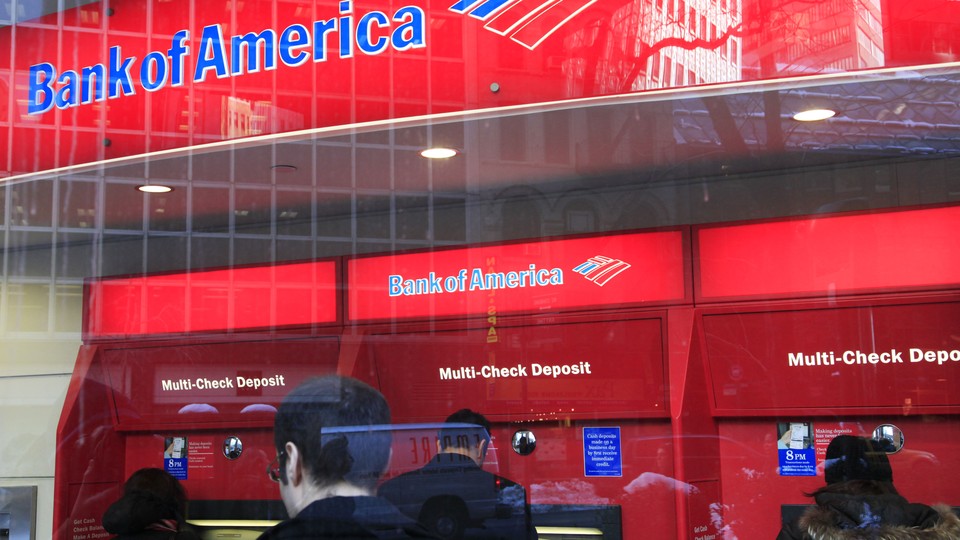 This article is from the archive of our partner
.
It's Earnings Season, when America's biggest companies turn in their report card and count of the amount of money they did (or didn't make) in the first quarter of the year. While some big bank earnings left something to be desired this quarter, that didn't stop their lawyers from enjoying a hefty pay day, too.
This quarter, some banks paid out so much in litigation fees — including billable hours, court costs, and settlement payouts — that they actually erased their own profitability. The Wire broke down the legal costs of America's biggest banks, to see how much they cut into the bottom line.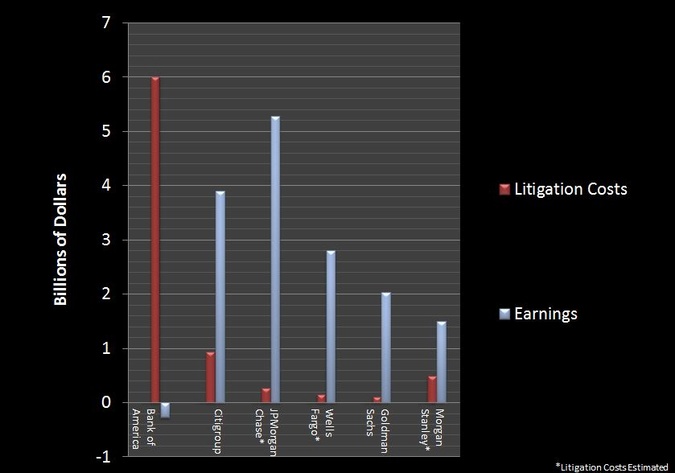 Coming in first place, by a mile, is Bank of America. They handed their legal team a hefty check this quarter, almost triple their $2.2 billion litigation costs from the same quarter last year.
Bank of America's litigation fees came from a variety of pending legal issues: a $3.6 billion settlement tied to Fannie Mae and Freddie Mac and $2.4 billion to "previously disclosed legacy mortgage-related matters." The bank did not give a further breakdown, but their chief financial officer Bruce R. Thompson said: "I just don't think it's going to be productive to give a breakout." I wouldn't want to go through a $6,000,000,000 receipt either.
So did it hurt business? Not really, apparently. The bank's revenue was quite healthy and without legal bills, they could have turned a nice profit. "Higher litigation clearly blurred the progress we've made in improving our businesses," said Thompson, "As we look at the company at end of first quarter in 2014, we feel we are in much better shape than we were in 2013."
Buy yourselves an island, BOA lawyers. You did well.
This is up 33 percent from the same time last year, when legal costs came in at $710 million.
Ironically, their legal costs rose because the bank is trying to implement more cost cutting measures. Some of the measures included eliminating five percent of compensation, equipment and benefits expenses. They also worked to cut costs at Citi Holding. This division holds "bad" assets and they were able to shrink losses this quarter. These cost cutting measures meant a lot of billable hours for their legal team, almost a billion dollars worth. 
The legal team should be thrilled for the second quarter, too. Chief Financial Officer John Gerspach warns that legal costs "would remain elevated for the foreseeable future".
Morgan Stanley: Definitely way less than a billion
Morgan Stanley did not release an exact figure, but is characterizing their litigation costs this quarter as "immaterial." The Wire spoke with the media team this morning after the earnings results were issued to confirm this immateriality. Holding true to their report, Morgan Stanley did confirm that costs were "much less than a billion." Last quarter, they posted $1.2 billion in legal expenses, a figure they deemed was material, so we know it's significantly less than that.
For a bank posting earnings of $1.5 billion this quarter, we can speculate that this quarter's litigation costs were in the low hundred millions, as anything more would be deemed material.
Just like Morgan Stanley, JPMorgan called their litigation fees "immaterial." While it can't be quantified exactly, we estimated what "immaterial" could mean based on prior spending. In first quarter of last year, their earnings were $6.53 billion, and their litigation costs came to $347 million. That's 5.3% of earnings. This quarter, earnings were $5.27 billion, of which 5.3% is 281 million dollars. 
Keep in mind that materiality is relative. Just because ligation costs were five percent one quarter, and that was deemed "material," that does not make five percent the hurdle for materiality every quarter. We can estimate that litigation costs came in somewhere between zero and $281 million, and regardless of where in that range it falls, it is pocket change to a bank their size. 
Only on Wall Street can up to $281 million be considered "immaterial." 
This California bank is not reporting exact legal costs for the first quarter, as their report listed total operating losses as one figure. Investor relations confirmed that "operating losses" do include legal fees, and that number came to a lowly $159 million. 
The low number does not come as much of a surprise, as last spring Wells announced that they are looking to spend less on outside legal counsel as part of a wider cost cutting program.
Jim Strother, Senior Executive Vice President of the General Counsel Legal Group at Wells Fargo, said last year "We do expect to have a meaningful reduction in outside counsel expense." It seems that the meaningful reduction was successful.
To give you an example of how "little" that is, Wells paid $191 million in postage, stationery and supplies this year, so the legal team might want to start raiding the mailroom for their bonuses.
Goldman has cut legal expenses 80.3 percent, from the previous quarter's total of $561 million. While this is welcomed decrease, powerhouse Goldman Sachs has a history of low legal costs in the first quarter, coming in at $110 million last spring and $116 million in 2012. Compared to first quarter of 2013, they have increased litigation spending just 4.5%. However, their earnings this quarter, $2.03 billion, declined 10% from this time last year.
Good work staying on the right side of the law in the first quarter, Goldman Sachs. Your lawyers can't even put gas in their corporate plane.
This article is from the archive of our partner The Wire.