College: Much Cheaper Than You Might Think
It's a point we've made a million times. We're making it again.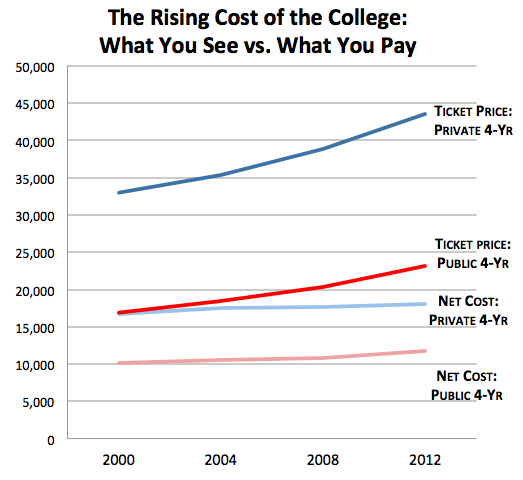 What's the most expensive college in America? Ask Google, Princeton Review, or the Chronicle of Higher Education, and you'll get the same answer: Sarah Lawrence University at $61,236.
It's kind of crazy. No, not (just) the price. It's crazy that when we talk about price, we often only talk about tuition, a sticker shock that only 35 percent of Sarah Lawrence graduates pay in full.
The Sarah Lawrence story is typical. Only a third of full-time students at four-year public and private schools pay the published price at a college. The vast majority pay a discount thanks to grants and other aid. For the typical student at a private non-profit college, the net cost of school is less than half the sticker price.
College tuitions aren't just more expensive than the net cost, as the first graph on this post shows. The price you see is also growing much faster than the price you pay. Between 2000 and 2012, the sticker price at public four-year colleges rose more than 35 percent thanks to expanding school administration staff and falling state support. But average out-of-pocket costs? They only grew by 16 percent. At private non-profit four-year universities, the growth of tuition outpaced the growth of out-of-pocket costs 31%-8%.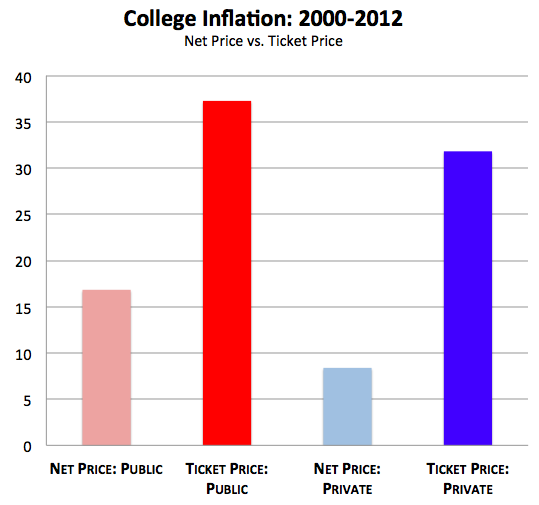 Upshot: The cost of college is rising no matter how you slice it. But if you stop after staring slack-jawed at the sticker price, you're witnessing inflation that most college students and their families aren't actually feeling.