Why Does Tesla Need Dealers to Sell You a Car In New Jersey?
Does the state's government have a legitimate case for protecting the auto dealer industry? Or is this just another retaliatory traffic problem for New Jersey?
This article is from the archive of our partner
.
Yesterday, New Jersey became the third state in the nation to block Tesla's direct-sale business model, saying that, by law, companies are only allowed to sell cars directly through certified dealerships. The decision, naturally, caused some outrage on Tesla's part, since they would prefer to sell the electric cars directly to consumers. But should car buyers be incensed as well? Does the state's government have a legitimate case for protecting the auto dealer industry? Or is this just another retaliatory traffic problem for New Jersey? 
The Ban
Yesterday, the New Jersey Motor Vehicle Commission approved the new rule, which clarifies (sorta) that all new car dealers must be franchises, and not the manufacturer or distributor of vehicles:
To be a 'proper person' under N.J.S.A. 39:10-19, any applicant intending to sell new motor vehicles must meet the requirements of N.J.S.A. 56:10-27 and -28 by submitting a copy of the applicant's franchise agreement(s) with the motor vehicle manufacturer(s) whose makes and models the applicant is franchised to sell.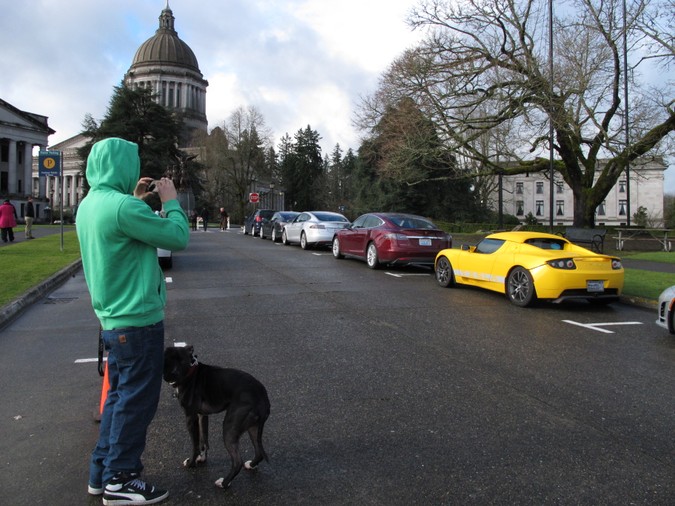 According to a blog post published on GreenCarReports.com, the new rule clearly targets Tesla. Not only does it ban automakers from selling directly to consumers, which Tesla does, but it mandates seemingly arbitrary restrictions on showroom size:
Established place of business, is proposed for amendment at subsection (a)1 to require that sellers of new motor vehicles conform to the requirements of N.J.S.A. 39:10-19, which requires a minimum of 1,000 square feet in which to display motor vehicles, and space (either included in the 1,000 square feet or immediately contiguous thereto) to maintain equipment for the servicing of motor vehicles.
Tesla's New Jersey showrooms are located in malls, hold just one or two cars, and are significantly smaller than the stipulated 1,000 square feet. Ultimately, the New Jersey Motor Vehicle Commission approved the bill, meaning Telsa must behave like any other car company and farm out the actual selling of vehicles to someone else... with a larger, expensive dealer operation.
The Justification
According to Jim Appleton, president of the New Jersey Coalition of Automotive Retailers (NJCar), the ruling is not a new change. It "simply conforms [the] regulation with state law," he says. Tesla's direct-sales approach has already been effectively banned in Arizona and Texas, and is now facing lawsuits that could boot it from several other states as well, including Ohio. And Kevin Roberts, a spokesman for Governor Chris Christie's administration, said that Tesla had plenty of time to alter its model:
Since Tesla first began operating in New Jersey one year ago, it was made clear that the company would need to engage the Legislature on a bill to establish their new direct-sales operations under New Jersey law... This administration does not find it appropriate to unilaterally change the way cars are sold in New Jersey without legislation and Tesla has been aware of this position since the beginning.
But why does this rule exist in the first place? According to Bloomberg News, dealers throughout the country are afraid that the direct-sale model will upend their industry. When you buy a new Chevy today, you don't buy it from General Motors; you buy it from a dealer who is authorized and licensed to sell GM cars. Like most regulations, this system is pitched as a protection for consumers. Dealers argue that consumers are best served by licensed professionals who employ experts to advise consumers on what car is best for them, to help comparison shop, and otherwise avail themselves of years of experienced car-selling.
For the same reason, most people wouldn't buy a house without the help of a real estate agent, cars are tricky, expensive, purchase that require a guiding hand. 
At stake, dealers say, is the three-tier auto distribution system that puts independent dealers between automakers and customers. ... The system protects the investment of dealers who spend millions of dollars on facilities and inventory, said Ricart, the Columbus dealer, and creates strong local employers. The consumer gets to comparison-shop at multiple franchises and benefits by having dealers serve as advocates on warranty issues in a way manufacturers may not, he said.
And if the argument didn't win Christie over, we think the $155,000 spent by NJCar to lobby against direct sales may have helped cinch the deal.
Tesla's Counterargument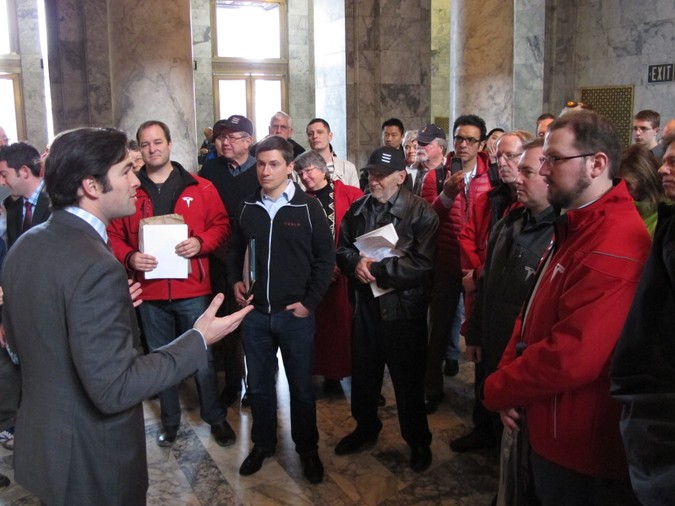 In a blog post, Tesla maligned the decision, accusing Christie of going back on his word and arguing that it needs to sell its cars directly to consumers in order to explain their innovative product:
We are disappointed in the actions of the NJMVC and the Christie Administration, which come on the heels of more than nine months of unexplained delays in the issuing of a new sales license for Tesla, despite our numerous requests, calls, and letters.... We strongly believe it is vital to introduce our own vehicles to the market because electric cars are still a relatively new technology. This model is not just a matter of selling more cars and providing optimum consumer choice for Americans, but it is also about educating consumers about the benefits of going electric. 
Tesla adds that the ban is blocking it from contributing to Jersey's economy, saying "this is an issue that affects not just Tesla customers, but also New Jersey citizens at large, because Tesla would be unable to create new jobs or participate in New Jersey's economic revival."
What they leave (mostly) unsaid, is that the rule also protects an entrenched legacy industry with a powerful lobby. Tesla was built on the idea that its cars would disrupt the entire auto industry, and that includes the way those cars are bought and sold.
Critics are also calling the ban a blow to the free market and competition. If the old guard automakers were forced to compete with Tesla's new model, that would ultimately benefit the consumer by driving down prices — and be a stunning vindication for deregulating small businesses. 
You couldn't make up a better example of GOP intellectual bankruptcy than TX and now NJ govs refusing to let Tesla compete.

— Michael Grunwald (@MikeGrunwald) March 12, 2014
Chris Christie, Rick Perry and Jan Brewer like the free market, right? Then why are NJ, TX and AZ shutting out Tesla? http://t.co/P6w5G0CQOX

— Josh Greenman (@joshgreenman) March 11, 2014
A Tesla representative told The Wire that the company won't comment further on the ruling at this time, but that we can expect an update from the company later today.
What's best for consumers?
So if both the dealerships and Tesla argue that their model is best for consumers, then who's right? It stands to reason that cutting out the middleman would benefit car buyers on competition and price, but this new rule means the people of New Jersey will never find out, because the two approaches won't be able to compete side-by-side so that consumers can decide what they want best. That might be because, as the Washington Post argued last year, the antiquated model is, in fact, hurting consumers: 
Regulations to keep auto dealers from being squeezed out by the automakers are a way of ensuring that a chunk of the automobile supply chain stays in the places where cars are purchased — in the form of salaries for the dealers' employees, profits for the dealers and financial support for local politicians and various local charities. Essentially, the auto dealers are using their political connections and their legacy of benefiting from regulation to fight the tide of the past several decades, which has been toward leaner, nationally run retail.
This means that cars could ultimately be a little cheaper for consumers. If this is indeed the case, Tesla is ahead of the curve and it's only a matter of time before technological innovation wins out. Which is basically the whole reason Tesla Motors exists at all.
This article is from the archive of our partner The Wire.