This morning we published a review of recent research by PayScale on the most valuable colleges and majors in America, based on self-reported earnings by individuals who graduated from hundreds of schools.
Some of you asked: What about the least valuable colleges and majors in America? What a mischievous question! So we looked into that, too.
Here are the eleven schools in PayScale's data with a 20-year net return worse than negative-$30,000. In other words: these are the schools where PayScale determined that not going to college is at least $30,000 more valuable than taking the time to pay for and graduate from one of these schools.
It gets worse. The self-reported earnings of art majors from Murray State are so low that after two decades, a typical high school grad will have out-earned them by nearly $200,000. Here are the degrees (i.e.: specific majors at specific schools) with the lowest 20-year net return, according to PayScale. They are all public schools: Bold names are for in-state students.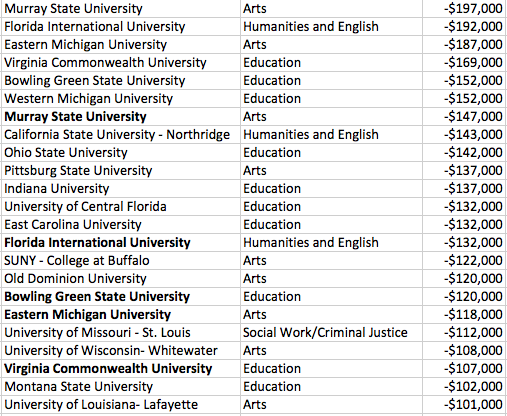 The same caveats that applied to our first article apply to this one. First, these estimates come from self-reported income. Self-reported income tends to skew up, because humans are a proud species, and we care more about our feelings than strict honesty with anonymous pollsters.