The Art of the Upsell: How Donald Trump Profits From 'Free' Seminars
A 41-page internal document from Trump University spells it all out: Keep the room below 69 degrees, set up the chairs "so that attendees need to walk past sales tables in order to exit," and be sure "For the Love of Money" by the O'Jays is playing in the background.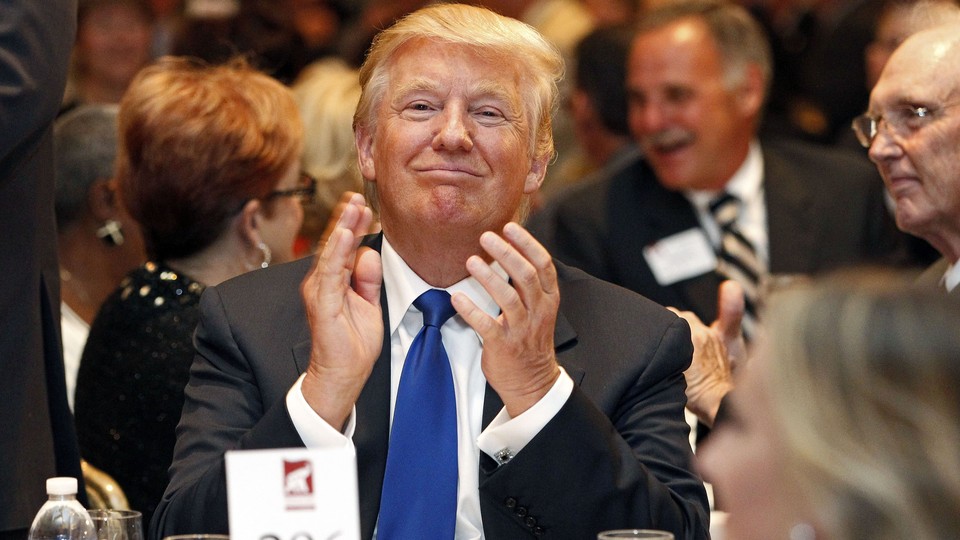 Trump University, the real estate training program offered in cities across the country, hasn't offered a course in several years, but the school that Donald Trump modestly named after himself is still making plenty of news. Trump University is the target of two major lawsuits, a $40 million fraud action brought by New York attorney general Eric Schneiderman, and a class-action lawsuit in California. Both suits charge that Trump University promised to make students rich on real-estate deals but instead steered them into costly and mostly useless seminars.
Amid the thousands of pages generated by Trump University lawsuits, one document offers a particularly revealing look into the inner workings of Trump's would-be educational empire: a 41-page "Private & Confidential" playbook printed on Trump University letterhead.
Here are the basics: In cities such as New York, San Francisco, and Dallas, Trump University promoted free seminars as a chance to follow in Trump's very own footsteps. One ad had Trump proclaiming, "In just 90 minutes, my hand-picked instructors will share my techniques, which took my entire career to develop. Then, just copy exactly what I've done and get rich." 
But these seminars served little purpose other than to enroll the attendees in expensive Trump University training programs, retreats, and coaching sessions. The playbook makes Trump's school seem like not so much a school of higher learning as a meticulously choreographed sales event.  Perhaps not surprisingly, Trump University turns out to be more "Trump" than "University."
The playbook, prepared for Trump University seminars in Texas in 2009, might be summed up in one word: sell. Or as the playbook puts it on page 23, "Sell, Sell, Sell!" The playbook posits a "Minimum Sales Goal" of $72,500 per seminar, meaning that the seminars leaders needed to convince at least 20 percent of attendees to sign up for three-day seminars costing $1,495.
Under the heading "Registration Goal & Procedure," Trump U. staffers are instructed to "Welcome attendees and build a Trump-esque atmosphere," "Disarm any uncertainty," and "Set the hook." The hook in this case consists of selling seminar attendees on increasingly costly additional courses, culminating in the "Trump Gold Elite" package, for a cool $34,995. Pricey, yes, but the playbook notes that the list price of the Trump Gold Elite package is $49,415, a savings to students of 29 percent. Even before Trump University students had made their first real-estate transaction, they had managed to get themselves a deal, of sorts.
The seminars were usually held in hotel meeting rooms, and the playbook spells out in painstaking detail how the space should be set up. Chairs should be close enough together to give attendees sufficient space, while still "bringing attendees out of their comfort zone." Room temperature should be set at "no more than 68 degrees." A sales corral was to be set up within close proximity to the door, "so that attendees need to walk past sales tables in order to exit." It was at the sales tables that Trump U. staffers would hawk the pricey seminar packages.
As soon as attendees entered the registration area, the song "For the Love of Money" by the O'Jays greeted them. The tune had been used as the theme to Trump's reality television shows "The Apprentice" and "The Celebrity Apprentice," presumably because of the song's incessant chant of "Money, money, money, money...money!" But if seminar attendees had listened more closely to the song's lyrics, they'd have realized that the tune is actually an indictment of Trump-esque money glorification:
For the love of money
People will steal from their mother
For the love of money
People will rob their own brother
For the love of money
People can't even walk the street
Because they never know
Who in the world they're gonna beat
For that lean, mean, mean green
Almighty dollar, money
Once Trump U. staffers had seminar attendees grooving to the soulful sounds of the O'Jay's, they herded would-be students over to registration tables. For attendees who balked at filling out a registration card, the playbook offers this handy sample dialogue:
Attendee: "Do I really have to fill out this registration card? I've been writing all day!"
Trump U Team Member: "Well, this is really a confirmation card so that we can confirm that all of your information is up-to-date in our system.  So you had had a long day at work, huh?  I think we just might have something to help you out of that 9-5 of yours! 
Upon registration, each attendee was issued a nametag hand-printed by a Trump representative. The playbook advises staffers: "Clarify spelling preferences–details count!" Regrettably, the author of the playbook was unable to follow his own advice about careful spelling. Other sections of the playbook instruct staffers to "peak" the interest of attendees, and to take special care in setting up the sales "coral."
If a member of the media happened to approach the registration table, Trump staffers were instructed not to talk to him or her under any circumstance. "Reporters are rarely on your side and they are not sympathetic," the playbook advises, adding, "reporters use hidden cameras, placing them at odd angles in order to show a candid response, and the interviewee appears nervous and/or caught off guard."
Once seminar attendees were comfortably (but not too comfortably) seated in the no-hotter-than-68-degree meeting room, the lights dimmed and an introductory video featuring Donald Trump began. The video marked the closest any Trump University student would get to Donald Trump. None of the school's courses, not even those in the pricey Trump Gold Elite level, featured an appearance by the flesh-and-blood Donald Trump.
That didn't stop Trump University instructors from hinting that Trump might drop by one of the school's seminars. According to New York State's lawsuit, Trump U. classes often began with the promise that Trump "is going to be in town," "often drops by," or "might show up." However, Trump never materialized. As consolation, attendees sometimes were offered the opportunity to have their photo taken next to a life-size cardboard cutout of Donald Trump.
At the conclusion of the Trump introductory video, a guest speaker took to the podium and launched into his real-estate presentation. Trump University advertised that its instructors were "hand-picked" by Trump himself, but the state of New York's complaint asserts that Trump had no role in selecting teachers. "Many instructors came to Trump University from jobs having little to do with real estate investments," the complaint reads, "and some came to Trump University shortly after their real estate investing caused them to go into bankruptcy."
The playbook says almost nothing about the guest speaker presentations, the ostensible reason why people showed up to the seminar in the first place. Instead, the playbook focuses on the seminars' real purpose: to browbeat attendees into purchasing expensive Trump University course packages.
The playbook instructs a staffer designated as "Sales Coordinator #1" to scan the room for "buyer signals," such as "positive body language" and favorable responses to speaker questions. Meanwhile, other Trump staffers waited for the speaker to flash a pre-arranged "trigger slide" onto the projection screen. The slide was the signal for staffers to switch into high-octane sales mode.
As soon as the slide flashed on the screen, Trump team members quickly set up a sales area in the back of the room and mentally prepared themselves to close deals. As the playbook puts it, "Team Mans The Sales Area, Stands Up, Is Attentive to Speaker and Attendee Movement, Gets in Sales Mindset, and is Ready to Sell, Sell, Sell!"
After the speaker finished his presentation (cue the O'Jays again), attendees had no choice but to pass through the sales area in order to leave the room. This was when Trump staffers pounced.
The playbook instructs Sales Coordinator #1 to "Close Sales At Sales Table and Facilitate Enrollment Armed with Objection Rebuttals," while Sales Coordinator #2 "Floats and Closes More Sales, Getting Additional Attendees Seated at Back Sales Table, Armed with Objection Rebuttals." Meanwhile, the Program Coordinator "Works the Room with Special Attention To Team Members In Possession of a Credit Card that Needs to Be Run."
Every university has admission standards and Trump University was no exception. The playbook spells out the one essential qualification in caps: "ALL PAYMENTS MUST BE RECEIVED IN FULL." Basically, anyone with a valid credit card was "admitted" to Trump University.
New York State's investigation into Trump's operation revealed that the school used the name "Trump University" even though it lacked the charter necessary under state law to call itself a University. Trump University furthered the illusion by awarding graduates of its program diploma-like certificates bearing Donald Trump's florid signature. It was only after pressure from state attorneys general, including Eric Schneiderman, that Trump University changed its name to The Trump Entrepreneur Initiative. The company no longer offers live seminars and its website is closed to new members.
Even though Trump University is facing two multi-million dollar fraud lawsuits, Donald Trump continues to defend his educational efforts, calling Trump University "a terrific school that did a fantastic job." But if Trump had read his school's own playbook, he might have foreseen the likely outcome of running a university with comically lax standards. At one point, the playbook advises Trump staffers: "If a district attorney arrives on the scene, contact the appropriate media spokesperson immediately."