Refueled Domestic Automakers Poised to Lead Detroit's Revival
While you weren't looking, Detroit's car companies pulled off a global comeback with better vehicles and innovative technology.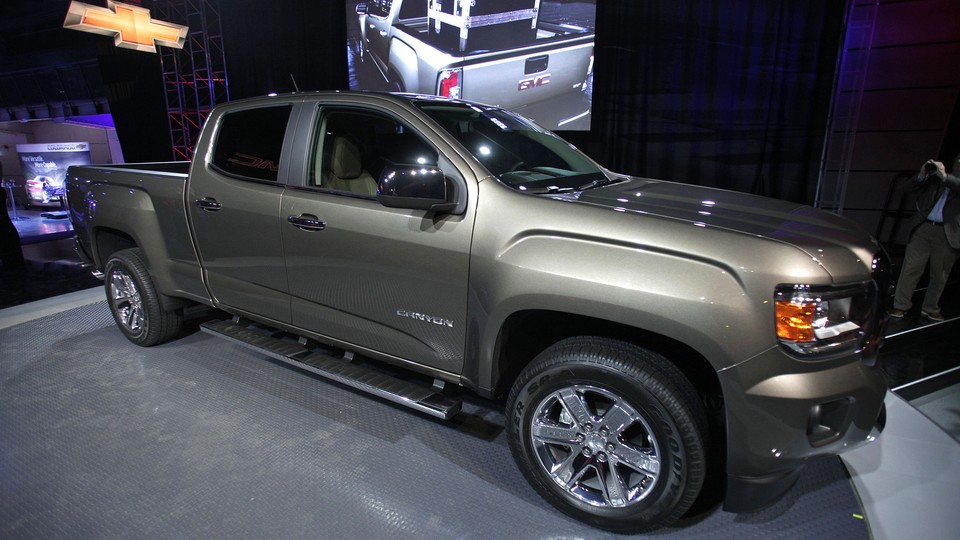 This article is part of a weeklong America 360 series on Detroit.
DETROIT — A colossal pickup truck, spinning clockwise under a bay of bright florescent lights, is decked out with an amalgamation of digital camouflage and rugged woodlands. Splattered across the side of the vehicle are the three massive words, "MADE IN AMERICA." But there's an asterisk after "America," and upon closer examination the fine print comes into focus: "Assembled in Texas with U.S. and globally sourced parts."
It's a Toyota.
There's nothing deceitful about a Japanese automaker claiming to be a domestic manufacturer; Toyota makes certain products in the U.S., as do other foreign companies. But here, at the North American International Auto Show, the irony is inescapable. Toyota's rise to the top of the global automotive market over the past few decades was aided by a growing perception that "Made in America" translated loosely to "Piece of Junk." The Detroit automakers, fat and satisfied after their factories had deftly converted to war production, grew complacent in the post-war marketplace and ignored the innovations of their overseas competition. Detroit made bad cars and worse business decisions, doling out pension packages that saddled their companies (and their subpar vehicles) with unsustainable legacy costs. Little was done to slow this downward spiral, and in November 2008, as financial markets collapsed, Michiganders watched incredulously as the Motor City's money men bowed before Congress and begged for a bailout.
Today that embarrassment seems like ancient history. Not only are the domestic automakers financially sound, but both Ford and General Motors are viewed as industry leaders. They boast increased market shares, historic model launches, and vastly improved product lines. (Chrysler recently became a wholly owned subsidiary of Fiat; the Italian-owned and Dutch-headquartered company was renamed Fiat Chrysler Automotive. Chrysler, then, is no longer a "domestic" automaker.)
Any lingering skepticism about a domestic automotive resurgence is quelled here; the Detroit Two have stolen the show inside Cobo Center. Ford has stunned the industry by introducing an aluminum body on its F-150 truck, part of the F-Series that has been America's top-selling vehicle for 32 consecutive years; this innovation will shed 700 pounds while improving fuel economy and towing capacity. Across the arena, GM's best-selling brand, Chevrolet, has completed a rare sweep of the show's marquee awards, with its revamped, tech-heavy Silverado winning "North American Truck of the Year" and its redesigned Corvette Stingray named "North American Car of the Year."
Every powerhouse urban economy needs an anchor. And while Detroit still lacks a strong supporting cast, it once again boasts something few of its competitors have: an economic cornerstone. The domestic auto industry is back from the brink of collapse, and not coincidentally, so is the economy of metro Detroit. Five years removed from the threat of extinction, the automakers are producing better cars, hiring more workers, and asserting themselves as the catalyst of Detroit's economic resurgence.
"The employment gains overall in southeast Michigan in the last two years have been largely on the back of the recovery of the domestic auto industry and the suppliers here," said Kristin Dziczek, director of the Labor and Industry Group at the Center for Automotive Research in Ann Arbor, Mich.
The smarter, more technology-reliant auto industry has become a "base for growth" for Detroit because of the talent it's attracting, Dziczek explained. She cited CAR research that shows Michigan now has a higher density of engineers than any state in the country. This influx of scientific endowment, Dziczek said, is "helping to drive innovation in metro Detroit, in the auto industry, and beyond."
This multiplier effect underscores the automakers' importance to Detroit's economy — and the devastation their disappearance could have triggered. "It would be very hard for other companies to grow around Detroit if you didn't have a stable core industry already here," Dziczek said.
Whether Detroit would ever again boast a "stable core industry" was an open question when Washington bailed out GM and Chrysler. The companies were drowning in debt and had done little to address the systemic financial problems plaguing their balance sheets. (The same went for Ford, though it had diagnosed its troubles early enough to access some capital when the markets still functioned.)
But their employees weren't the only ones whose livelihood was on the line. Detroit's auto industry supports a sprawling secondary network of workers in the manufacturing and service sectors, most of which depend directly on the domestic automakers for survival. All told, more than a million American jobs could be lost if any of the Detroit Three went under, studies showed, with hundreds of thousands of those workers residing in the Detroit area. Ultimately the $80 billion that was given to GM and Chrysler was more about preventing historic, cascading job loss than it was about betting on the prospects of two incompetently managed industrial behemoths.
Regardless of political ideology, one thing is already clear about the auto bailouts: They accomplished the objective of saving southeast Michigan's economy. Although all three companies are smaller than they were 10 or certainly 20 years ago, Ford, General Motors and Chrysler were still three of the four largest employers in metro Detroit in 2013, according to Crain's Detroit Business, with more than 100,000 combined employees. That number is projected to rise steadily over the next several years; CAR estimates the automotive industry will add 16,000 new jobs in metro Detroit by 2016.
The explanation for this growth is simple: Ford and General Motors are making better vehicles and selling more of them. More sales mean more production, and according to the Bureau of Labor Statistics, Michigan's automotive sector added more than 5,000 new workers last year to get the job done. (Ford alone added thousands of jobs here in 2013, and will hire thousands more this year.)
This success story is about more than jobs saved or created. The auto bailouts — and the managed bankruptcies that followed — were critical in forging leaner, smarter companies that could compete financially with foreign rivals. Most importantly, new union contracts were negotiated that allowed the automakers to shed costs and, in turn, make higher profits off each car sold.
"The restructuring of the companies, of their costs and operations, has been huge," said Lacey Plache, chief economist for Edmunds, an automotive-resource publication. "It has allowed them to be highly competitive once again."
But healthier balance sheets alone don't explain the improved reputations GM and Ford enjoy today. Rather, industry experts point to unprecedented levels of "innovation and activity" that have produced smarter, more fuel-efficient vehicles. Ford has pushed the envelope with its "Ecoboost" concept that maximizes efficiency by turbo-charging smaller engines. And GM has met market demand by producing smaller cars (such as the Cruze, one of the world's top-10 selling models in 2013) and experimenting with electric motors. Both have tinkered with new technologies to infuse their vehicles with a sense of connectivity, and are seen as industry pioneers in that regard. (Such innovation can have a downside, as newer models have suffered in "reliability" rankings due to growing pains with new technology systems.) After decades of sluggishly chasing foreign innovation, the Detroit automakers are viewed by industry experts today as responsive and trailblazing.
"They've really fought back by responding to what consumers want. In terms of quality they have not only come back, but then some," Plache said of Ford and GM. "Today they have very strong products that are very competitive across the industry.... They are continually striving for higher quality, and they are taking risks, introducing things ahead of the industry."
This recommitment to quality and innovation is already paying dividends. San Diego-based research firm Strategic Vision, which measures vehicles with its "Total Quality Index," last year found the Detroit automakers outperforming their foreign rivals for the first time in over a decade.
Global markets have responded. Ford claimed two of the world's top-10 selling models in 2013, according to Forbes. (The tiny Fiesta is hugely popular overseas, and this year's model will offer a revolutionary three-cylinder engine; the versatile Focus was the world's top-selling model for a second consecutive year.) General Motors, meanwhile, continues to expand globally. It will introduce more than a dozen new or updated models this year, many of them in China, the world's largest automotive market. And despite ranking as the world's third-largest automaker in 2013, GM remains in fierce competition with Toyota and Volkswagen for the top spot it held from 1931 to 2007, and again in 2011.
The best news for the automakers--and Detroit--is that Americans are buying cars again. U.S. sales jumped 8 percent in 2013, on the heels of a 13-percent spike in 2012. Ford saw its sales rise an industry-best 11 percent from 2012, while GM's sales went up 7 percent. As the economy continues to improve, industry analysts expect auto sales to remain strong at least through 2014.
Still, these companies know first-hand that nothing is certain in the always-evolving global economy. That's why both Ford and GM are relaunching old models and hiring new technology professionals to innovate for future products. The automakers realize that while bottom lines could suffer in the short-term, such investments will pay off down the road — an approach they should have adopted decades ago.
Detroit will never again be able to survive as just a manufacturing hub. The global marketplace is fast and unforgiving, and urban economies can only thrive when undergirded by diverse sectors. In this regard, the city could learn from the automakers by embracing innovation and more-efficient business practices. After hitting rock-bottom five years ago, Detroit is finally beginning to branch out. Its financial district is suddenly booming. Its tech industry is quietly budding. And its network of startups is expanding daily, as young entrepreneurs flock to a city offering rich history and cheap real estate.
Still, around here, everything starts and ends with the automobile. Cars are what built Detroit, allowing workers with basic educations to earn a decent living and join the middle class. Cars are what doomed Detroit, allowing citizens to escape cramped urban corridors for quiet neighborhoods. And cars are what can rebuild Detroit, giving the city and its suburbs a core industry to anchor a growing and diverse economy.
The car companies laid the bankruptcy blueprint for Detroit by practicing complacency and fiscal incompetence. Today, by embracing a new era innovation and fiscal efficiency, the domestic automakers have provided Detroit with a roadmap to resurgence. The city would be well-advised to follow it.