RadioShack Is Doomed (and So Is Retail)
Even after restructuring, there will still be 4,000 RadioShack locations nationwide—approximately one for every person who still wants to buy stuff from RadioShack.
As ingeniously self-deprecating as RadioShack's Super Bowl
commercial
was, its finances are sadly even more proficient at making a mockery of the company. Shares fell by a delirious 24 percent after holiday sales came in way under its (already managed) expectations. Today the company announced that it will be closing 1,100 stores, leaving it with 4,000 brick-and-mortar locations in the U.S.
(Aside: How in the world are there still 5,000 RadioShacks? That's three times more than Chipotle.)
RadioShack's long slide coincides the steep ascendance of Amazon as America's great brick-and-mortar destroyer. In 2003, Amazon and RadioShack each had about $5 billion in sales, as
WSJ
business editor Dennis Berman
pointed out
. Last year, Amazon had $75 billion to RadioShack's $3.5 billion.
Some further comparison is illuminating: At the end of 2013, RadioShack had 5,000 brick-and-mortar stores with 27,500 employees and $3.5 billion in sales, which is $127,000 in sales per employee. Its website is the 1,066th most popular in the world. At the end of 2013, Amazon had zero brick-and-mortar stores with 117,300 employees (full- and part-time) and $75 billion in sales, which is $640,000 in sales per employee. Its website is the 5th most popular in the world.
What are people still buying at RadioShack? The company's biggest sales category is the wireless market, and that's some of the worst news for RadioShack. "The mobile phones category was very weak, and mall traffic is very weak," analyst David Schick 
said
. "The majority of folks have their mobile phones. We are past adoption."
Last year, I predicted that that
the confluence of e-retail and increasingly efficient global sourcing and stocking
(i.e.: the Amazon & Wal-Mart Effect) would eventually gut retail employment. We haven't seen that hypothesis borne out in the macro evidence yet, as retail has actually recovered from the nadir of the recession just fine. But with the ongoing implosion of stores like RadioShack and JCPenney, plus the unstoppable growth of e-commerce, which relies on far fewer employees, I don't see any other logical conclusion. With $600,000 in sales per employee, Amazon is 3X-4X more efficient than the stores it's eating. This is not the picture of a growth sector: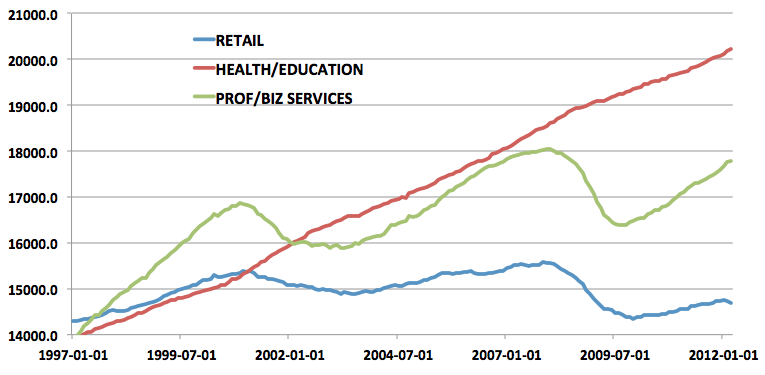 Tell me how else that story ends.