Millennial Entrepreneurs: 'Why Not Me?'
With employment in traditional career fields more uncertain and barriers to launching businesses lowered, many millennials look to work for themselves.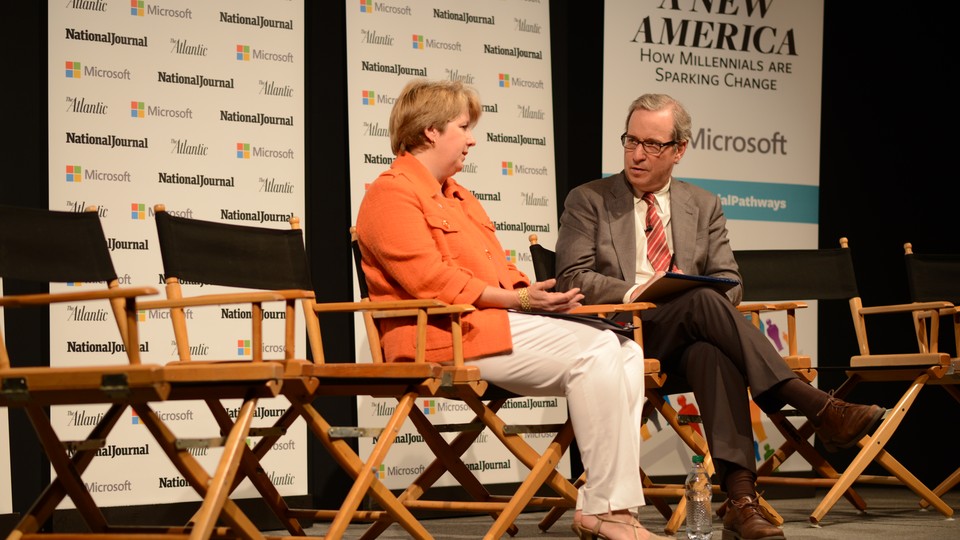 If you don't have a job and you want one, volunteering can increase your chances of getting an offer by as much as 27 percent. That's according to Wendy Spencer, the CEO of the Corporation for National and Community Service, the federal agency that administers AmeriCorps and other service programs. Spencer was the keynote speaker Tuesday at a National Journal and Atlantic town-hall event on millennials in Austin, Texas, underwritten by Microsoft.
Service can be an incubator for millennials (the population born between 1980 and 2000), many of whom are turning to entrepreneurship in the face of a competitive postrecession economy. During a year with AmeriCorps, "you get leadership skills, manage budgets, fundraise," said Spencer. "You learn how to compromise, how to negotiate, how to build consensus."
Couple those skills with the opportunity to see how organizations and businesses operate and sustain themselves, and millennials who volunteer are primed for successful careers, Spencer said. She sees AmeriCorps alums working around the country at nonprofits, in public service, or at private companies. But millennials, a famously entrepreneurial bunch, can also use those skills to start their own businesses.
Many young people are doing just that. By 2012, a full two-thirds of millennials were interested in entrepreneurship, and more than one-quarter (27 percent) were already self-employed, according to the U.S. Chamber of Commerce Foundation. In 2011, millennials launched nearly 160,000 start-ups each month, and 29 percent of all entrepreneurs were between 20 and 34 years old.
Jae Kim, creator and owner of the Austin food truck Chi'Lantro, which is famous for its Kimchi fries, said persistance is key for millennial entrepreneurs. Kim, a panelist at the town hall, said he started two businesses before launching Chi'Lantro. Both failed.
Chi'Lantro has survived for four years, but access to capital has been a challenge for Kim. He recounted exhausting his savings and maxing out his credit cards to get the business rolling. He's not alone. A 2011 survey by the Kauffman Foundation showed that 41 percent of 18-to-34-year-olds surveyed said that access to a loan or credit is a barrier to starting a business.
Despite difficulties obtaining credit, technological innovations have made it less expensive and time consuming — particularly for millennials — to start businesses, said Bob Metcalfe, professor of innovation at the University of Texas (Austin) and a panelist at the town hall.
"I hope [entrepreneurship] becomes more the rule than exception," said Metcalfe during the panel discussion. "Instead of having five people who are monstrously successful ... we'd see 100."
It's a message that's getting through to young people on the Austin campus. Grant Heimer, a UT student who directs the Longhorn Entrepreneurship Agency and who was also on the panel, said that Reddit cofounder Alexis Ohanian visited the campus delivering the message that anyone with an Internet connection and a laptop can start a business. According to Heimer, "Millennials are thinking: Why not me?"