Does Your STEM Degree Have a Shelf Life?
Americans pursuing science, tech, engineering, and math careers for career stability and higher pay are at risk of being pushed out of their fields in favor of younger workers.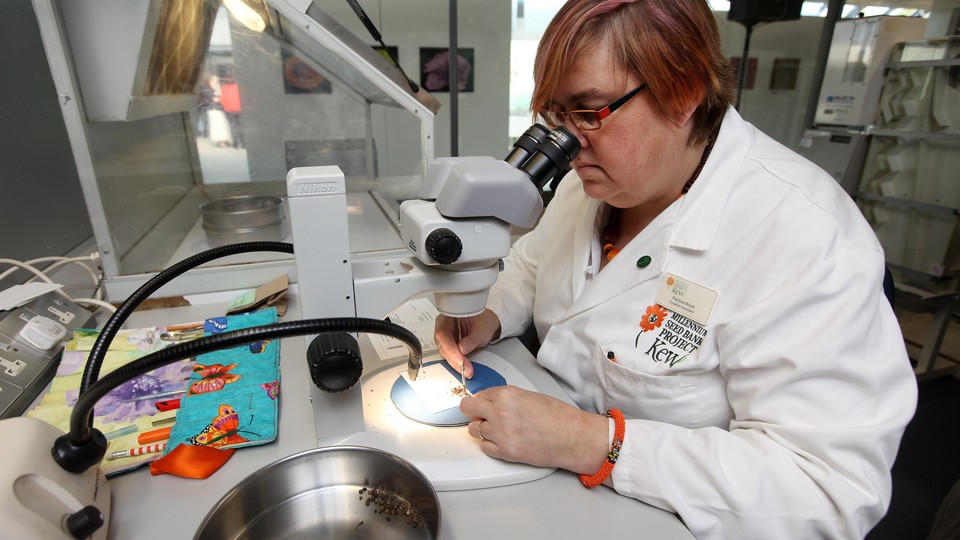 In the aftermath of the Great Recession, hundreds of thousands of Americans are pursuing degrees and certificates in science, technology, engineering, and math in the hopes of establishing stable careers in lucrative fields. But some academics and veteran STEM workers, particularly those in computer sciences, caution that a STEM degree does not guarantee a path to middle-class security. In fact, depending on one's chosen course of study and age, that STEM degree could have a shelf life.
"Ageism is definitely an open secret within the tech fields," says Ron Hira, an associate professor of science, technology, society, and public policy at the Rochester Institute of Technology. "Forty is where things start to change for tech [workers]; mechanical engineering, I'd say 45. Electronics engineering, I'd say closer to 35."
From 2007 to 2013, for example, the number of age-related federal workplace-discrimination charges increased from four to 99 cases against computer-systems companies. That's an increase of 2,375 percent. (For comparison, over the same time period, age-discrimination charges across the private sector increased by just 12 percent.)
Matt Heusser, a 37-year-old managing consultant at Excelon Development in Grand Rapids, Mich., describes a culture in IT that favors the young. Workers in their 20s and early 30s do not have obligations yet, which stop them from working an 80-hour week, he says. Younger workers also benefit from the perception that they have more recent training in cutting-edge technology. "It's not this evil cabal of people saying you can't get a job by the time you're 40, but it happens," he says. "So people tend to find a company that quit growing at the same time they did, or they get out of IT."
The federal stats bear out Heusser's experience, working in one of the Midwest's small yet innovative tech hubs. In 2012, 38 percent of the nation's software developers were under 35, according to an analysis of census estimates. That year, 30- to 34-year-olds made up the largest number of people to work in that occupation. The employment numbers in the field then peaked at age 31 and fell off significantly after age 36. The number of people working as computer-support specialists and Web developers also peaked among 30- to 34-year-olds, then dropped off, according to the census data.
None of this is welcome news as many Americans, looking for economic stability in a turbulent economy, have turned to science, tech, and math. Stacks of research highlight the growing opportunities in these fields. In 2012, Microsoft reported that the U.S. was not producing enough high-skilled workers. The company said it was opening jobs faster than it was able to fill them, with 6,000 positions it needed to fill across the country, 3,400 of them for researchers, developers, and engineers.
Over the next decade, STEM occupations are expected to create 2.6 million job vacancies, including more than 3.8 million positions in computer and math science, according to a 2013 report by the Center for Education and the Workforce at Georgetown University. Even the unemployment rate for those working in STEM is lower than in rest of the economy, according to a Commerce Department report. At the height of the recession, the unemployment rate for STEM workers was 5.5 percent, compared with 9.5 percent for non-STEM workers.
Still, those numbers belie a complicated, competitive employment environment that favors young workers with recently acquired credentials. "If you don't have a job within a certain period [of graduating], you end up having to retrain," says Dan Ward, a 58-year-old retired computer programmer from Columbus, Ohio, another Midwestern city known for its tech culture. He believes workers have less than two years to use their degrees before they go stale.
Changes in the labor market have also made it more difficult for employees to continue training throughout their careers, says Elizabeth Popp Berman, a sociology professor at the University at Albany, SUNY, who has studied U.S. science and technology policy.
As the expectation of lifelong employment at a single company has dissolved, so has employers' incentive to train their workforce. Workers are now more likely to be expected to shoulder the cost of their own training, Berman says. "If you do well, you reap the benefits. If you run into a problem, you're on your own," she adds. That puts older workers at a disadvantage, as companies turn to newer workers to run more modern equipment.
Norm Matloff, a professor of computer science at the University of California (Davis), recommends that people considering going into tech, particularly computer science, weigh their choices carefully. If you're 35 and looking to go back to school to bolster your earnings or to find a more stable career, he says, computer science might not be the best fit.
At 35, a person might be a recent graduate, but "they're still 35 and they still have the same problems that 35-year-olds do." Yet, for a 22-year-old the calculus is different. The field can be very rewarding, and it can be "lucrative while you're in it. But it's not stable, that's for sure," Matloff says. That's hardly welcome news for workers of any age, searching for a safe haven in today's economy.