Want Women to Earn More? Train Them for Manufacturing
One way to boost earnings of single, low-income women is to urge them to seek out jobs in skilled trades instead of retail and service gigs.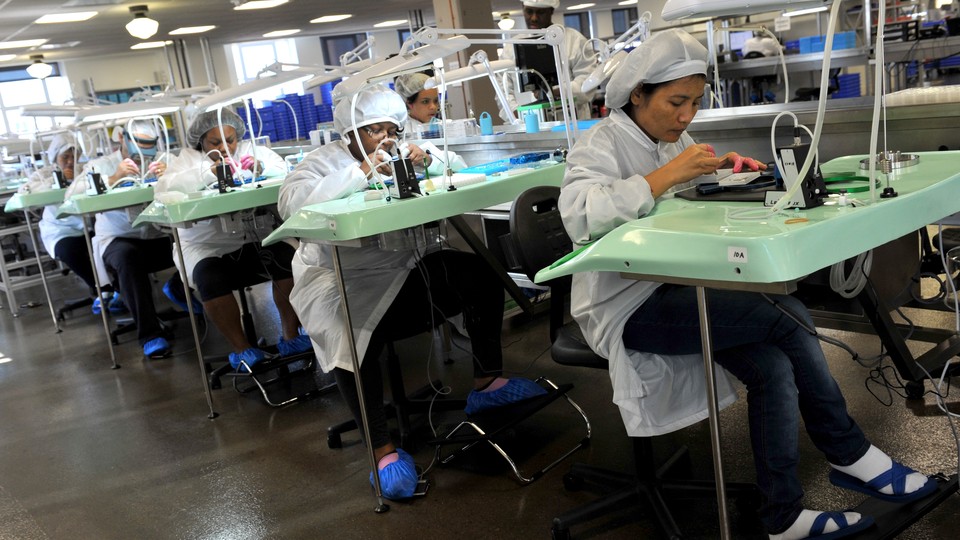 Helping single working mothers move into jobs traditionally held by men could help more than 4.1 million low-income families move toward joining the middle class, according to a report released this week by the Working Poor Families Project, a not-for-profit that studies state workforce development policies.
If women moved into jobs in manufacturing, skilled trades, or transportation in greater numbers, they could increase their earnings by up to 30 percent. Currently, nearly half of all low-income, working women — those who earn below 200 percent of the federal poverty line and who head households — work primarily in 16 occupations clustered around the service and retail sectors. Often, these lower-paying jobs do not provide benefits like health insurance or paid sick leave, according to the report.
To break it down further, that's more than 7 percent of working single women with children who are employed as home health aides; 5.3 percent as cashiers; and 5 percent as maids or housekeepers. Significant numbers also work as waitresses, customer-service representatives, personal care aides, administrative assistants, cooks, or child-care workers.
Yet while the mean annual income in 2012 for all workers in the accommodation and food-service and retail sectors was $22,800 and $26,960, respectively, the mean for those in manufacturing jobs was $47,240, according to the Bureau of Labor Statistics.
Increasing the pool of women in manufacturing may seem like clear remedy, but there's a wrinkle. Often manufacturing or other well-paying blue-collar jobs require at least some kind of specialized credential, says Deborah Povich, an author of the study; that can act as a barrier for single working moms. "What happens when a single mom needs to go back to school? She's going to need help paying for it, and she's going to need quality child care," Povich adds.
Financing an education while footing the bill for child care is difficult, particularly those working in low-paying industries.
Some of the fastest-growing occupations during the economic recovery remain in the service and retail sectors. And demand for home health care aides is expected to increase by 69 percent by 2020. Home health aides typically earn about $21,000 a year, less than half the annual mean wage of $46,000 across all occupations. All the more reason for low-income women to look into getting into manufacturing, or other jobs that require technical skills.