The Spectacular Myth of Obama's Part-Time America—in 5 Graphs
A falsifiable claim, falsified
If you've been paying attention to a certain slice of the financial media—see: Forbes, The Wall Street Journal, CNBC, and Fox News—you know for a fact that Obama and his health care law have tag-teamed with global economic trends to drive America inexorably toward a part-time economy.
This is a testable claim. So let's test it.
The first thing you would expect to see from a Part-Time America is that the number of part-time jobs added would rival the number of full-time jobs added. But in the last year, new full-time jobs outnumbered part-time jobs by 1.8 million to 8,000. For every new part-time job, we're creating 225 full-time positions.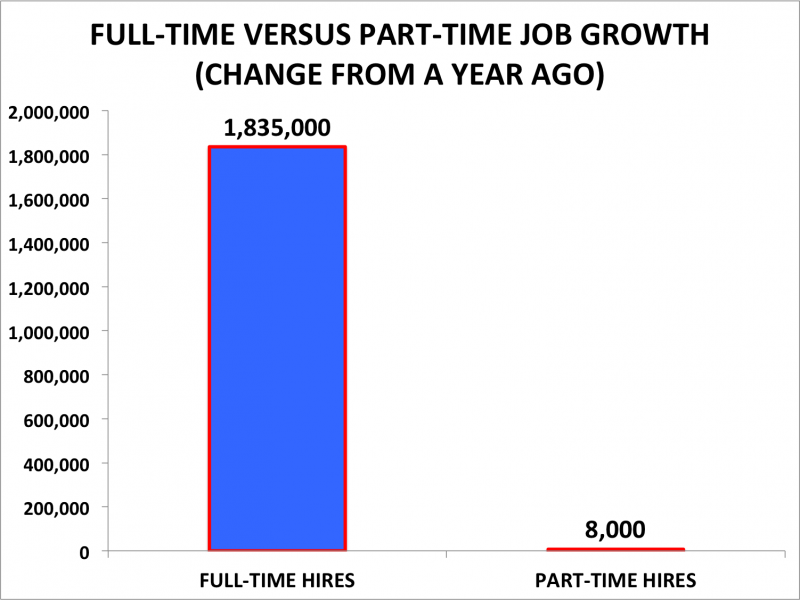 Okay, but one year is just one year! Let's keep looking.
The second thing we should expect to see from Part-Time America is a growing number of part-time jobs since Obama came into office and started passing laws. Here's a graph showing the number of people working part-time for economic reasons since March 2010, the month Obamacare was passed.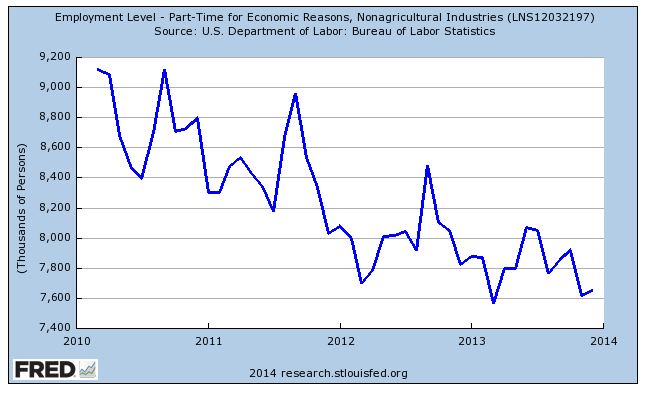 Huh, nothing there. In fact, the number part-time workers has fallen in the last four years.
Okay, well, raw numbers can be deceiving. After all, the labor force has declined since 2010. So let's graph these part-time workers as a share of the labor force. Surely that will show a rising line...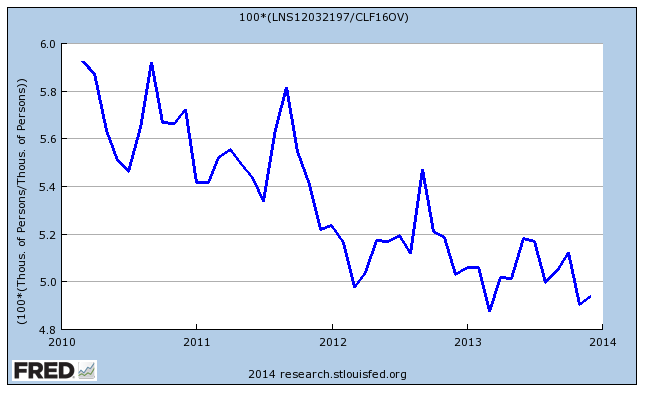 ... dang it.
Maybe I'm being unfair. Three years of data just isn't much context. So let's draw back the lens and look at part-time workers as a share of the labor force since, say, 1980...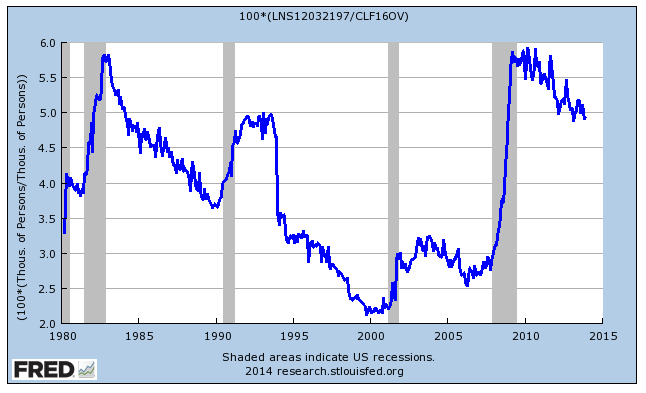 ... and then compare it to the unemployment rate (in RED) since 1980.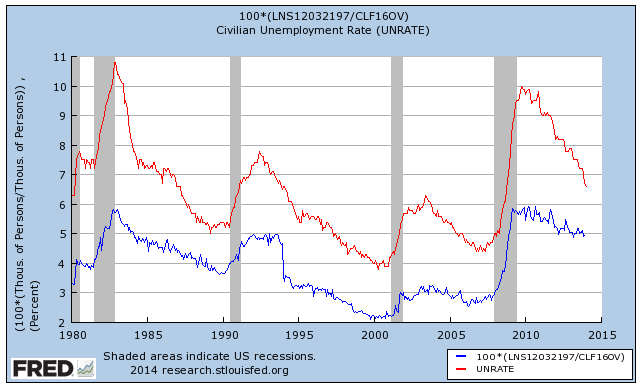 Okay, now here's something: Part-time work, as a share of the economy, is historically high. But these graphs don't make the point that Obama, or long-term global economic trends, are driving the rise in non-voluntary part-time work. Instead, the rise of part-time work seem to be 100 percent the creation of economic downturns. That's why it seems to be holding hands with unemployment, riding the roller coaster up during recessions, and down during recoveries.
But what about part-time employment for non-economic reasons? The story here is short and sweet: There is no story here. The share of Americans working part-time for personal reasons—they're in school; they're raising kids; they're ill—is flat and trending down, according to the San Francisco Fed.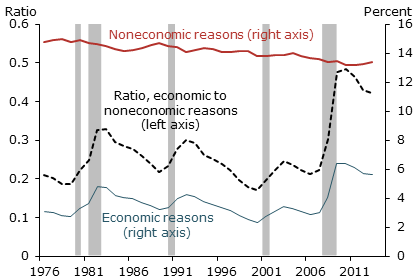 It is a free country, and journalists have every constitutional right to claim that we're moving toward a Part-Time America. They will, however, be in the uncomfortable position of making a falsifiable statement that has been relentlessly falsified by every available statistic. The entire increase in part-time employment happened before Obamacare became a law.