The One Thing Everybody Got Wrong About Twitter
... and, perhaps, about the rest of social media, too: "Mobile company" is not an oxymoron.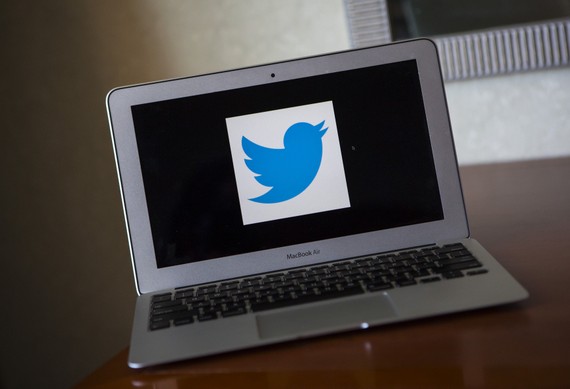 The old critique of social media companies like Facebook and Twitter (and Snapchat and WhatsApp) went like this: Adding users is easy, but where's the money? The new concern about social media companies is the opposite: Fine, you're making money, but where are the users?
The big flip began with fears that Facebook was losing traction among teenagers, whose online habits have been highly predictive of digital habits nationwide. Facebook somewhat assuaged those concerns with strong international growth in their last earnings report. But the fears are full-blown when it comes to Twitter, whose earnings report this week delivered an unambiguous message: Monetizing users is getting easier, but adding users is getting harder.
Twitter's U.S. growth has totally flatlined, and the company added just 9 million monthly active users worldwide in the last three months of 2013. Maybe that sounds like a lot of new customers, and it would be for, say, a regional cable company. But for a newly IPO'd international social media phenomenon relying on spectacular future growth to justify its oversized valuation, it's a big disappointment.
And a bigger reversal. Eleven months ago, I wrote a column for The Atlantic summing up analysts' fears that as attention moved to smaller and smaller screens, our eyes were fleeing to places where monetization simply could not follow. How could desktop companies possibly adapt to a world shifting inexorably to phones? I asked. Quite easily, it turns out. Facebook now makes 53% of its ad revenue from mobile. Eleven months after Wall Street wondered if mobile would be Mark Zuckerberg's undoing, Facebook is a mobile-first company. Even better, Twitter's ad haul is 75% mobile.
But the problem isn't the ads. It's the eyeballs. This Quartz graph tells two stories. First, Twitter's measure of attention—timeline views, in purple bars—is down. Second, Twitter's measure of monetization—dollars per thousand views, in blue—is up. We thought mobile attention was worthless and boundless. For Twitter, at least, were wrong about both.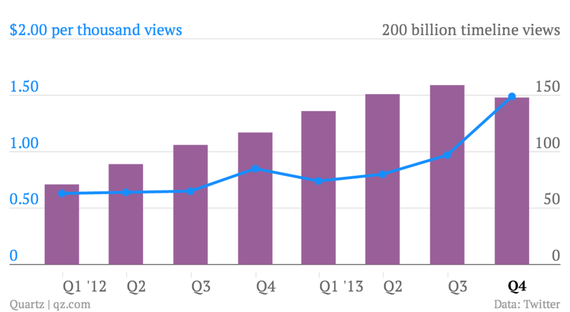 I'll resist making any grand predictions about the future of Twitter, which is still an exceptional product, or Facebook, whose fortunes seem to yo-yo every quarter between doomed and invincible. The larger point seems to be that there was a time that monetizing attention on teeny little phone screens was supposed to be an impossible dream. Instead, just as money followed attention onto radio, TVs and desktops, money is beginning to follow attention onto phones, too. The margins are lower, but at scale, mobile apps aren't just procrastination baubles. They're real businesses.