Marriage Stages a Comeback (but Mostly Just for College Grads)
The share of newly married adults grew 2012. But bachelor's degree holders were responsible for almost all of the jump.
When it comes to matrimony, the United States is two separate countries. There's college-graduate America, where getting and staying married is still the norm. Then there's the rest of America, where marriage rates are retreating and divorce is rampant.
Recently, it appears, that cultural chasm may have grown a tiny bit wider.
So says a new analysis by the Pew Research Center's Richard Fry, which found that the rate of new marriages rebounded ever so slightly in 2012 after a post-recession decline. However, almost all of the growth (87 percent of it) occurred among bachelor's degree holders. Marriage rates actually dipped among high school graduates and adults with some college education, but no B.A., and rose minimally among high school dropouts.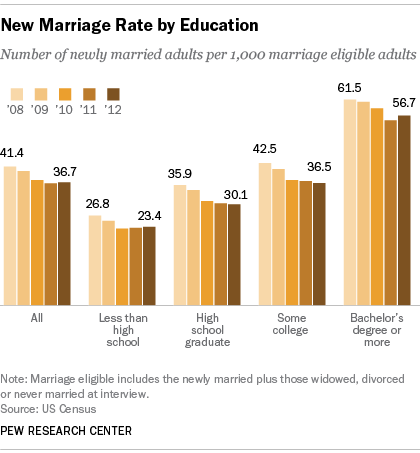 Fry does add some important caveats:
But consider the longterm trends. For college graduates, the marriage rate has held more or less steady over the past decade. For the rest of America, it's gradually eroding. Take 35-to-39-year-olds. In 2012, 81 percent of bachelor's degree holders that age had tied the knot at some point, roughly the same as in 2000 (historical marriage rates in the Pew table below). Among everyone else, the figure was 73 percent, down 9 percentage points in 12 years.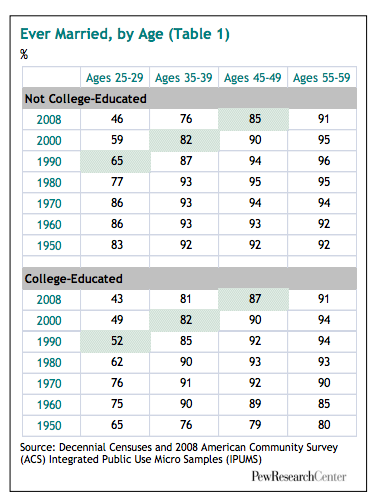 It's hard to talk about any important aspect of the economy today without talking about weddings. College graduates have pulled away from the rest of the country in part because they've made a habit of marrying each other and combining their high incomes (sociologists call this assortative mating; my colleague Matt O'Brien dubbed it the "When Harry Met Sally" explanation of income inequality). Depending on who you ask, declining marriage rates are either a driver of poverty or an extremely worrisome symptom  of it. Pew's new stats are a reminder that the marriage gap may well get worse before it gets better.