Investors Used to Worry About the End of the World—Why Did They Stop?
The Greek stock market has outperformed gold since late-2011, when it looked like the U.S. and Europe might default on their debts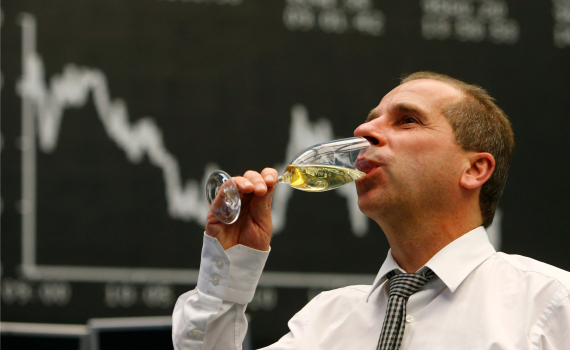 Reuters
It's the end of the end of the world as we know it, and I feel fine.
The past five years have been a bull market for doomsaying. There's been one would-be apocalypse after another, and some of them were even real. But they haven't been nearly as real since December 2011. That's when we hit Peak Armageddon, and when gold hit its own peak: people trusted rocks more than governments to preserve value in a world short on it.
Lehman nearly broke our world, but just three years later it looked like things might have been getting worse. Policymakers were once again playing Russian roulette with the world economy, and every chamber was loaded. House Republicans were refusing to raise the debt ceiling without major spending cuts, and the European Central Bank (ECB) wasn't even fiddling as the common currency burned. It was just watching the collapse. So it's not surprise that gold hit an all-time nominal high in September 2011. Investors trusted rocks more than stocks.
But a funny thing happened on the way to armageddon. We never got there. Republicans have blustered about the debt ceiling, but they raise it when the time comes. And Germans have blustered about the ECB, but they let it throw money at Europe's problems when the time comes for that too. It's been such a non-apocalypse that you would have made more money investing in Greece's stock market than gold going back to September 2011—and that despite the Fed printing over a trillion dollars, which should be good for the yellow metal.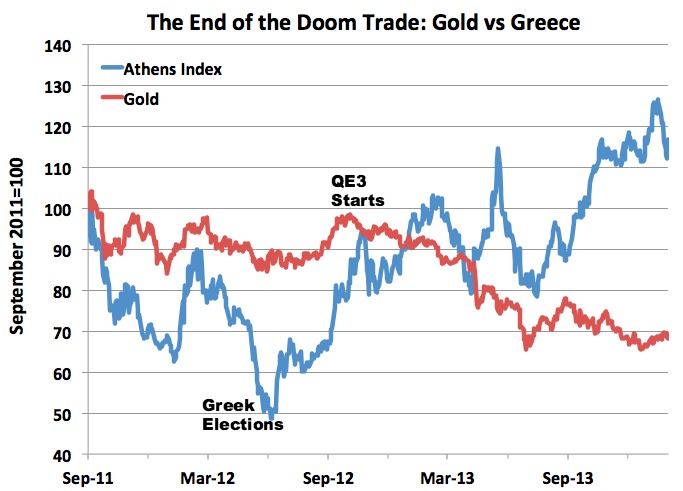 Now, the emerging markets' "taper tantrum" reminds us that things aren't all the way back to normal yet. But at least people are betting on human ingenuity rather than human ability to dig up minerals. Paper (stocks) beats rocks.