Inside Detroit's Nascent Start-Up Culture
Forget Mark Zuckerberg. The entrepreneurial kids of Detroit want to make money while doing good.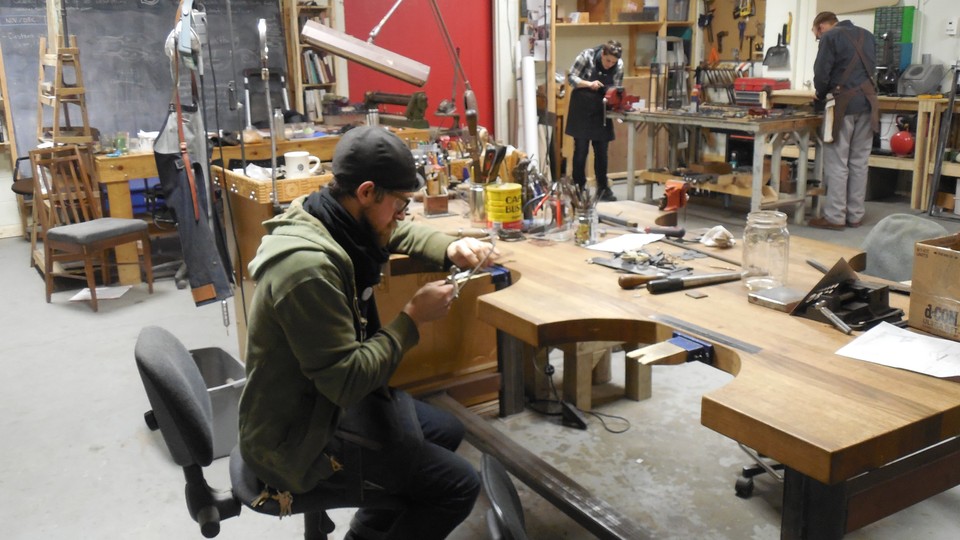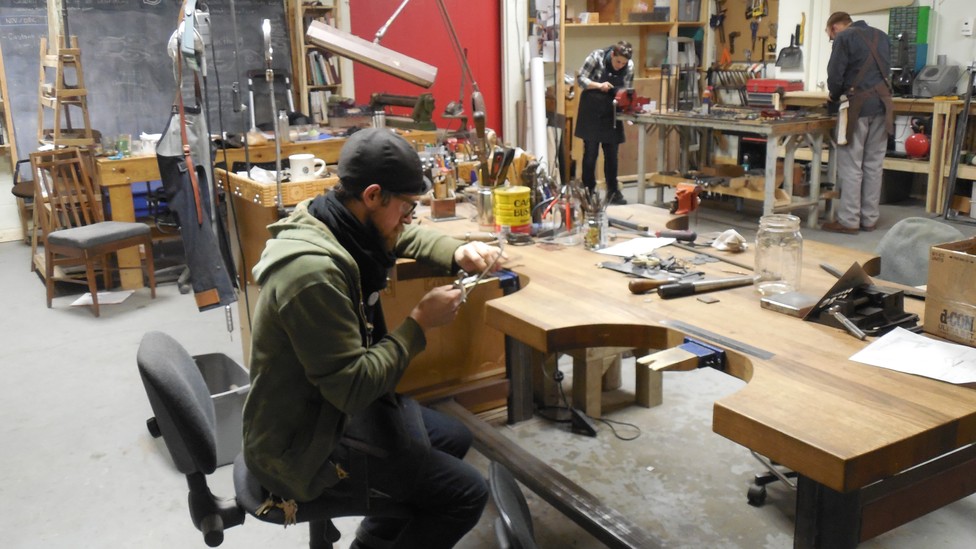 This article is part of a weeklong America 360 series on Detroit.
DETROIT — It started as a school project for Veronika Scott, who at age 20 was studying design downtown at the College for Creative Studies. One of Scott's professors challenged students to create a design that would meet people's "needs" instead of just following "trends." So, Scott, a native Detroiter with a tough upbringing, began touring homeless shelters to get ideas. After months of these visits, Scott developed a prototype of a thick, waterproof winter jacket with an interior that unfolds into a sleeping bag.
She was convinced her creation could be parlayed into a full-time enterprise. So in 2011, Scott launched a nonprofit organization called the Empowerment Plan. The goal was not just to make coats and distribute them to the homeless free of charge, but also to hire homeless mothers to do the production work. Today, thanks to Scott's vision and a generous network of donors concentrated in Metro Detroit, the Empowerment Plan churns out 500 jackets per month and employs 18 full-time workers, most of them recruited from local shelters. "And none of them knew how to sew when they came here," Scott, now 24, says.
Scott's success may be unique, but her mission is not. She is part of a sprawling network of socially conscious young people in Detroit who are earning a livelihood by launching start-up enterprises — either for-profit or not — geared toward rebuilding the community around them.
"There is an absolute drive among people of this generation to positively impact the outcome in their environments," says Dan Gilbert, founder and chairman of Rock Ventures;the billionaire's umbrella company now owns more than 40 properties in downtown Detroit. "And it's not just some purely greedy capitalist thing, with a guy looking at spreadsheets. They have this moralistic view." Gilbert, who cut a check to the Empowerment Plan for $250,000 after meeting Scott at a philanthropy event, has also given millions of dollars in seed money to other socially aware start-ups around the city.
Studies have shown millennials are flocking to urban centers nationwide, and they are especially drawn to workplaces and neighborhoods where they can quickly become part of the social fabric. Detroit, with its shattered outer neighborhoods, inexpensive real estate, and low cost of living is emerging as ground zero for this movement of young, community-conscious urban entrepreneurs.
Phil Cooley knows this better than most. A Michigan native who more than a decade ago fled the state for college in Chicago, Cooley, 35, returned to a city desperately in need of investment. After teaming with other investors to open the now-booming Slows Bar-B-Q restaurant, Cooley saw an opportunity in 2011 when a massive abandoned building went on the market in Corktown, Detroit's oldest neighborhood and one exemplifying its epidemic of abandonment. Cooley patched together loans and purchased the structure for $100,000.
He was determined to prove a point to the deep-pocketed speculators who had swooped in and bought the city's vacant buildings at clearance prices only to let them sit idle. If such spaces were made available to creative residents, Cooley thought, amazing things could be accomplished. "We just really wanted to see what would happen if Detroiters has access to this landscape again," Cooley says. "We need to find that innovation here again. We look to Harvard and Stanford so often, and it frustrates me. I love Harvard and Stanford. But the people of Detroit, when they have opportunity, are just as innovate and just as creative. We just need to open up the process."
Today, his hypothesis is proving correct. Cooley's building, called Ponyride, is packed with more than 60 small business and nonprofit groups. Tenants are offered a heavily subsidized rent for their workspace — most pay between $100 and $250 per month — so they can focus on product development and community engagement. But there's a catch: Organizations inside Ponyride must work with the broader community for hundreds of hours each year, offering instructional classes in everything from sewing to crop cultivation to metalworking.
Less than three years after Cooley purchased this decrepit building, Ponyride is a bustling hub of enterprise and engagement. Some of the businesses are young and not yet profitable, but their enthusiasm is contagious. There's a long waiting list for space, and Cooley and his army of "socially conscious" entrepreneurs are doing their best to make room for reinforcements.
One person already here is Gabriel Craig, who along with his wife owns and operates Smith Shop, a metalworking studio in the basement of Ponyride. Like many of the young entrepreneurs here, Craig grew up in the suburbs but has roots in the city. His grandfather was a Wayne County sheriff, and his parents grew up in Detroit. Craig and his wife moved into the city, opened a business, and hired three employees. On top of participating in Ponyride, Craig's business has partnered with the Veterans Affairs' Department to offer weekly metalworking classes to veterans of the wars in Iraq and Afghanistan.
Craig says he loves Detroit today because the city has become a meritocracy, where people who work hard and think creatively can get ahead: "The currency here isn't who you know or what you look like anymore. It's what you're doing. Detroit is sick of people talking about doing something. If you're serious about helping, roll up your f — ing sleeves."
Across town, Andy Didorosi agrees. Another native of Detroit's suburbs, Didorosi, 26, says the city offers the rare combination of fertile ground for entrepreneurs and strong community support. "People here are making their own jobs. It's not big companies or big fiscal blueprints creating them," he says. "And it's an awesome culture in Detroit. Chicago doesn't care about you. Brooklyn doesn't care about you. Here, you're in the driver's seat."
As a young entrepreneur, Didorosi got his big break when he learned that Ferndale, a town just north of Detroit, was selling its fleet of old school buses at bargain-basement prices. He bought four of them for less than $10,000 total. He cleaned up the buses, had them inspected, and hired a local group of artists to paint them with designs that celebrate the city. Then, in January of 2012, Didorosi launched the Detroit Bus Company. Today, the business employs 15 drivers and six other full-time employees, and offers a variety of transportation services, including shuttles in and out of the city, long-distance charter trips, and rentals for weddings and other special occasions. The company also partnered with the Skillman Foundation last year to give schoolchildren on Detroit's west side free rides to their after-school programs — a service that now provides busing for more than 4,000 Detroit kids.
These are just a few examples of Detroit's emerging start-up culture, in which philanthropy meets entrepreneurialism. Today, these young community industrialists — street-smart, tech-savvy, and socially conscious — are determined to rebuild Detroit one business and one neighborhood at a time. Or, as Cooley, the founder of Ponyride, likes to say, "It takes a village to start a coffee shop."