An Experiment in Low-Income Housing in Rapidly Gentrifying San Francisco
The Hope SF project aims to rehab old housing projects and provide social services for residents in a city where property values are skyrocketing.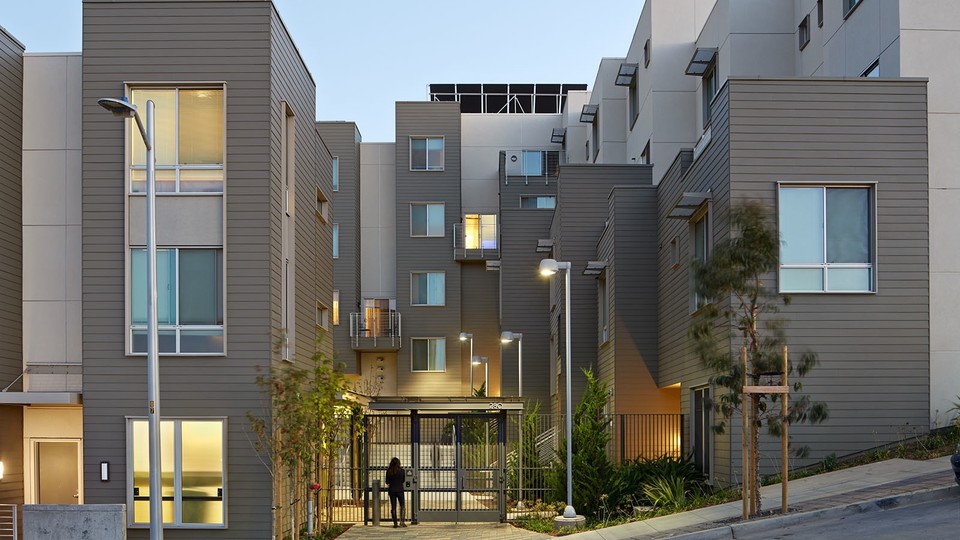 To make sure kids in her neighborhood go to school, Uzuri Pease-Greene walks them herself. Outfitted in bright yellow vests, she and her daughter begin their half-mile route at 7:30 each morning, stopping to pick up nine to 17 kids along the way. Forty minutes later, they arrive at Daniel Webster Elementary School in time for the school-provided breakfast.
"Once they get with me, it's like, 'You're my child now,'" the no-nonsense 48-year-old grandmother of 13 says, with a laugh. "I become a big mother."
Pease-Greene is the "driver" of the walking school bus, a Hope SF initiative in the Potrero Hill public-housing development in San Francisco, where she's lived for 12 years. In a community where 53 percent of kids are chronically absent from school, the simple program aims to improve educational outcomes, increase safety, and encourage exercise.
Hope SF is a project dedicated to revitalizing low-income areas by rebuilding old housing projects and offering a range of social services to the mostly low-income residents. It is led by the Mayor's Office of Housing and the San Francisco Housing Authority, in collaboration with government, philanthropic, and community partners. The goal is to transform a handful of severely underserved and aging public-housing sites, without forcing out current residents. Potentially, it provides a model to other urban areas, which are looking to revamp public housing while retaining cities' socioeconomic mix of residents.
Public-housing reform is not new, but Hope SF's emphasis on resident-based programs like the walking school bus, in addition to rehabbing old buildings, could lead the effort to succeed in a way other housing projects have not — particularly in a city like San Francisco with its rapidly rising housing costs. The biggest challenge now is convincing residents, who have been so neglected in the past, that this time is different.
"There is no reason in hell for public-housing residents to trust officials that come in and say they'll make their lives better," says Pam David, former director of the Mayor's Office of Community Development and member of the Steering Committee for the Campaign for Hope SF. "Our history is with most things that have been tried, most were delivered to them, not with them. And they have not worked and not been sustained."
INSPIRATION FOR HOPE SF
The San Francisco project was inspired by the NewHolly project in Seattle, which also aimed to turn crumbling public-housing sites into diverse, mixed-income neighborhoods with a focus on community programs. The Seattle project has had sustained success since its first phase was completed and residents began returning to the site in 1999, with constant waitlists for the housing units, according to Lisa Dressler, NewHolly's senior property manager. The project was fully finished in 2007.
NewHolly was largely funded by a Housing and Urban Development Hope VI grant, though Dressler says this wasn't nearly enough,and funding from other sources was used as well. While certain Hope SF sites were awarded HUD Choice Neighborhoods grants — the successor to Hope VI — the project as a whole is not funded this way.
Instead, it is funded by a wide range of public and private investors. Much of the funding for HOPE SF community programs has been raised by the Campaign for Hope SF,a public-private partnership led by the city of San Francisco, the San Francisco Foundation, and Enterprise Community Partners. The campaign has a goal of raising $25 million by 2016; they have reached $7 million so far. After the first five-year period of fundraising and programmatic work ends in 2017, a large-scale evaluation will be conducted to inform the next phase.
On the rebuilding side, developers will connect the sparsely populated sites with surrounding neighborhoods by replacing public housing one-to-one, plus adding private homes. Once completed, the project will boast affordable rentals, affordable homeownership, and market-rate homeownership units. Hope SF hopes to make profits from the project's private units, which will help to subsidize the cost of the public ones. The city initially committed $95 million to the project, the largest local commitment to public housing in recent history. Government funding will go primarily toward physical infrastructure.
THE CITY'S HOUSING CRISIS
The investment in affordable housing is critical in San Francisco, which is among the most rapidly gentrifying cities in the country. The West Bay counties of San Francisco, Marin, and San Mateo added 24,500 jobs between November 2012 and November 2013, a 2.4 percent increase, according to the California Employment Development Department. The tech sector itself has created thousands in the last few years, a significant increase in a city of just over 800,000 residents.
The boom has boosted the city's overall economy, but it has also created problems for affordable housing. The influx of techies has put pressure on the city's limited housing, sending prices skyrocketing. Rent in San Francisco increased over 5 percent from a year ago, compared with a 3.2 percent increase nationwide, according to a new report released by Reis, a real-estate research firm.
HOPE SF is hoping to combat the dearth of affordable housing, though so far ground has been broken at only one of the sites: Hunters View. It began with 267 units across 22 acres, and only 148 families occupying them.
Phase one was recently completed, with 107 new units built, 80 of which are public-housing replacements, according to The John Stewart Company, a lead developer on the site. In addition to the 267 public housing replacements, up to 533 affordable and market-rate units will be built. The remaining sites are in development or planning stages. However, since residents are not displaced in the meantime, community-based programs are able to move ahead.
An outside evaluation company, Learning for Action, is helping to determine the types of programs that would be best suited for a given site. Potrero's high truancy rate inspired the walking school bus. Unemployment at Alice Griffith, another Hope SF site,led to a job and training program. Mini on-site clinics address health concerns, and gardens and parks are created to encourage healthy eating and exercise.
Pease-Greene says much of the initial skepticism and distrust from her neighbors has lifted since the programs started, and she believes that will be evident even more so once the housing is built.
HOPE SF AS A MODEL FOR OTHER CITIES
This community involvement is crucial to Hope SF's success, and offers a model for other cities to follow.
"In the past, public housing was particularly concentrated in high-poverty neighborhoods — [residents] found housing but were not connected to jobs. There were not strong schools. There was nothing to help them connect to the overall economy," says Judith Bell, president of Policy Link, a national research and action organization dedicated to promoting social and economic equity.
"Hope SF and other [similar] efforts recognize the need to take a more innovative and comprehensive approach. Residents are engaged in envisioning and implementing and planning in a way that problems can be solved before they become a crisis," she added.
David, one of Hope SF's fundraisers, says this is the most complicated project she has ever worked on, and expects the implementation to continue slowly for 15 to 20 years. With commitment like San Francisco's though, similar slow but steady projects are possible elsewhere.
"San Francisco likes to think it's really special, but I would bet other cities share the value that there needs to be a place for everyone," David says. "We are unique in our willingness to put dollars behind it."
The concern remains that the tech-boom gentrification could reach Hope SF neighborhoods, as they become more developed and appealing. "In the past, public housing has been seen as an eyesore and source of instability," Bell says. "Now with public housing transformed, and the neighborhood around also more attractive, there are new pressures on the surrounding neighborhood in terms of rent."
"The city needs to make sure it doesn't accelerate the displacement dynamic that's already in play, so other low-income individuals are not pushed out," Bell adds.
For Pease-Greene though, Hope SF has already been life-changing. "The community saw me on my using side, now they see me on sober side," she says. In addition to working as Junior Community Builder in Potrero, Pease-Greene is in her last year of college, and plans to start her own nonprofit helping residents get their GEDs, and then get her masters in social work.
"Everything's not hunky dory, there's still a lot of things to get done," she says. "But it's a far cry from where we used to be."