A Netflix for Books?
The sharing economy goes to the bookshelves.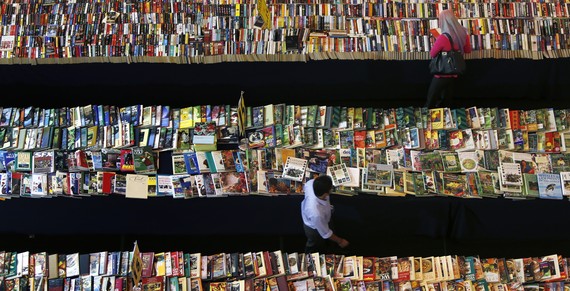 The Book-of-the-Month Club (BOMC) was founded in 1926. In the 1980s, it was one of publishing's most formidable enterprises, with millions of members across the country. It had a panel of distinguished judges whose choice of main selections assured a book high visibility and a substantial payment to the author and publisher. The mail-order book club business and its subsidiaries still function, though on a much smaller scale, having been sold and consolidated over the years into gradual irrelevance. But the principle of subscribing for content is again a hot subject, as digital dominance expands from video and music on-demand to the possibilities for books.
The enormous growth in the past two years of Netflix, which streams video across the Internet to 31 million U.S. subscribers, is the basis for the excitement over the potential of book-subscription services. As was the case when BOMC had its huge following, there is clearly a widespread appeal to the notion that membership in a service provides a range of offerings and price benefits—updated now with the considerable incentive that, for a monthly fee, you can have as much of the content as you want.
Ken Auletta's profile of Netflix in The New Yorker reports that during peak hours, the output of Netflix represents 30 percent of all Internet down-streaming traffic in North America, almost twice that of YouTube. With that level of consumer acceptance and a soaring stock price, it is understandable that a group of fledgling book subscription services have been launched and are all vying to be known as the "Netflix of books."
Ultimately, that distinction is still very much up for grabs, but the leader so far among the start-ups seems to be Oyster, a company that launched its app last September for use on iOS devices (iPhones and iPads, with Android in development) and almost immediately was touted as a significant new factor in this incipient market. Virtually every item about Oyster that you can find on tech blogs and news sites makes the Netflix comparison as a goal, if certainly not yet anywhere close to reality. After Oyster announced last month that it had raised $14 million of new financing led by Highland Capital Partners and one of its existing investors, Peter Thiel's Founders Fund, for a total of $17 million, there was a spate of stories that signaled the company as a success in the making. CNET's headline was the most definitive: "How the 'Netflix of books' won over the publishing industry."
In an interview with CNET, Eric Stromberg, one of Oyster's founders and its CEO, attributed the company's vision to a collective background in technology and a life-long passion for books combined with the all-access streaming model that made Netflix a phenomenon, "where you pay once and never have to think about it again." "We've worked hard," he said, "to create a sustainable business model that provides value to our readers, alongside attractive economics for publishers and authors. . . . [W]e pay publishers each time a book is read and the amount is based on the digital list price for the book."
Oyster is charging $9.95 a month and offers over 100,000 titles to choose from, including a substantial percentage from HarperCollins with Houghton Mifflin Harcourt, Workman, and the Perseus Books Group (of which PublicAffairs is a member) providing a cross-section of their inventory, although the newest titles are not included. The value proposition to readers is undeniable, although how many subscribers will have the time or inclination to read multiple books per month remains to be seen. Oyster is not releasing any membership statistics, and the terms of their deal with publishers, while not public, have been reported in the tech press to be generous, with revenues flowing as soon as 10 percent of the book is read.
The risk for Oyster is that readers, attracted to the ease of browsing as they would in a bookstore or library, will sample a variety of books and the company's payments to publishers will outrun its revenues. But for now, the consensus is that Oyster is off to a good start because the site is well designed and easy to navigate, and the selection of available books can accommodate readers of wide-ranging interests. It is worth a visit to the site to peruse a library of some of what's on offer. (I found that Google Chrome and Firefox worked best.)
Among the other subscription services in the emerging mix, Amazon's Kindle lending library is, not surprisingly, the industry behemoth. It has a vast title base—a choice of 350,000 books, according to Bloomberg Businessweek—available to all Amazon Prime subscribers who pay $79 a year for its many features (a price that may be about to go up substantially, based on comments lately from Amazon executives). But readers can only take out one book a month, which for the "power reading" community Oyster hopes to serve is a major difference.
Overall, there is still a great deal about the book subscription concept that remains to be tested. Some of the major publishers argue that the low monthly fees for unlimited access will further drive down e-book prices, which are already under pressure at the online retailers. Moreover, it takes little time to watch videos on Netflix (especially for binge viewing), whereas completing a book of any real consequence is a commitment.
So, can there be a Netflix for books? It is too early to make any judgment, but there is enough momentum and interest in the subscription model to justify a major survey of the subject, announced last week by the Book Industry Study Group, for release next summer. If the results show that audience potential can reach the ambitions of Oyster's investors, publishing may yet foster a digital sales channel with the impact that the Book-of-the-Month club once claimed.