Why Don't More Women Want to Work With Other Women?
Most Americans don't care about the gender of their coworkers, but those who do prefer men by a wide margin.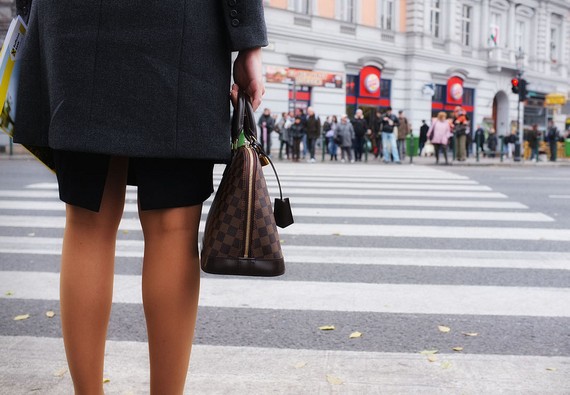 A recurring issue in glass-ceiling debates revolves around whether women are, either directly or indirectly, excluded from high-level jobs. Many offices tend to promote people according to a concept called "homosocial reproduction"—essentially, the spoils go to the workers who move in the right social circles. If your workplace is a boy's club where the high-performers smoke cigars and play golf together, this theory would dictate that the next big promotion is likely not going to the quiet female analyst who knits during lunchtime.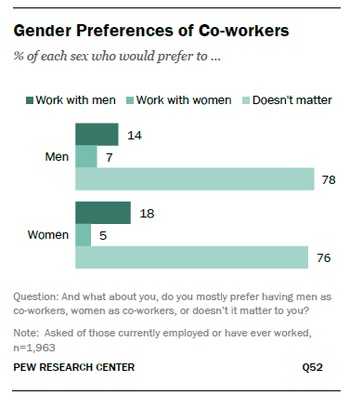 That's why this one fact, from a Pew survey released last month, is so devastating.
Pew asked 2,002 people if they would prefer to work with men or women. Most—78 percent of men and 76 percent of women—said they didn't care. But for the 22 percent who did have a preference, "it's men who get the nod from both sexes by about a 2-1 margin," Pew's Rich Morin writes. In fact, more women said they'd rather work with men than men did.
When the results are broken down by generation, workers who were born between 1925 and 1942 were most likely to say they prefer working with men (21 percent), and Millennials (born in the 1980s and 1990s) were least likely to (11 percent). But from there, the percentage doesn't track with age. In fact, more workers from Generation X, who are closer in age to Millennials, said they'd prefer to work with men (19 percent) than did the middle-aged Boomers (16 percent).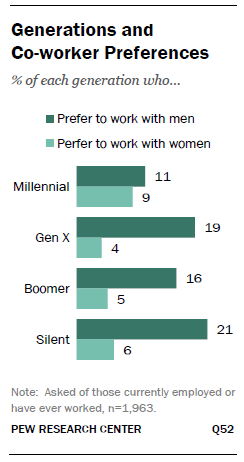 Millennials may seem gender-neutral by comparison, but in other parts of the same survey, their responses were equally bleak. Far more Millennial women than men (59 percent versus 19 percent) said being a working parent makes it hard to advance in a job, and fewer Millennial women said they aspired to become managers.
The results are similar in other surveys on who Americans would prefer to work for, rather than with. As Derek Thompson wrote in November, Gallup reported that all of 23 percent of U.S. employees now say they'd prefer a female boss—and that's a record high. And once again, more men than women said they either preferred a female boss or had no preference. We've apparently come a long way, though: That number was only about 5 percent until the 1970s, which helps explain some of Peggy Olson's endless suffering.
There's no easy answer for why both sexes lean slightly toward a male-dominated workplace. Among women, some studies make it seem as though this preference is the professional extension of "all my best friends are guys." As in, "I'm a woman, but I have an overall negative perception of female personalities and thus prefer to surround myself with men." For example, female respondents told one British pollster that male bosses are "more straight-talking" and "less prone to moods."
Social scientists who have been poking at this can of worms for decades have found that women sometimes exclude other women from opportunities in order to gain a competitive edge. Women tend to mainly only bully other women in the workplace, while men are equal-opportunity harassers.
Much of this can be chalked up to decades of workplace and societal gender discrimination. Women tend to face the so-called "backlash effect," the theory that women can only advance at work if they act more like men, but they then face social penalties for behaving in unfeminine ways.
But perhaps the statistic to focus on isn't the quarter of workers who care about the gender of their colleagues. It's the 77 percent of workers who say they don't care. More of that, and we won't have to worry about boy's clubs or glass ceilings.