Why Do the Smartest Cities Have the Smallest Share of Cars?
What the metros with the highest percentage of non-car households tells us about driving and density
Think cars are over in America? We do.
The Atlantic has called "peak car"—not once but twice. We have repeatedly explained why young Americans "don't care about owning" a vehicle. We predicted a long-term decline of auto sales, and, in a dramatic moment, essentially announced "the end of car ownership," generally.
We had strong data. Perhaps we had strong biases, too.
The members of the The Atlantic Business Channel all live in New York City. At various points in our lives, we have all lived in Washington, D.C., too. And these two cities, the twin nodes of the I-95 mainstream-media corridor, happen to be the two metros with the highest share of non-car households in America, according to the University of Michigan's Transportation Research Institute. Here are the non-car household rates in 30 large U.S. cities (the national average is in RED):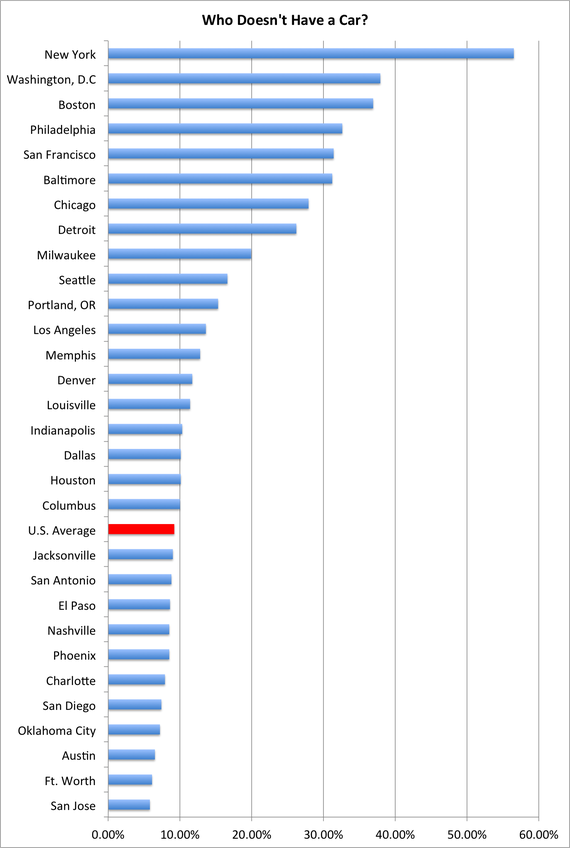 What do NYC, DC, Boston, and Philadelphia have in common? For one, they're old, crowded cities with good (okay, decent) public transit. "The five cities with the highest proportions of households without a vehicle were all among the top five cities in a recent ranking of the quality of public transportation," Michael Sivak, director of Sustainable Worldwide Transportation at Michigan, told WSJ.
That might be the most important, variable, but it wasn't the first thing this graph reminds me of. When I see New York, D.C., Boston, Philadelphia, San Francisco, the first thing I think is: These are all the classic, even cliche, magnets for elite college graduates. 
So I compared the cities' non-car ownership rates to their share of bachelor's-degree holders. And it turns out there is a statistically significant relationship between being college-dense and car-light. Scroll over the points to show the city data.
What's this graph's story? Does spurning cars make you more likely to graduate from college? That would be pretty weird. Do college graduates particularly hate cars? Increasingly. There's evidence that Millennials are turning away from car ownership and swapping their auto loans for student debt. But I think what we're looking at here is an underlying variable of city density. Highly productive cities that are magnets for talented (and rich) people tend to be crowded with twentysomethings trying to start their careers. Small crowded cities get clogged, and clogged cities require the kind of effective public transportation that makes cars an expensive nice-to-have rather than a have-to-have.