The Plight of Single Moms—and the Policies That Would Help
Low-income women and single mothers are more likely to live with financial stress and regret, but they're also more optimistic about their prospects.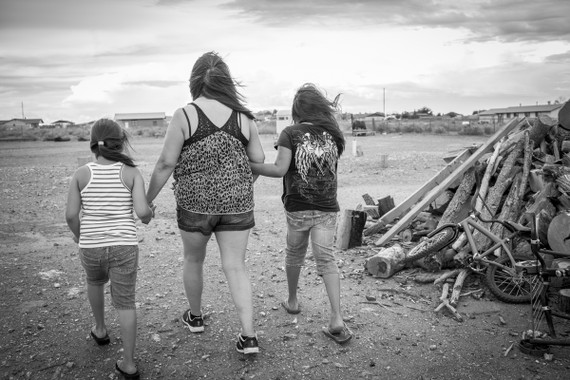 Usually, we think of poverty in terms of economic circumstances: A job is lost, or college sits out of reach. But for many women, economic misfortune has more to do with family circumstances than a specific financial calamity.
More than half of the children born to mothers under the age of 30 today are born to single mothers, a demographic that is far more likely to be poor than their married counterparts. A third of families headed by single mothers are in poverty.
The newly released Shriver Report, in partnership with the Center for American Progress and the AARP, commissioned a large national survey on Americans' attitudes toward family and the economy. For the poll, Greenberg Quinlan Rosner Research and Target-Point Consulting contacted 3,500 adults by landline and cell phone between August 21 and September 11, 2013. The margin of sampling error for all adults was plus-or-minus 1.7 points.
Here are some of the most surprising findings:
1. Poor women and single moms suffer from much higher levels of economic anxiety.
Single mothers and low-income women were more likely to report feeling like "the harder I work, the more I fall behind" or that the economy simply does not work for people like them, no matter what: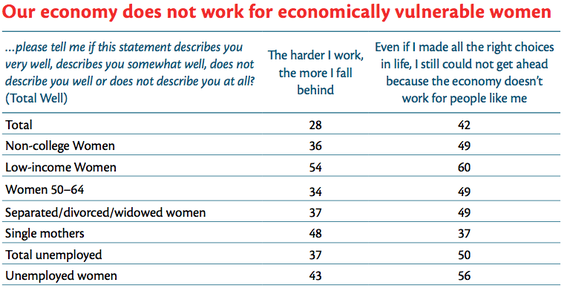 2. Single moms are more likely than other women to stress about caring for their kids.
Though bills and expenses were the greatest source of stress for all the respondents, single moms were more likely to find covering both expenses and care-taking responsibilities to be emotionally overwhelming: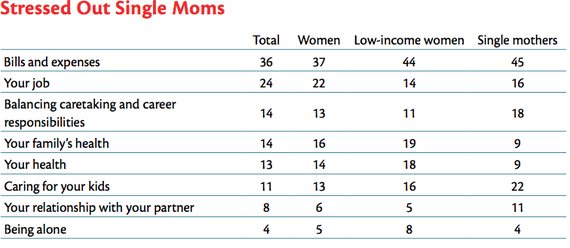 3. Low-income women and single moms are more likely to live with regret.
When the researchers asked the respondents what they wished they had done differently, the low-income women were more likely to regret not investing more time and money in school, not delaying marriage, not leaving a bad relationship sooner, not delaying kids, and in the case of the low-income women, even having kids at all.
4. Low-income women are more likely to rely on their families and friends for money.
Perhaps because they have less in personal savings, or perhaps because, as the researchers speculate, "more formal networks (business and government) fail them," the poorer you are, the more likely it is that you'll have only your own social network to rely on in hard times.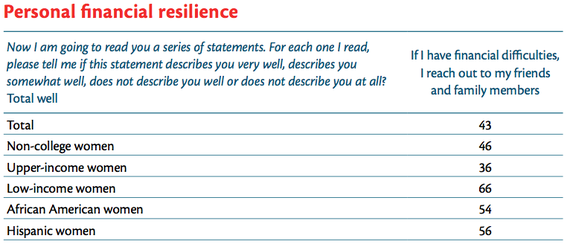 5. At the same time, economically vulnerable women are more optimistic about their future prospects.
Surprisingly, the most vulnerable groups polled — blacks, Hispanics, and single moms — were also far more likely to be optimistic about their future financial prospects. White women, though they're more likely to be better-off, had the gloomiest outlook about their futures.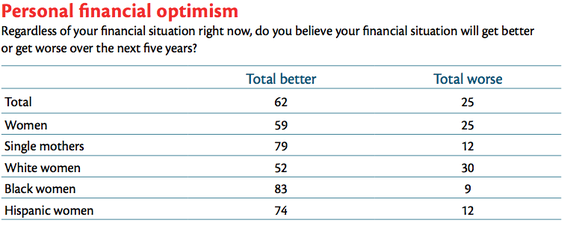 6. People are more likely to want to help single moms than to try to encourage marriage
Fortunately, among all adults, more respondents seem to support the idea that society should strive to help single parents by "using its resources" (presumably, the safety net), rather than by encouraging marriage as a pathway out of poverty, which is an increasingly disputed idea.

7. Eliminating the gender wage gap and protecting pregnant women were the most popular policy solutions
Democratic respondents were more likely to support social policies that help low-income women and single mothers, but Republican respondents weren't far behind on two of the proposals: ensuring equal pay for women and protecting women's jobs while they're on maternity leave: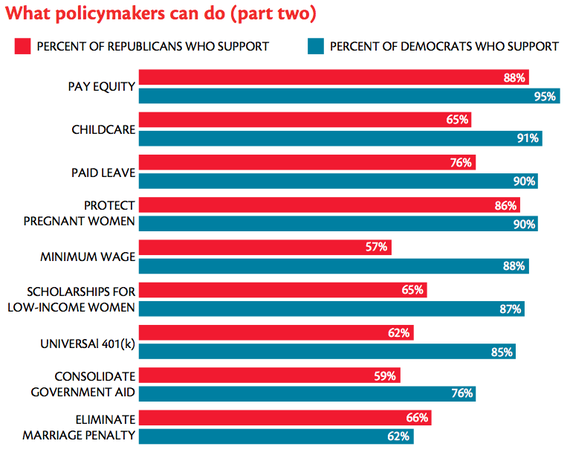 There was comparatively less support among both parties for eliminating the marriage tax penalty (many married couples pay less in taxes than they would filing separately), or for increasing the minimum wage to $10 an hour, which would yield $42,000 a year for a dual-income family of four.
Read the full survey at ShriverReport.org.