The Next Destination for Liberal-Arts Education Is ... Arizona?
The mayor of Mesa lured five liberal-arts colleges to town as part of a creative strategy to boost local economic activity and to keep smart students in the region.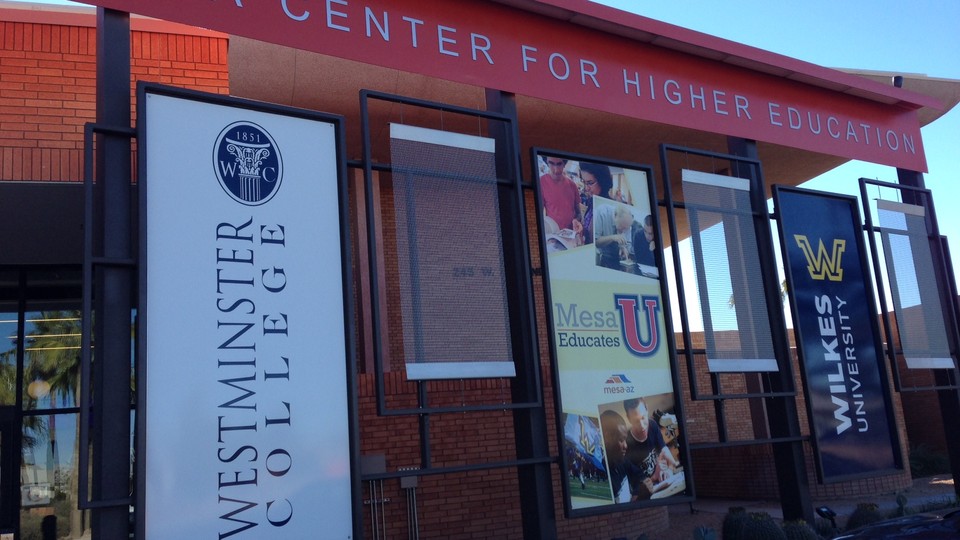 This article is part of a weeklong America 360 series on Mesa.
MESA, Ariz. — There was a time when Lesly Herrera, 18, dreamed of going to college out of state. As the first member of her family to pursue a bachelor's degree, she knew she wanted a school that offered small class sizes and personal attention, but she also wanted the full college experience — living on campus and the opportunity to make friends with people from a wide variety of backgrounds. She had her eye on a number of small, private, religious schools across the country, places like Graceland University in Lamoni, Iowa.
"I didn't apply to ASU," she says of Tempe-based Arizona State University, the behemoth public university just eight miles down the road from her Mesa high school. "It's just too big."
In the end, though, Herrera stayed even closer to home. Last fall, she enrolled as a psychology major in the very first freshman class — a small group of only 70 students — at Benedictine University's new branch campus in downtown Mesa. A $10,000 annual scholarship through the city's nascent Mesa Educates U initiative ultimately sealed the deal.
"My counselor at my [high] school kept asking me, 'Are you really going to want to spend the money to fly home all the time? Are you really going to want to deal with debt?' "
Decisions like Herrera's are precisely the sort that City of Mesa officials dreamed of when, back in 2011, they took the unusual step of mailing letters to more than 1,000 private colleges and universities, asking them to consider opening satellite campuses here.
The previous year, the city had commissioned a study to identify the strengths and weaknesses of the educational opportunities available to Mesa residents. Compared with many of the nation's struggling urban public school systems, Mesa's K-12 offerings rated pretty well. Mesa Public Schools is often ranked near the top of lists for high school graduation rates among public-school districts in the nation's 50-largest cities. (Despite its reputation as a mere suburb of Phoenix, with a population of 453,000, Mesa is actually the 38th-largest city in the United States).
And while Arizona has three big, well-regarded public universities and is home to the for-profit University of Phoenix, the consensus was that the state had a real dearth of small, private, nonprofit colleges — especially ones focused on adult learners, those with faith-based environments, and those with academic programs that specialize in providing extra guidance to first-generation students. Mesa may be producing a lot of high school graduates, but it also has a relatively low rate of bachelor's-degree holders.
"We had a lot of kids who left the area because they weren't comfortable with that big, public university environment," says Mesa's director of economic development, Bill Jabjiniak. "If you talked to the high schools, we realized we're losing a lot of good students to Utah, California, Colorado. From where I'm sitting in economic development, that's talent; that's what's attracting employers. It's so important to retain that."
Twelve private colleges ultimately sent representatives to Mesa to meet with city leaders, and five have already opened branch campuses. Only a few hundred students enrolled in the first year, but each school claims to have aggressive targets for year two.
Benedictine, a Catholic university based in Illinois, has the largest physical presence of the group, occupying a 68,000-square-foot former social-services facility just down Main Street from City Hall. Also downtown are northeastern Pennsylvania's Wilkes University and Fulton, Mo.'s Westminster College, which now share the newly dubbed Mesa Center for Higher Education, a renovated 53,000-square-foot building that used to be a courthouse. Southeastern Pennsylvania's Albright College and Upper Iowa University each opened their own facilities outside of downtown.
That three of the five schools are clustered downtown is no accident. For one, the city placed a top priority on choosing institutions willing to take over defunct city property. There was never an offer of direct financial assistance, but existing infrastructure and favorable leases were part of the sell. The other big part of the city's motivation was the hope that colleges could breathe life back into Mesa's quaint but truly sleepy historic downtown. While it doesn't suffer from the same sort of blight common in former industrial cities such as Cleveland or Buffalo, to walk down Mesa's Main Street in the middle of a weekday is to expect to see a tumbleweed rather than a crowd of pedestrians. It's an attractive, well-maintained area that nevertheless could use several thousand more people living and working nearby.
"The mistake people make is, they think that buildings bring people downtown," says Mayor Scott Smith, universally acknowledged as the brains behind the city's higher-education initiative, who will soon step down to run for governor. "Like stadiums or arts centers. Well, they do — for three and a half hours. But they don't change the nature of the place."
Smith firmly believes that schools like Benedictine and Westminster can change the nature of Mesa's downtown because they can create activity 24/7. Maybe, given enough time, they can. But his vision of the entire downtown area serving as a mini-college town has a long way to go. Despite being outfitted with sparkling new science labs and chic, modular furnishings, the Mesa Center for Higher Education looks and functions much more like a commuter school than anything resembling a full-fledged campus. Benedictine has somewhat bigger aspirations, with plans to institute a handful of intramural sports programs to complement its academic offerings. But for at least the first few years, the only "on-campus" housing option is a block of rooms in a nearby Marriott.
The other uphill battle these schools face is that while they may be known quantities in the states in which they're based, almost no one in Arizona has ever heard of them. Building up brand recognition in this culturally conservative, heavily Mormon city is something officials at each school admit will take years.
"Even the term 'liberal,' " — as in liberal arts — "is complicated out here," says Michael Gundersdorf, the director of operations for Wilkes, which so far is focusing on building up an evening-based M.B.A. program.
Tuition at each school varies, but in general, they cost more than an in-state public university and less than the elite colleges. At Benedictine, for example, tuition and fees run $10,400 per semester, although nearly every student enrolled so far is on a scholarship of some kind.
For Herrera, the opportunity to take advantage of a scholarship available only to Mesa high school students ultimately outweighed her desire for a traditional college experience. She's not even living in the Marriott with her classmates, choosing instead to stay at home for now. But she sees Benedictine as offering something her friends who chose to attend Arizona State just don't get.
"I ask them, do you get to talk to your professors? Because I do."