The Best Fix for High Unemployment? Prevent Companies From Laying Off Workers
An innovative program tries to prevent joblessness by temporarily paying a portion of workers' salaries at struggling companies.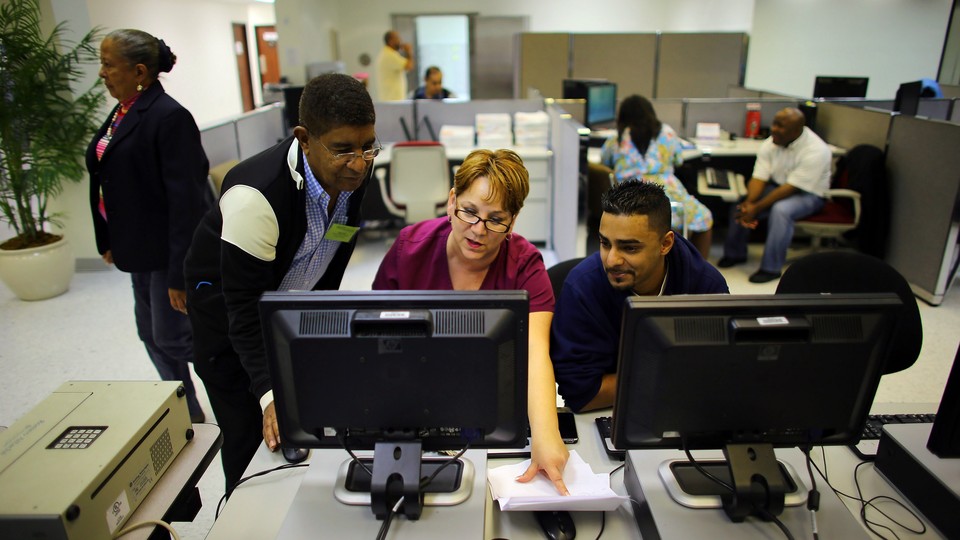 This is the first in a weeklong series to examine different programs around the country that attempt to tackle the unemployment crisis and keep Americans connected to the workforce.
In 2009, the head of the Quinlan Companies had a hard decision to make. The recession had taken its toll on the Rhode Island-based records-management firm. Customers were canceling contracts. Revenue was down. It looked like there would have to be layoffs. Then, CEO Mike Cooley heard about "work share," a program run by the state that offered a solution.
"We cut back hours, and the state paid workers a percentage of their lost wages. In the end, we didn't have to lay off any employees. It helped us get back on our feet," Cooley says.
Rhode Island's work-share program has been operating since 1992. It's designed to help business owners avoid layoffs when times get tough and state officials say it's saved more than 15,000 jobs since the start of the recession.
"Work share benefits both sides," says Wayne Vroman, a senior fellow at the Urban Institute, a nonpartisan Washington think tank focused on economic and social policy research. "Employers get to retain skilled workers and at the same time workers aren't getting laid off."
Work share requires business owners to scale back hours for full-time employees by 10 to 50 percent. Employees can then earn unemployment benefits for the time they aren't on the clock. This helps offset lost wages, but workers can still expect to feel the financial pinch. (The combination of regular pay for hours worked and unemployment doled out for docked time adds up to roughly 91 percent of what an employee would normally make.) Businesses can participate in the program for up to three consecutive years. The only exception is seasonal business models, which are not eligible.
Gary Melillo, an employee at Taco Inc., a manufacturer of heating, ventilation, and air-conditioning systems based in Cranston, R.I., was relieved when he found out his company was going to participate in work share.
"All I could think was, 'Thank God we're not going to lose our jobs.' I knew what the alternative would have been," Melillo says. "You're taking a hit because you don't get the full pay that you would have been getting, but layoffs would have been much worse."
Rhode Island isn't the only state with work share. Twenty-seven states and the District of Columbia currently run short-term compensation programs, including California, Colorado, Florida, Maryland, New York, Oregon, Pennsylvania, and Wisconsin.
But the program has been uniquely successful in Rhode Island. The state has the highest rate of employer participation relative to the size of its labor force. Just last year, 171 business owners enrolled in the program, with an average length of participation of roughly 19 weeks.
Part of the reason the program has taken off is because state officials have pushed to expand it to counteract damage done by the recession. Unemployment rates in the Ocean State are persistently higher than the national average, coming in at 9.2 percent in October while the national rate registered at 7.3 percent.
"The recession started earlier here than it did in the rest of the country and we were hit much harder than many places in the U.S.," says Charles Fogarty, director of the state's Department of Labor and Training. Work share, Fogarty says, has been one of the few bright spots in the economy.
"In the four years prior to 2011, Rhode Island lost 40,000 jobs. If we hadn't had work share in place, we would have lost another 15,000. That would have been absolutely devastating," Fogarty says.
The program has its pitfalls, however, and it won't solve every unemployment problem. Some economists warn that work share could artificially prop up failing companies. Business owners could also try to game the system by unduly benefiting from the program. State officials say they monitor participants closely to prevent this from happening.
Then there's the question of cost. In 2012, the federal government passed legislation aimed at bolstering work share programs across the U.S. The biggest incentive offered up was federal reimbursement for the drawdown in state unemployment trust funds. Rhode Island qualified for 100 percent reimbursement under the law. But federal funding won't last forever. It's set to sunset in 2015 and austerity measures have already started to chip away at national assistance for the program.
Despite these challenges, program administrators say work share continues to play a critical role in buoying the state's economy. "We're doing better and recovery is under way, but we've lagged behind the rest of the nation quite a bit," says Laura Hart, the former communications administrator for the state Department of Labor and Training. "That's why work share is so important right now. It provides job security in what's still something of an uncertain time."