The 2013 Employment Story: Yet Another Year of McJob Growth
The recession devastated industries like construction and manufacturing that paid middle-class wages. This year, like last, we continued replacing them with service jobs.
Since the recession, the U.S. labor market has been nothing if not consistent. While the number may be slightly revised, it appears the country added 182,000 new jobs per month in 2013—about the same as the 183,000 per month we added in 2012 and the 175,000 per month we added per month in 2011.
I'd call it the New Normal, but the trend isn't even new, anymore.
The mildly good news is that, at the rate we're going, the U.S. will have recaptured all of the jobs it lost during the recession before the end of next year. The bad news is that we've added lots of workers to the labor force during that time. Full employment is still a very distant daydream.
That says nothing, of course, about the quality of jobs we've been adding. The recession demolished middle-wage industries like manufacturing and construction. What replaced those jobs last year? The leading industry were administrative services, leisure and hospitality, and retail, as shown below. But if you drill down a little further into the numbers, three specific industries combined for almost 43 percent of all job growth this year: temp services (11.3 percent) food services and drinking places, aka restaurants and bars (14 percent), and retail (17.4 percent). Manufacturing and construction combined made up less than 10 percent.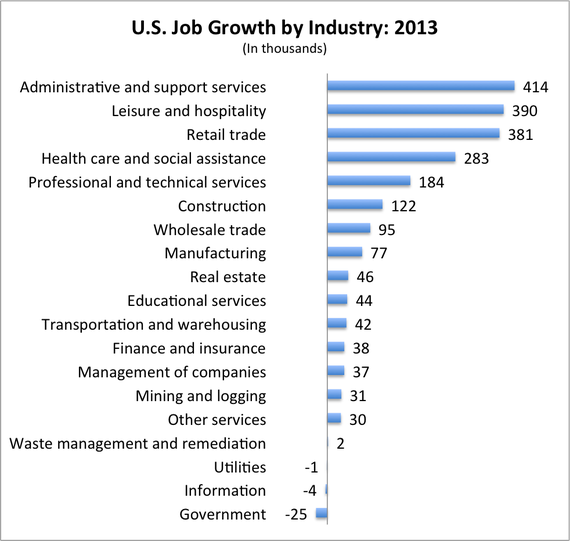 We've grown accustomed to the leisurely growth a McJob market.