Spring-Training Stadiums Are a Bad Investment, Yet No One Cares
One Arizona city spent roughly $100 million on a new training facility for the Chicago Cubs, despite little evidence that it would boost the local economy.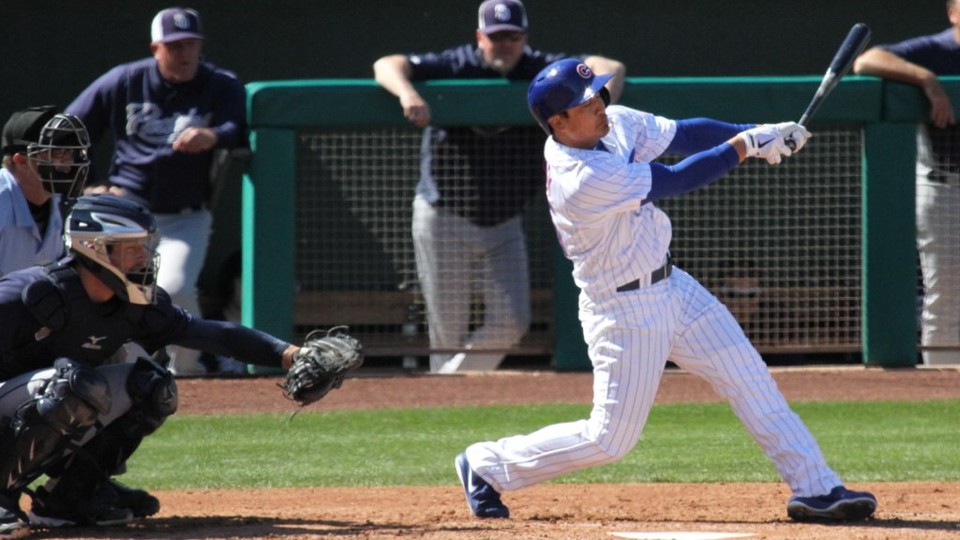 This article is part of a weeklong America 360 series on Mesa.
In 2010, voters in Mesa, Ariz., overwhelmingly approved spending nearly $100 million in public money to help the Chicago Cubs build a vast new spring-training facility and entertainment complex. After 60 years of making their springtime home in Mesa, the Cubs had threatened to pick up and move to Florida, and the city government scrambled to put together a generous package to persuade them to stay.
It worked. Celebrations surrounding the grand opening of Cubs Park, the brand new 15,000-seat stadium, along with several practice fields, a 70,000-square-foot clubhouse, and the adjacent Riverview Park community recreation area, began in earnest last weekend.
Economists would have warned Mesa's voters that spring-training stadiums are an exceptionally bad deal for taxpayers, if anyone had bothered to ask. This is actually something we know. Ryan Holeywell over at Governing magazine wrote a great primer on this subject back in 2011:
"There's absolutely no need for any community to invest in a sports team," says Philip Porter, a sports economist at the University of South Florida in Tampa, located a few miles from the stadium Hillsborough County built for the New York Yankees.
Since teams move around so frequently, ample data is available to determine whether a city suffers financially when its team leaves. But, Porter says, "nothing changes" when a team skips town. Sales tax, property values, and the size of the tax base generally remain at comparable levels, undermining the argument that the stadiums pose a vast economic benefit. "That finding is so universal as to be irrefutable," Porter says.
A study by University of Akron professor John Zipp examined the number of taxable sales in Florida communities that hosted spring training in 1995, when the baseball strike caused teams to field second-rate "replacement players" and Grapefruit League attendance dropped by 60 percent. If spring training had a major financial impact on those communities, they should have suffered tremendously. That didn't happen, and in fact, their taxable sales increased. Those findings "may indicate that spring training is not the major tourist draw that many claim," Zipp wrote in a paper published by the Brookings Institution.
When I was reporting this week's America 360 series on the new economy unfolding in Mesa, I sat down with city officials who made the case that the public dollars put toward Cubs Park were actually a better investment for taxpayers than traditional ballparks. Spring training means tourism dollars in a way that regular season baseball doesn't, they argued, since fans from Chicago can be reliably counted on to make the yearly pilgrimage down to Arizona, to the tune of an estimated $52 million impact each year. One of the officials even suggested there was a spring training "bonus" because some major-league players inevitably purchase homes in the area.
It's pretty clear that arguments like this deserve a lot of skepticism. That study after study has shown zero negative economic impact when a spring-training team departs is just one part of this picture. I asked Neil deMause, author of Field of Schemes, a book and companion blog tracking public financing deals for professional sports, what he thought of the sales pitch Mesa officials had made in deciding to pay for Cubs Park.
"From everything I know, that's completely backwards," deMause writes in an email. "Bringing in fans for only one month out of the year is likely to have *less* impact than a year-round stadium. Yes, fans visit just for spring training, but a ton would go to Florida and Arizona anyway in March, and just end up going to spring training to have something to do while they're there. And players buying homes that they're only in one month out of the year isn't a very good benefit, either — it's good if you're a realtor, but if you're a restaurateur, say, all it means is a bunch of houses that remain empty much of the year."
Mesa has forthcoming plans for an adjacent "Wrigleyville" commercial development with a Sheraton hotel, shopping, and other amenities, which could, in theory, add some extra local value to Cubs Park. And the team's old spring-training facility, Hohokam Stadium, is being renovated to make room for the Oakland A's, who will move in next year after departing nearby Phoenix Municipal Stadium. So, in that sense, Mesa at least isn't ending up with an abandoned piece of major infrastructure, something spring-training towns elsewhere have dealt with time and again.
But the bottom line is that the economics of spring training are murky at best, and a truly bad bet at worst. And yet, Mesa's self-described economically conservative mayor, and the city's voters, all clearly felt that the prospect of losing the Cubs as a local institution was too big a blow to bear. Baseball is baseball, after all, and the fan experience at spring training is undeniably fun: smaller stadiums, better access to star players, and a quick jaunt to someplace warm. The case for paying for spring-training facilities with public dollars may be fatally flawed, but the case for deciding it's worth it for intangible, cultural reasons is harder to refute.