Paying Veterans to Give Back
Reintegrating returning military personnel to civilian life means more than job training. One nonprofit believes soldiers should first focus on community service as a way to gain a toehold in the workforce.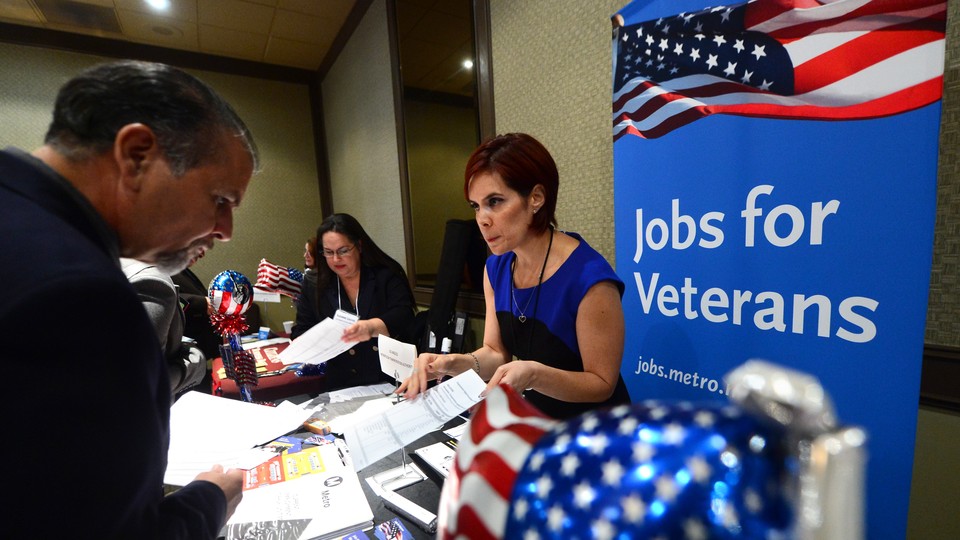 This is the third piece in a weeklong series that examines different programs around the country that try to tackle the unemployment crisis and keep Americans connected to the workforce.
Tristan Williamson didn't cut his hair for three years after being discharged from the Navy. He felt he was done with the military. He wanted a new, strictly civilian life. Yet he was 22 years old on a college campus of 18-year-olds, which created a vast chasm of difference between him and his peers. "I would avoid anything veteran or military," he said. "But at the same time I didn't really feel comfortable around anyone who wasn't a vet."
Williamson was "inundated" with veterans' resources. But, for whatever reason, he opened the email about The Mission Continues, a nonprofit that helps veterans integrate into their communities. The St. Louis-based group wound up being his lifeline.
The Mission Continues was founded in 2007 by Eric Greitens, a former Navy SEAL, to help disabled post-9/11 veterans figure out how to live in the civilian world and reconnect with the workforce. In 2009, the group expanded its program to all 9/11-era veterans. "What we're trying to accomplish is empowering veterans to serve their countries in new ways. That experience that we took from Iraq and Afghanistan, we can put to work at home," said Aaron Scheinberg, director of research and strategy for The Mission Continues.
The isolation and confusion veterans feel when their military service is done can be overwhelming. They might have a job when they get back, but it's at Walmart. They might be in college, but their classmates are a world away from them. They feel the best years of their life are over. They have no idea how to explain to potential employers how their military skills translate into a civilian workforce. Many of them are depressed. Many have injuries that require constant attention.
Veterans of the post-9/11 era are particularly vulnerable to underemployment or unemployment. The unemployment rate of young veterans hovers around 10 percent, higher than the 6.7 percent overall national unemployment rate. There were 241,000 post-9/11 veterans out of work in November, according to the Labor Department.
Yet, The Mission Continues deliberately bills itself as a service organization for veterans, not a job-training program, Scheinberg said. "We found that the wellness aspect, the decreasing of depression by half, the connection to a sense of purpose and to a new social network, the confidence — that's our first order. That's our focus."
The Mission Continues offers paid fellowships to veterans to work at nonprofit organizations of their choice. The stipends are livable, along the lines of those received by AmeriCorps workers, but barely. (Williamson said he kept his part-time job at a fish restaurant.)
The application process can take a several months. First, a veteran must find a nonprofit where he or she can volunteer on a substantive project, 20 hours a week for six months. Once the applicant has gotten buy-in from the host nonprofit, he or she creates a proposal portfolio and participates in several rounds of interviews before final selections are made. Last year, 800 veterans were given fellowships. The Mission Continues got 10 times as many applications. Next year, the group hopes to have slots available for 1,000 fellows.
The cost-of-living stipends put a hard limit on the number of paid fellowships that Mission Continues can offer. The organization is funded through corporate sponsors — like Goldman Sachs, Target, Bad Robot, and Boeing — and by foundations like the Ford Foundation and the Robin Hood Foundation. But there is only so much money to go around, which means the competition is tough.
"We have to select fellows who show a dedication to improving themselves. The application process is pretty rigorous. First, you have to get off your butt and find potential nonprofits themselves," said Scheinberg.
Williamson said his application for a Mission Continues fellowship was "my Hail Mary" after graduating from Indiana University Southeast. By that time, he had a wife and a 1-year-old daughter. He had moved to San Diego, where he had been based when he was in the Navy, but he had no idea what he was going to do.
Williamson landed on Veterans Village, a drug-and-alcohol-treatment facility for veterans. He proposed that he do casework for the nonprofit as it was opening a winter shelter for homeless veterans. At the end of his fellowship, when one of the assistant directors left, he was asked to stay on.
"I managed to just sort of walk into employment a week after my fellowship ended," Williamson said. That doesn't always happen, and The Mission Continues fellows know from the start that their goal should be bigger than just getting a job. But nobody contests that the work they do can be a valuable resume-builder.
"The only way to get a job is through personal networks," said Jared Criscuolo, former executive director of Below the Surface, a San Diego-based nonprofit devoted to water issues. Below the Surface has hosted several Mission Continues fellows on projects like filming the underwater cleanups for the San Diego Bay. One former Below the Surface fellow, Danny Veshinski, now runs his own environmentally friendly boat-cleaning business in San Diego, Da Kine Diving Services.
"While a job or referral to a job from a fellowship should never be a foregone conclusion, there is absolutely nothing wrong with a fellow advocating for a position for themselves," Criscuolo said. "We encourage it."
Only about one-third of The Mission Continues fellows are actively looking for work when they apply for a fellowship. Some of them — 10 percent to 15 percent — are fully disabled and simply need a way to get involved in their community. About 60 percent of them are in school full-time and thus not on the job market. For the remaining 25 percent to 30 percent who are actively looking for work, nine out of 10 have reached their professional goals six months after completing their fellowship, according to the research about the fellows conducted by Washington University in St. Louis.
Those numbers are useful for researchers, but The Mission Continues staff insists that's not what the group is all about. All they really want to do is make sure veterans feel welcome in their communities again.