Obama's Minimum Wage Hike Won't Help Many Workers
But the public will probably love it anyway.
During tonight's State of the Union address, President Obama will announce plans to increase the minimum wage for workers on new federal contracts from $7.25 an hour to $10.10 an hour, using nothing but the power of signature on an executive order. The White House supports legislation that would raise the wage floor that high for all Americans, but since such a bill stands zero chance in the House of Representatives, this is the best Obama can do.
According to the New York Times,  the order "is meant to underscore an increasing willingness by the president to bypass Congress if lawmakers continue to resist his agenda." Or, you know, his willingness to make some watery lemonade out of a Congress full of lemons. A mere 16,000 federal employees made the minimum wage or less in 2016, and according to The Wall Street Journal, it's unclear how many of them were actually contractors. To tabulate the full effect of the hike, you'd have to know how many federal hands-for-hire earn less than $10.10 an hour, but the general point remains: This is a useful, but largely symbolic move.
But I have no doubt voters will love it, because in general, the public loves the minimum wage. And not just Democrats. According to a recent Pew survey, 73 percent of adults, including a majority of Republicans, think it should be increased to $10.10 an hour.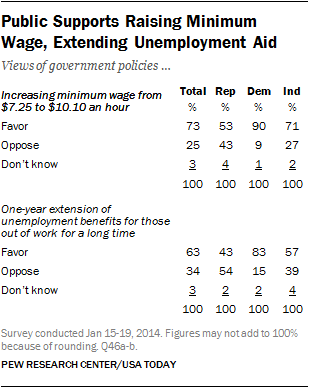 Obama's order is a small gesture in the scheme of things, but it will probably resonate.