No, the 'College Bubble' Isn't Popping
And it's not a bubble, to begin with.
When newspaper editors are in the mood to run a good old-fashioned screed about the collapsing value of college, they inevitably turn to Richard Vedder, an Ohio University economist who runs the Center for College Affordability and Productivity. Vedder likes to argue that the financial return on a B.A. is falling, graduates are chronically underemployed, and that our profligate universities are in for a reckoning once everyone wises up and stops throwing their money away. (For what it's worth, I tend to disagree).
Today Vedder and one of his students, Christopher Denhart, have upped the ante a bit for The Wall Street Journal, where they've published an op-ed titled, "How the College Bubble Will Pop." The reckoning, they say, is already upon us, as total college enrollment has fallen 1.5 percent since 2012.
"What's causing the decline?" they ask. "While changing demographics—specifically, a birth dearth in the mid-1990s—accounts for some of the shift, robust foreign enrollment offsets that lack. The answer is simple: The benefits of a degree are declining while costs rise."
It's an alluring theory. But their evidence falls apart under even the lightest inspection.
Here are those enrollment statistics he's referring to, which come from the National Student Clearinghouse. See the black bars? Enrollment actually grew at traditional 4-year colleges, the institutions which Vedder loves so much to thrash. All of the declines happened in the troubled for-profit sector, which has cut back somewhat on enrolling clearly under-qualified students in an effort to clean up its image, and community colleges, which have been grappling with overcrowding in recent years.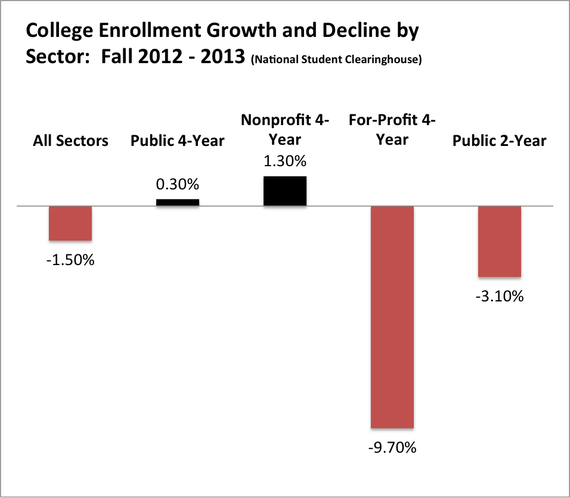 What if we scope out a bit and look at the last couple of years? The pattern is pretty similar (apologies if the graph below was a little hard to read. There's a bigger version here). From Spring of 2012 to Spring of 2013, public four-year colleges saw some small declines before rebounding a bit this last term. Meanwhile, enrollment continued rising at private non-profits, while it collapsed at the for-profit schools.
Vedder says (or at least implies) students are giving up on traditional colleges. But they're not. They're giving up on for-profit schools, whose business models and horrible loan records make them patently untraditional.